Every year the AGTA (American Gem Trade Association) holds their Spectrum Awards, a jewelry design contest celebrating colored stones, as well as the Cutting Edge Awards, honoring the most fabulous gem cuts and carvings. For more than two decades, I've been covering the winners of both, initially for magazines.
Spectrum has has always been one of my favorite contests in the jewelry world because it celebrates not just great design but also the earth's most fabulous natural materials – particularly, colored stones. I always discover amazing stones and designers I didn't know existed. This contest is a chance for designers to pull out the stops – and their most prized material – to create something fabulous enough to stand out from hundreds of other entries.
This year there were about 400 – !! – and I got to play with as many as I could get my hands on before they dragged me away. AGTA rents out a penthouse space in downtown Manhattan, overlooking the Hudson River and flooded with natural light. For two intense days, judges pour over the entries to pick the winners.
Hours after they finish, the doors open to us, the media hordes. Editors, bloggers, photographers and videographers fly in from all over North America for this day and start snapping madly. This year, AGTA set up a table of props – flowers, succulents, moss, grass – and a couple product photography stations with light boxes, which I used for this fab double-finger ring by Dallas Prince.
Winning pieces are set aside, but the hundreds of other entries are labeled and displayed as well. I love that AGTA puts it all out for us. Every designer and gem cutter who enters this contest gets their work seen, photographed and promoted on all forms of media.
If you follow me on Instagram – or Twitter and Facebook – you've seen some of the results. In almost every case, I've photographed the jewelry on myself. At this level of competition and rarity, I feel jewelry should be not only beautiful but also wearable. I've been sharing mostly video there. Here are some still images of rings that stood out for me.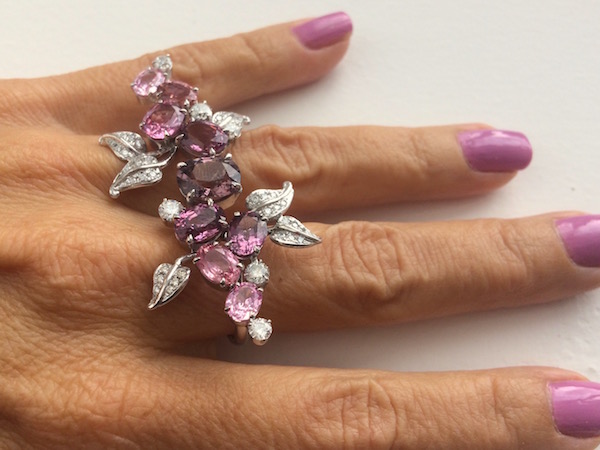 Here's that "Pink Peony" ring by Dallas Prince on my hand. (If you can't get enough, here it is in motion). I love the fluid, naturalistic design and craftsmanship. But the reason it fits the Spectrum Awards so perfectly is the use of the spinels – so many subtle variations in shade and cut, and that random setting. This really captures what nature does so well, in both flowers and gemstones. You have to look close to appreciate it – which is exactly what you want in something you're going to get to know like the back of your hand. Glad to see this lovely thing won of the WJA Gem Diva award.
Meriting an honorable mention in business/day wear category, the moonstone in this ring – like the moon itself – seemed to transform every time I gazed at it. Watch for it to land periodically on my Instagram like a UFO. Yes, even though it's titled "Desert Moon," Robert Pelleccia's ring looks like a spaceship to me, which makes it very on-trend. That radiating, matte texture of the gold was riveting, and I loved the way the accent stones framing the moonstone pick up its subtle blue color, while the stones set randomly along the outer perimeter glitter each time you tilt the ring. Because when you have a moonstone like this on your hand, you're going to be forever tilting it to watch the light show inside.
Here's another design that hints of outer space, somewhat more subtly. The design challenge behind this must have been: What to do with this luscious pearl? A big, perfectly round, cultured golden pearl. The setting adds sparkle and the decision to alternate white diamonds in white metal with yellow metal and diamonds calls attention to the setting's overlapping curves as well as the pearl itself. With those orbiting rings, this "bridal" ring calls for a bride with a taste for sci fi, as well as golden pearls.
This Paraiba is full of inclusions, as you can see, but the color was scrumptious and I found the inclusions added an icy depth. I really loved the unexpected complement of the cherry-red ruby baguettes to the blue-green center stone, and the triple row of diamonds that serves as a sparkly picture frame.
Ah, the challenge of men's wear: finding a beautiful yet masculine-enough design, in a country where nearly all whimsical rings end up on female hands (even here). Notice that little belt buckle detail on Dawn Muscio's tourmaline ring, the scales in its stainless steel shank, and those amethyst accents. Did you guess, on first glance, that the stone in Peter Schmid's ring was a garnet? It surprised and delighted me! Even better was the surprise and delight that followed, when I tilted this ring and spotted the detail on its shank. You can't see it here but I captured it in this video. It involves rose gold with platinum inlay and tiny pink, green and white diamond accents.
Finally, the first place winner: a fabulous ring with sections of yellow sapphires in 18k gold and black rhodium set with black diamonds radiating, in perfect alignment, from the rays of the sapphire. If you want the full effect, check out my video. These winners are appropriately masculine (befitting their category) and a celebration of unique gem material, as Spectrum winners should be. "Ricardo Basta's ring was so beautifully done and I could absolutely see a man wearing it," one of the judges, gem carver Sherris Cottier Shank, told me. "I was really happy with all the rings we picked."
I just loved the beautiful creepiness of the spidery setting on this Tahitian pearl, with its blood red rubies fading into white diamonds on the clutching prong legs. Very rock-and-roll, goth luxury.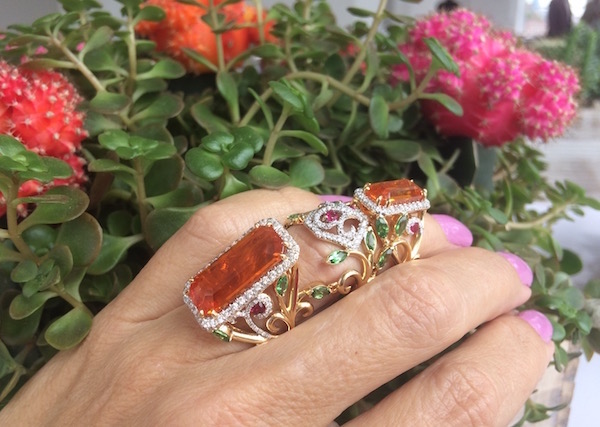 One more from Ricardo Batista. Yes, this ring is on my hand, surprisingly comfortable and designed to move with the finger. You have to see this one in action to appreciate the flash of color – two mandarin garnets accented with diamonds, rubies and tsavorite garnets – and perfect engineering. It was fun for a moment, but I'm not sure I could pull off this blast of color and exotic vine. I'm putting it out there so Sofia Vergara can find it before her next red carpet walk. You could work this, girl!
And finally, one simple ring that caught my fancy – an infinitely wearable topaz ring by Leon Mege with a fascinating stone, seen up close, in an elegant and delicate sapphire frame. Just the fact that it was called "Lollipop" made me want to give it a lick. I won't say whether or not I did, but we were alone on the balcony for a minute.
I can't tell you how many amazing rings did not make this cut. Look for more to land on my Instagram and Facebook page. As Sherris Cottier Shank, who's won many Cutting Edge Awards, told me later: "Everybody really upped the ante this year. The material was exceptional, the design was exceptional, the workmanship was exceptional. At one point, I was like: Are there any more awards we can give?"
I feel you, Sherris! She and her team of fellow judges did a wonderful job singling out some of the finest of many awesome rings. For all those featured here that didn't get the nod, consider yourself winners of The Jewelry Loupe gem-studded scepter award. That goes for the art objects, gem carvings and non-ring jewels I'll be sharing with you soon.