For those still curious after Making it on 1000 Markets, here's my interview with 1000 Markets spokesperson Alyson Stone about the newest marketplace for handmade goods.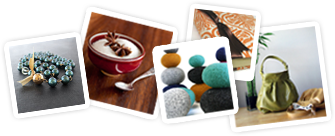 1000 Markets kind of snuck up on us. When did you officially launch?
We never had an official launch. The CEO [Matthew Trifiro] felt with such an ongoing process and because the site was changing so quickly, we'd create confusion by doing that, so we changed the message without any fanfare. He had been in business since September 2008.
Has the site changed since then?
Radically. Our mission changed in that first year from just allowing merchants to sell products on 1000 Markets to enabling merchants to connect with their customers, giving them the tools they need to run their business and sell their products online.
How is that different from what Etsy does?
Unlike Etsy, we're not so much about social forums, not so chatty and community-based. We're more about helping small businesses. Another thing that sets us apart is that we are curated, in the sense that you have to understand the basics of shop management and the importance of good photography. You have to write good descriptions and understanding basic tenets like search engine optimization before you can open a shop. You have to demonstrate more than what I call the church-basement-sale mentality. You have to be a serious shop owner, not just a dilettante. Well, you can do that and get in, but we think our method of approving shops ensures that you understand you're not just renting the barn and putting on a show.
I've heard 1000 Markets is juried. Is that true?
We're not juried in the sense of we like your product or we don't. You can make something kitschy. It's not about subjective taste. You're prevented from getting in if you don't have a proper shop.
What is required to get a shop approved on 1000 Markets?
You have to have six products photographed and described, your policies in place, an avatar and banner of a certain size. Product descriptions can't contain references to other selling venues. If you're denied, it might be because you have references to [Etsy] "convos" or your photos may be blurry and not appealing.
Tell me more about the tools you mentioned. Why are they important?
Putting up a successful shop is about running a small business. When I started at Etsy, it was the only thing I'd heard of. I just made some pin cushions and dove in. I figured I've done my job, where are the sales? That was a really naive approach. We constantly reinforce education. We have a merchant library, market forums. Sellers are constantly given guidance about what's required. As they've evolved, we've given more information about Twitter, how to use it for business, what is marketing and promotion, how do you do it, what about advertising. We provide RSS feeds and good analytics. So they're not at a disadvantage.
I've heard good things about all that from your sellers, but Etsy posts a lot of helpful information now too. I'm still trying to get a handle on what sets 1000 Markets apart.
When you look at the statistics, people spend more time on our site per visit than Etsy. But we don't have the sales Etsy has – or anywhere near.
That would be hard. Etsy grossed almost $200 million in sales last year with about 200,000 sellers. How many sellers are on 1000 Markets at this point?
We have over 17,000 sellers and 2,000 shops. But the statistics show that the kind of person who shops at 1000 Markets spends more time than the person who shops at Etsy. We think this is because they're being presented with a group of more qualified sellers and they like the look of the site. It's not cluttered, it's not overrun by supplies. They tend to see it as a more upscale site, more attractive to a more upscale buyer, but on a much smaller level.
But Etsy has also just announced a major upheaval of how they're going to do business. I have a feeling that's going to shove more people our way. Huge changes are going on there. The original CEO [Rob Kalin] returned last month and announced that they're going to a more social model rather than less social. A social model is expensive for the company. They're pushing the forums back to the teams but it's still a huge support function. I can't see any of the changes benefiting the buyer.
When you go to Etsy now, the only curation you have as the buyer is what the editors pick [to highlight on] the front page gallery and they're getting rid of the gift guides so it's just going to be more chaotic. Rob Kalin really believes the social model is the way to go but that is not a profitable route.
As an Etsy merchant, I wrote to their support staff five or six times and never got a response. I hear that over and over from our merchants. We have a different goal. Our goal is to put ourselves out to businesses. It's not just about 1000 Markets but about spreading the word about small businesses and how they can succeed. We don't have the same goals. From the beginning, Matt [Trifiro] has said we are not in competition with Etsy.
But sellers must see it that way, that they're choosing between sites.
We're constantly telling people not to do that. Artfire is also huge. But you're paying a lot of money on Etsy and Artfire. [Similar to Artfire], you get a free shop here and we take a higher percentage of sales. But on Artfire, you pay a $15 fee every month to get the full Monty and Etsy is a nightmare of listing and relisting fees. I've heard from so many vendors that if you want to be seen on Etsy, it's not enough to list your product, you have relist constantly. So they make a killing on the fact that they're huge. People that need to get seen have to pay.
Also, Artfire and Etsy are all about [selling] everything. We're not. We're all about segmented things. We don't take supplies. We don't take pornographic stuff. It's more discerning in that sense. Nothing wrong with supplies, of course, I'm sure we'll get into that eventually.
It sounds like 1000 Markets is still figuring out its niche.
You have to think of 1000 Markets as taking the first step in the game we're playing in. Small-production, single-proprietor and family-run businesses are booming. It's not really mom-and-pop any more. We haven't got a term for this yet: micro- or mini-preneur? That is exploding and expected to grow by 2020 into 32 million merchants. It's one of the fastest growing segments of ecommerce.
We don't want to become the eBay of this. We're not trying to be Etsy Gone Wild. We want to be the help-your-small-business model. These aggregating sites like Etsy and Artfire, for now they're the way things are done but that's not to say that will always be the way. Eventually you'll be able to have individual product pages, real-time marketing, landing pages where you can go on Twitter and announce a deal for the next 20 minutes on your glass coasters – who knows? The potential for innovative, agile promotion and marketing is so exciting. Nobody knows where it's going.
For more about Etsy: Making it on Etsy.