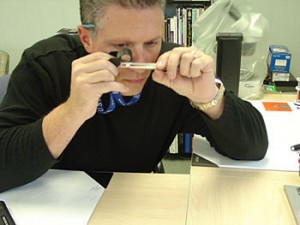 Yes, you all like to read about the hot jewelry designers, but the most-read posts on this site are the ones where experts share their secrets.
I'm fortunate to have the ear, on occasion, of international experts on gems and jewelry – auction specialists, museum curators, jewelry photographers, costume designers, authors, appraisers, and Antiques Roadshow regulars – and I pick their brains for you whenever possible.
According to Google Analytics, here is what my readers are most interested in these days, starting with this year's most-read post:
1. What you need to know about jewelry hallmarks. Mysteries revealed include the difference between hallmarks and makers' marks and why jewelry made in the U.S. and Italy do not have hallmarks, followed by a lively discussion between readers and Danusia Niklewicz of the Hallmark Research Institute that's an education unto itself.
2. Free passes to Intergem shows <– I just saved you the time of reading the post itself and sent you straight to my popular and constantly-updated calendar, where you can register for comp tickets to upcoming International Gems & Jewelry Shows near you.
3. Tips from professional photographers on how to photograph jewelry, how to Photoshop jewelry, how to photograph gems, and how jewelry designers are shooting it themselves
4. How to buy a jewelry loupe, according to a woman who knows her loupes: Antoinette Matlins, appraiser, gemologist and author of many best-selling gem and jewelry buying guides
5. What they're wearing on The Good Wife, thanks to Daniel Lawson, costume designer behind CBS's popular legal drama starring Julianna Margulies, Archie Panjabi, and Christine Baranski
6. How to spot fake gems in old jewels, according to the late, great Christie Romero, appraiser, author and expert on estate jewelry
7.  How to buy ancient jewelry for $3000 or less, according to the head of antiquities at Christie's. I just posted a follow-up to this perennial fave: More ancient gold jewelry for $3000 or less with highlights from the 15th annual ancient jewelry sale at Christie's New York held in December 2013.
8. How to tell a real ruby from a glass composite. Stop! Don't buy that ruby until you read this.
9. How to build your own website to sell your jewelry. This post is gaining popularity as more of you take the dive and launch your own sites. It led to a series of webinars on building your own jewelry sites launched in September and available here for download.
10. Best book for jewelry lovers: Celebrating Jewellery – my review of the latest, lush edition of this must-have reference for jewelry collectors
11. Why blue diamonds are blue – recent studies on the Hope diamond and other famous blues or what happens when you take the Hope out of its case and try to dissect its mysterious beauty with science.
12. How to wear jewelry like a rock star and skulls like a rock star – because, c'mon, this is a skill that must be mastered.
13. What's the difference between copal and amber? And, no, there is no such thing as copal amber.
14. Whether the new JAR jewelry & watch collection for sale at the Met is worth the price. Should you fork over $4,000 for those resin earrings? What about $7,500 for the gold-plated aluminum ones? No? Well, there's always the $600 watch.
15. Where to get jewelry training in the U.S. – an extensive list of courses and workshops across the country for everything from basic stone-setting to gemology degrees
Related products: