I'm tying this year's Valentine's Day gift list to a perennial favorite on this blog: 8 secrets for buying a woman jewelry. When it comes to jewelry, guys don't know what to buy us, so they google it. To the men who nod as they read that: This one's for you.
You want to see her face light up when she opens that box – so badly, you just searched "how to buy a woman jewelry." Am I right?
Trust me, if she loves you, she will love that you tried… but you have to try. Show her you're paying attention, that you noticed her quirky tastes. Show her you thought about this and didn't just nab the first thing that caught your eye on a manic, last-minute gift hunt.
You probably won't find the jewelry of her dreams on Google – she holds the secret to that – but the fact that you searched shows you're serious about getting this right. Here, then, are steps you can take (with examples) to unlock her desires.
Buy what she loves, not what you want to see her in.
If you can find something that works for both of you, all the better. But if you want to see this thing on her beyond Valentine's Day, if you want it to become one of her favorite pieces, make sure it suits her, that it's well-crafted and wearable. To quote Cynthia Renee: "Jewelry should feel alive and sensual on the body – not stiff, sharp or unyielding."
Watch her shop.
Does she go straight to the ring bar and start stacking those bands?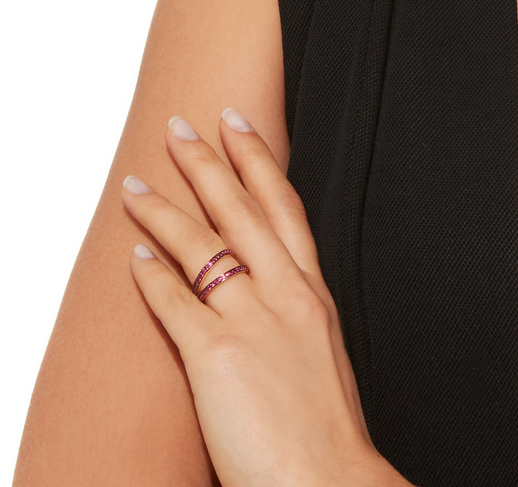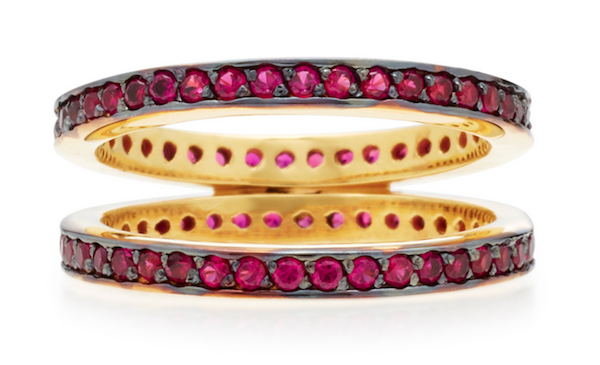 "Crisscross" ring by Joanna Laura Constantine of gold-plated brass with rubies – $110 at Moda Operandi
"Flutter Heart" ring by Ruifier of 18k rose gold set with rubies and diamonds – $730 at Swoonery

Look in her jewelry box. Better yet, look at her.
Notice what she wears. Does she layer delicate pendants on gold chains?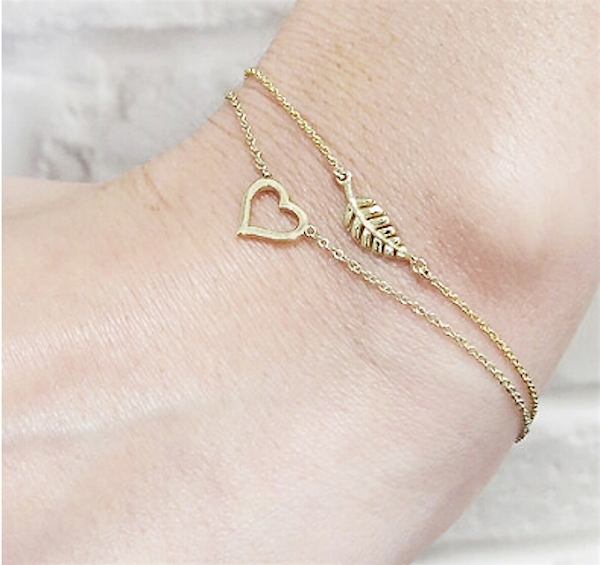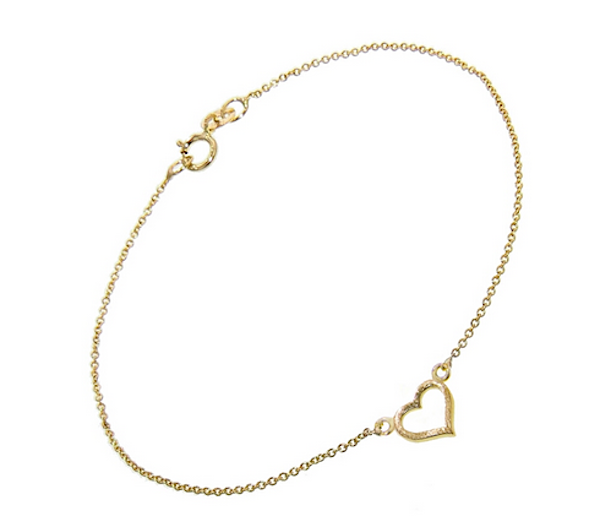 "Open Heart" bracelet by Jennifer Meyer – $475 at Ylang 23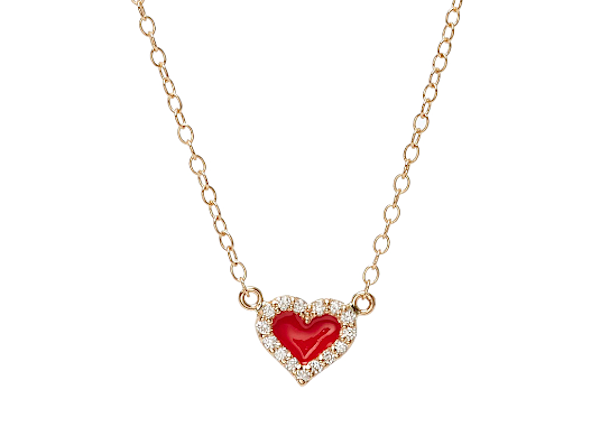 Red enamel heart-shaped pendant on long chain in 14k gold with diamonds by Alison Lou – $715 at Moda Operandi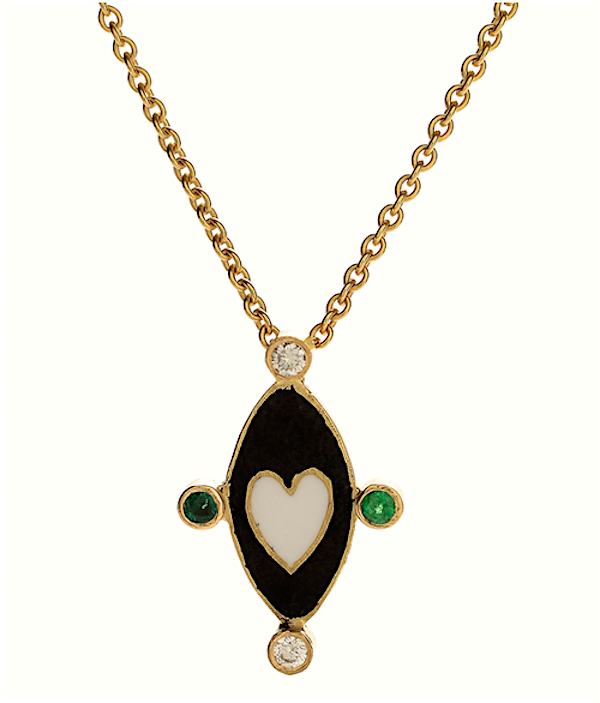 Black and white enamel heart pendant with diamonds and emeralds in 18k gold by Gemfields x Muse – $610 at Swoonery
Does she prefer bold contemporary statements?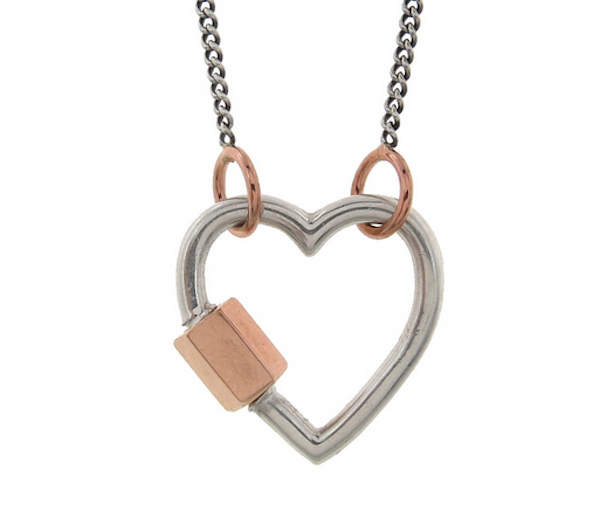 Marla Aaron's "Heart Lock" pendant in silver and 14k rose gold – $277 at Ylang23

Or does she stop at every yard sale and junk shop you pass looking for Victorian lockets or Edwardian rings?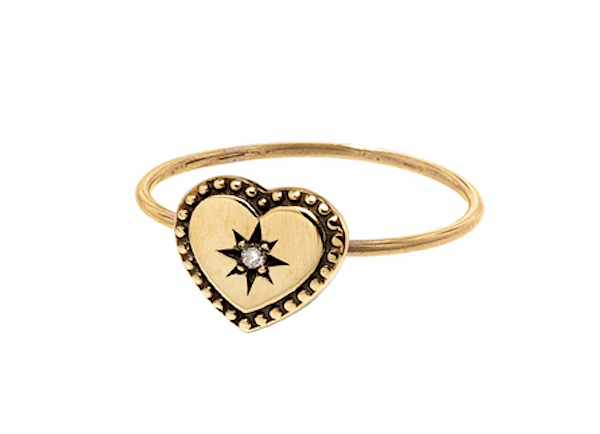 "Cordelia" ring by Workhorse handcrafted from 14k gold heart with a diamond in Victorian-style star setting – $310 at Ylang23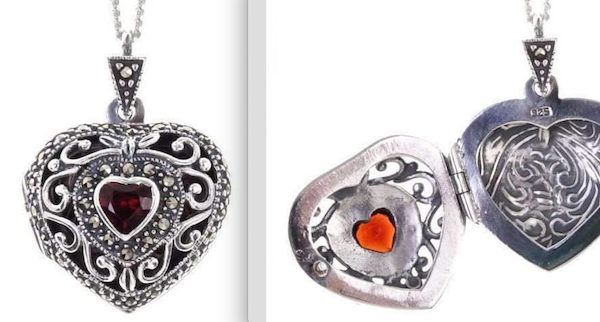 Heart-shaped locket inspired of sterling silver with garnet (holds tiny photos or keepsake) by Lily Blanche – $233 at JewelStreet
Get her something with sentimental value.
There is no more sentimental holiday than Valentine's Day. You can't go wrong with hearts but you don't have to be that literal. Try getting personal. Do you sign your messages to each other XOXO? Did you fall in love hiking or skiing or propose to her at sunset on a mountaintop?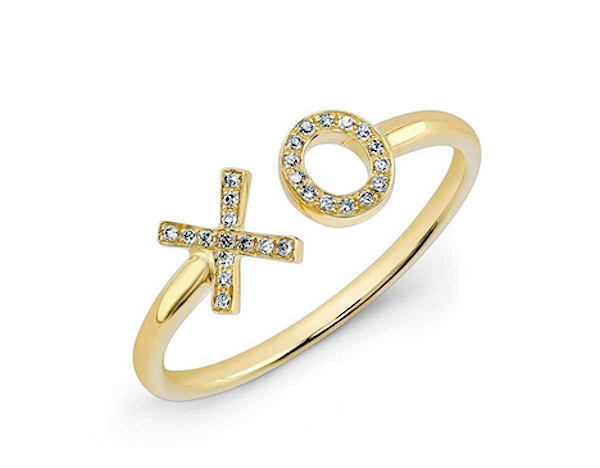 XO ring of 14k gold with diamonds by Anne Sisteron – $410 at JewelStreet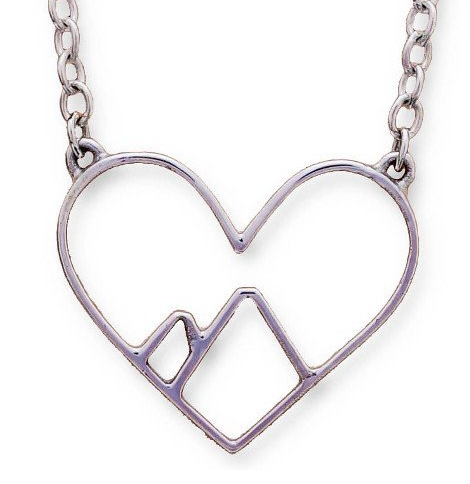 Peak Jewellery of sterling silver by Milton Keynes – $63 at JewelStreet
If she likes big stones and you can afford 'em, go with that…
…but don't assume she likes big stones. (She may prefer ethically sourced.)
When in doubt on Valentine's Day, stick with the classic stones of love. Diamonds don't have to be big to sparkle and small diamonds are surprisingly affordable (see examples above).
Ruby is the color of the heart (valentines). Hindus believed rubies generated heat and sensuality. In medieval times, they were believed to preserve their owners' health, banish evil thoughts, control amorous desires and reconcile arguments.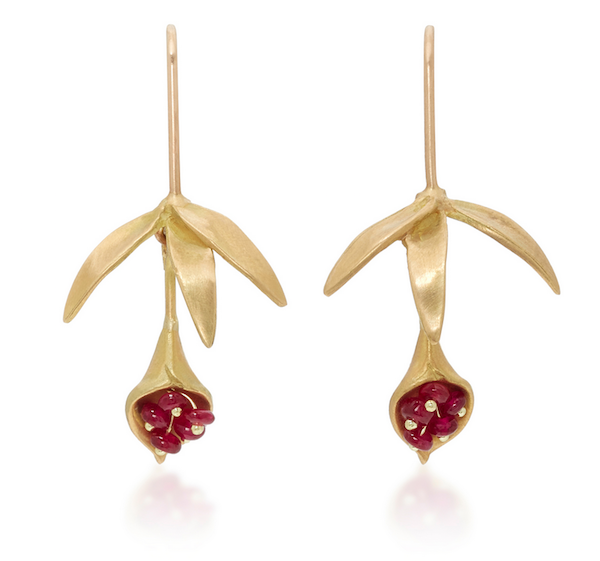 Earrings by Annette Ferdinandsen of 18k gold set with rubies  – $1,025 at Moda Operandi
But many gems are tied to legends of love. In some parts of the world, blue moonstone is considered the lover's stone. Aquamarine was once considered an appropriate gift for a man to give his bride following the consummation of their marriage and, in medieval times, was thought to reawaken the love of married couples.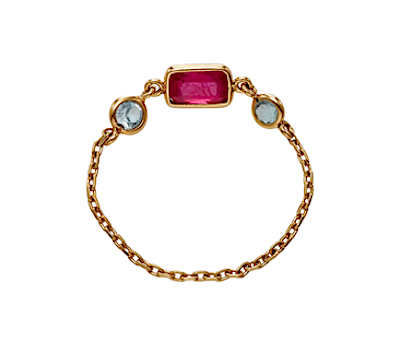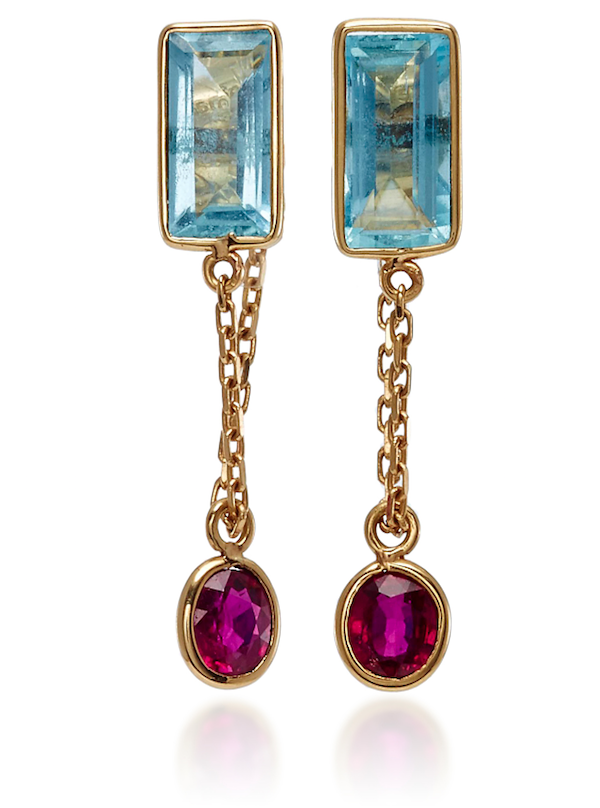 Two from the Yi Collection of aquamarine and ruby set in 18k gold – chain ring $580 and earrings $1,250 at Moda Operandi
A jewelry designer once told me of a ruby and blue moonstone ring he designed: "It brings together the heart stone and the lover's stone. When you place this ring between your lips, it's like Cupid with two arrows."
You can't ask for more than that on Valentine's Day.
Like what you see? Subscribe to The Jewelry Loupe to receive more posts like this.
© 2018 The Jewelry Loupe. All rights reserved.
This page contains affiliate links.
Related products