Just back from battling the crowds in midtown Manhattan, where sidewalks are packed so densely you can barely move. Everyone is there to see the light show that is New York at the holidays. I didn't even glance at that giant tree or the ice skaters twirling around Rockefeller Center. I was there to get my hands on the magnificent jewels. Get out of my way!
There were three pairs of JAR at the New York previews this year, two at Christie's and one at Sotheby's. I was particularly eager to see the blue opal and zircon JAR ear clips, the ones estimated to sell for $150,000-200,000 at Christie's on December 7 – not a price point you normally associate with stones such as those. But part of what sets Joel Arthur Rosenthal apart is his ability to find the very best gem material – even of the so-called "semi-precious" variety – and transform it into high luxury. [UPDATE: Blue opal ear clips sold for $180,000.]
Somebody always ends the year handing over their bespoke JAR jewels to Christie's or Sotheby's. I like to picture a woman's delight when she unwraps her present. But then I usually spot them a few months later at the booth of a high-end estate dealer like YAFA Signed Jewels. Turns out, they never made it out of Manhattan. This year, whoever manages to shell out the quarter mil required to possess these particular cult classics, they made it into my hands first – and then onto my ears.
As usual with JAR jewels, they were a shock of unexpected size and color. Big and bold – yet perfectly comfortable.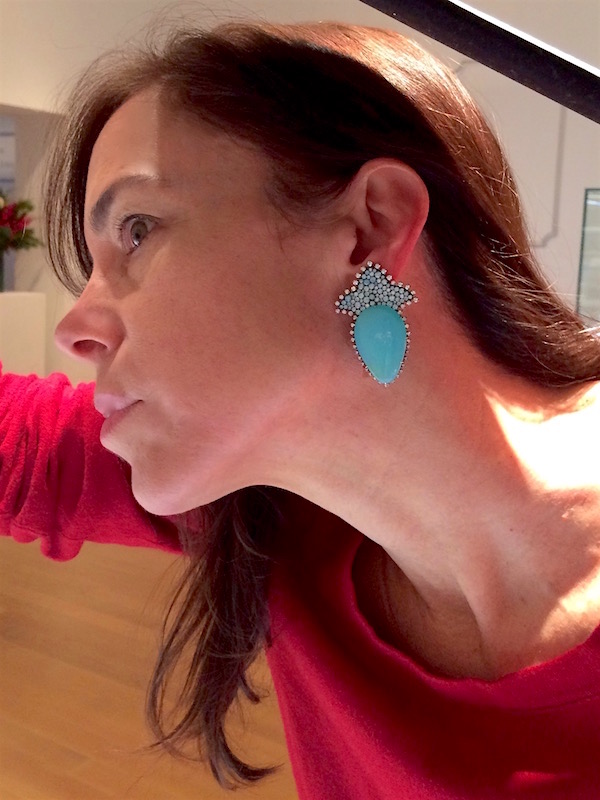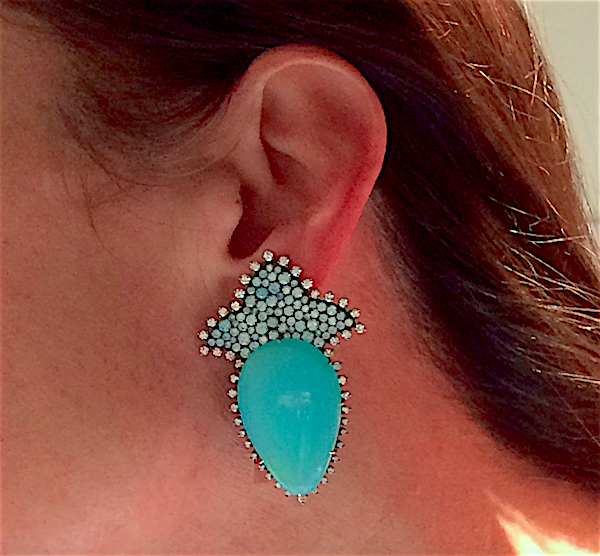 As you can see, they are a modified fleur-de-lis. What you can't see is the way the zircons glitter vivid blue and green, surrounded by the sparkle of diamonds on JAR's signature blackened gold. When you hear "opal" you may be expecting hidden rainbow but this is blue opal, more of a cross between blue chalcedony and Sleeping Beauty turquoise, except the blue-green color of the Caribbean.
I was surprised to find them in the case. At the big jewelry previews, there is always a semi-veiled room attached to the showroom lined with tables where specialists work with individual clients, letting them hold the jewels to their loupes and ask lots of questions the rest of us can't hear. This accounts for the disappointingly empty spaces in the showcases, where the jewels are supposed to be.
So this year, knowing the blue opal JAR ear clips would be in high demand, I made a beeline for that case – and was pleasantly surprised to find them waiting for me and, a few seconds later, in my hands.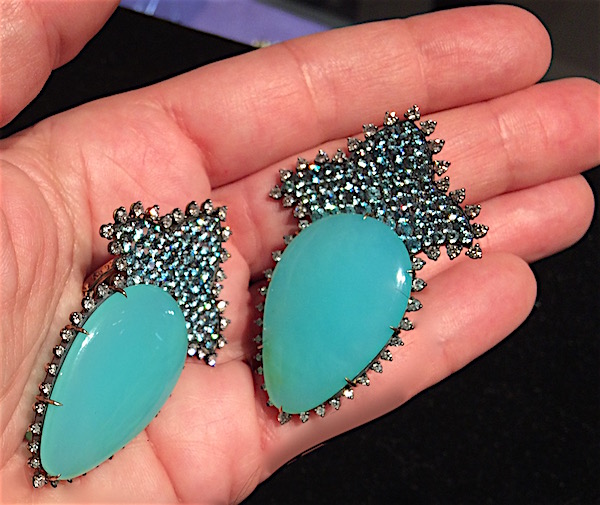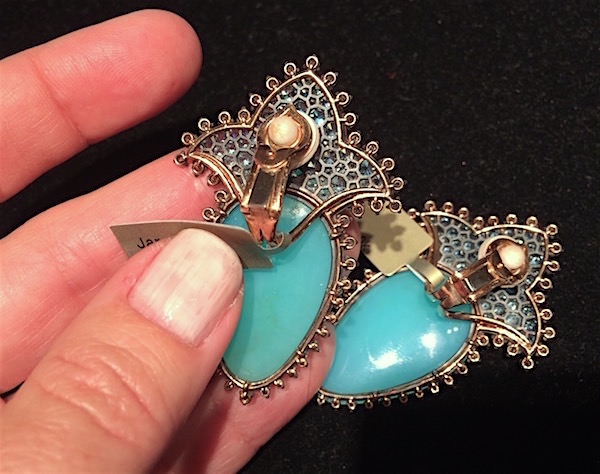 Here are the backs, always worth looking at with JAR jewels, because always beautifully finished, the pavé a perfect honeycomb, the backs of the stones polished and shaped with as much care as the fronts.
The other JAR pair at Christie's were less showy, but in a form of which the Bronx-born Rosenthal is famously fond – the scallop shell. These brooches were carved in cloudy quartz that absorbs and holds the light, subtly translucent. One was pale peach, the other palest blue. The best detail, I thought, was the way the diamonds along the border subtle graduate in size at the bottom corners and then shrink again, adding subtle drama.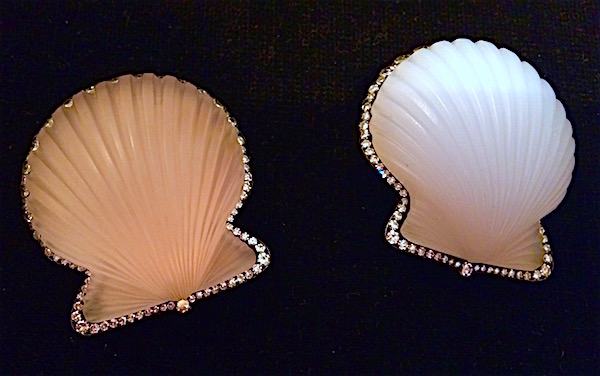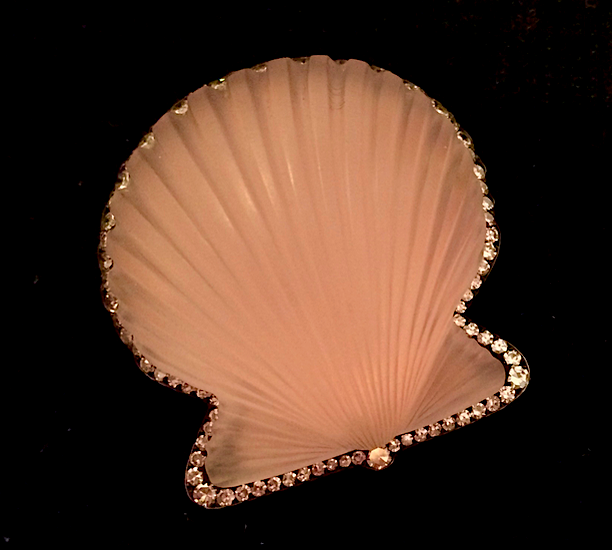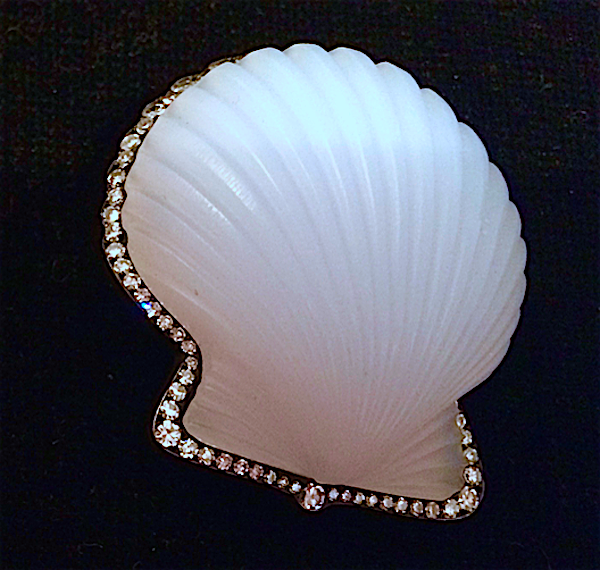 Measuring one and 5/8 inches in width, this set of JAR shells is expected to sell for $30,000-50,000. UPDATE: These sold for a hammer price of $65,000.
Alas, I didn't quite make it all the way uptown to see Sotheby's JAR ear clips but they fit rather nicely with the ones at Christie's – a little complementary pastel, a little opaque opal, and the usual flash of diamonds on blackened gold. Here is the official shot from the catalog.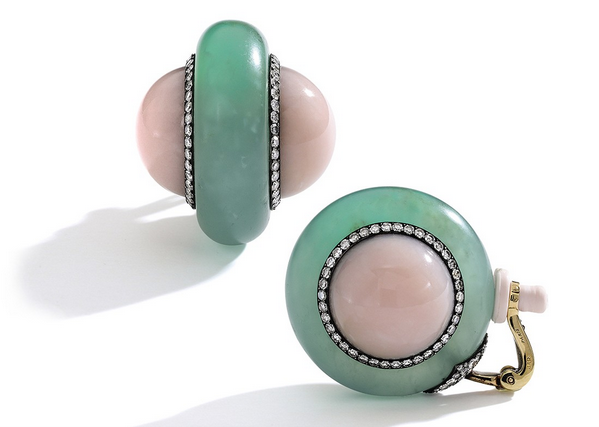 These feature central domes of pink opal – another opaque variety of opal – surrounded by soft green chrysoprase and a border of diamonds on blacked 18k gold. They are expected to fetch $50,000-80,000 at Sotheby's New York on December 8.
But as ever with JAR jewels, the estimates are a shot in the dark. Given that he never repeats himself and works with such unusual material, it's kind of difficult to know who will spring for what. It's always fun to watch though.
That, by the way, is just as true for his limited-edition costume jewelry as it is for his bespoke fine jewels. The titanium violet ear clips he designed for the Somerset House, London exhibition of his jewelry in 2002 appreciated dramatically over the years. Those titanium ear clips never make it into the Magnificent Jewels sales, but are just valuable enough to fit into the more accessible fine jewelry auctions.
I was less enamored with the resin and gilt collection Rosenthal designed for sale at the Met exhibit a few years ago. Four years ago, I posted these shots in a review of that collection.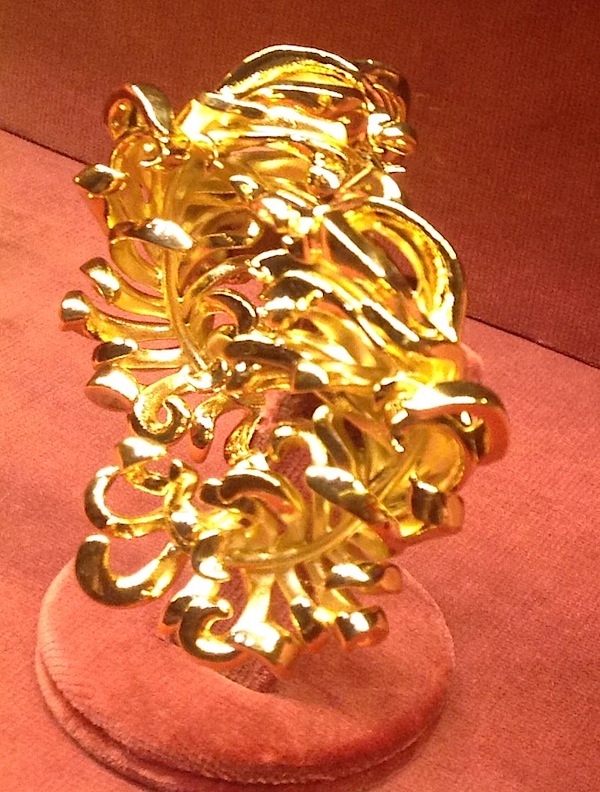 Not a very flattering shot of the gilt feathers, which I thought were kind of hideous – especially considering their $7,500 price tag. I preferred the gardenias – to look at it. "Personally, I don't adore those resin gardenias enough to shell out $4,000," I wrote. "But if you want to invest in a collectible, this is not a bad gamble."
Well, guess what? We're about to find out exactly how that gamble paid off. They're back on the Upper East Side, a few blocks from the Met, where they were originally purchased. A pair of each is making an appearance at the "Fine Jewelry" auction at Sotheby's this Friday, December 9, day after its Magnificent Jewels sale.
Both the gilt "Tickle Me Feathers" and the resin gardenias Rosenthal designed for the Met are estimated at $2,000-3,000 – somewhat less than they retailed for. But they've got that JAR brand and the Sotheby's publicity machine behind them.
In the title of my review of that collection four years ago, I asked the question: Are they worth the price? I guess we're about to find out.
All photos, except the last, are my own ©Cathleen McCarthy. Final shot courtesy of Sotheby's.
Related Products