Who says a bespoke jewelry designer can't be a rebel?
Joel Arthur Rosenthal is proof that you can be both subversive and incredibly popular with the world's uber-wealthy. Two examples of subtly radical JAR are going up for sale at Sotheby's New York on Thursday. [UPDATE: Both pairs sold for 5-6x their estimates. Details below.]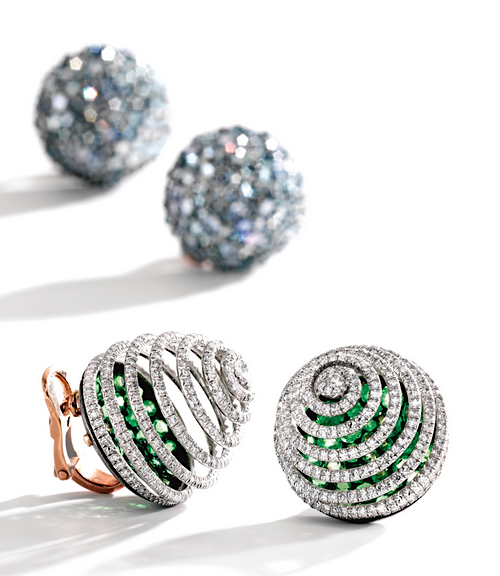 JAR jewels may be over the top sometimes (pretty often actually) and designed to be owned by the super rich. No one else can afford them. That, of course, is part of what makes them status symbols. But the other part is that they are truly unique. Many try to copy him, few pull it off.
JAR takes a lot of risks. Like all risks, sometimes this works better than others. I think we experience a vicarious thrill when we see (what appears to be) a cavalier treatment of precious material – especially when it works. Radical JAR was on display in a big way at the recent Met exhibit, but there's a streak of rebel in even the simpler pieces.
One place JAR pushes the envelope is on the ear. He was one of the first couture jewelers to specialize in mismatched earrings. One pair of the JAR earclips at Sotheby's this week sports diamond-studded springs, the other reverse-set aquamarines. Neither is expected to sell for hundreds of thousands, as some of JAR's jewels recently have – they're estimated in the $20,000-50,000 range – but both demonstrate aspects of the subversion you can find even in this designer's simpler work.
The first pair at Sotheby's received a slightly higher estimate ($30,000-50,000), made of platinum, rose gold, and silver, featuring spirals designed as springs, set with round diamonds weighing approximately 5.00 carats, on a ground of round demantoid garnets.
[UPDATE 2/5/15: These sold for $225,000 today – 5x the estimate. That's $180,000 hammer price + buyer's premium. Sotheby's announced a hike in their premiums, effective Feb. 1. Anything under $200,000 sold at Sotheby's New York now comes with a 25% buyer's premium – which bumped up the price of both pairs.]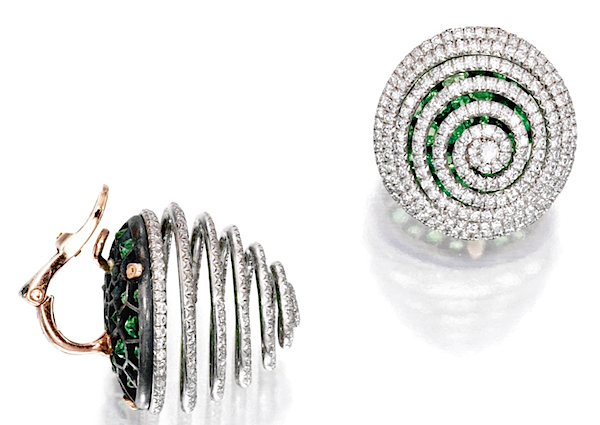 Who else would think of putting diamond spirals on springs? I assume they're subtly springy, enough to shimmer but not bounce off your ears like a blinged-out Slinky. Spirals for the ear appeared in the form of his "String" earrings, formed like confetti dangling from the lobe. A pair of those String earrings appeared at the Met exhibit Jewels by JAR in 2014, then sold at Christie's last November.
But the ones for sale this week look a lot more like another pair in that sale.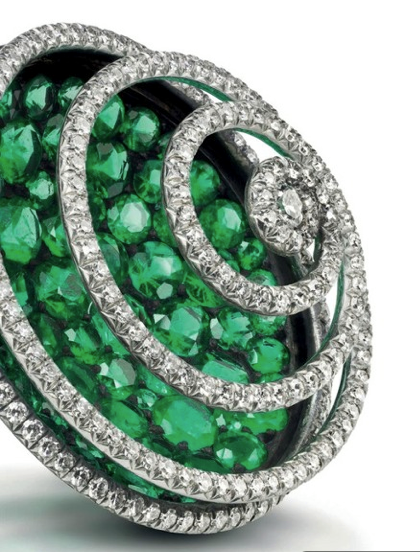 Note that the pair shown above were made with emeralds, not the demantoid garnets of this week's pair. They're also a little subtler in their protrusion. Emeralds this fine are rare indeed, and no doubt had a lot to do with the $373,000+ those earrings ultimately sold for. (They were estimated at $200,000-300,000.)
Fine demantoid garnets are nothing to scoff at either, they've been making their way into couture jewels for eons. Yet the pair at auction Thursday are estimated at about 10 percent of the emerald version's sale price.
Now let's look at the other pair on sale this week of 18k gold and silver designed as spheres and set with reverse-set aquamarines, accented by single-cut diamonds.
[UPDATE 2/5/15: This pair went for $187,500! That's $150,000 hammer price + 25% buyer's premium – 6x the estimate.]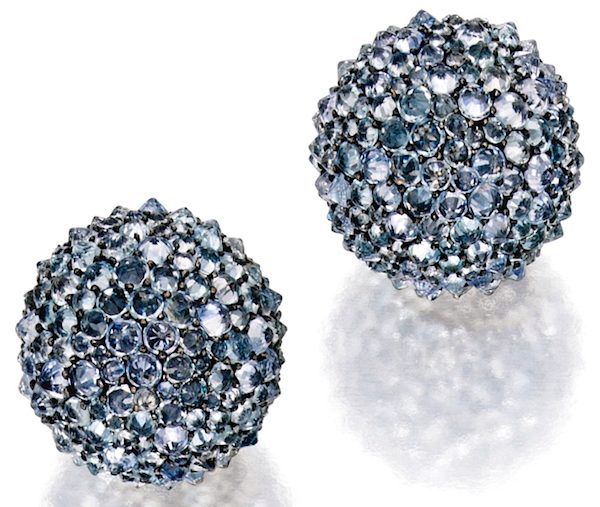 There's something a little funkier and less disco-ball about these than the ones that were in Elizabeth Taylor's collection, for example.
First of all, they're multi-toned – what's known as tweed in much of JAR's pavé. Mixing tones within a color range, in this case blues, makes the overall effect much more textured, visually. Using this technique is a boon to designers because it means you don't have to have dozens of perfectly-matched, top-grade specimens. Better to have one centerpiece surrounded by a few sparklers interspersed with different hues and sizes, or in this case, no centerpiece at all.
That's a form of visual texture. More radical still, these are pointy. JAR is known to set faceted stones upside down to create actual texture in the pavé. Not many designers would do this. For one thing, it seems a phenomenal waste of money. The facets were put there to maximize reflection from the crown of the stone, the upper part. What's showing here is the underside or pavilion. He is essentially defeating the purpose of the faceting, it would seem.
Except, he still uses quality stones – not many designers can afford to use great stones and then turn them upside down – and they still glitter, as you can see from this reverse-set JAR ring I tried on nine years ago.
"Joel has no idea what it costs when he makes something, and no idea what it will sell for," François Curiel, then head of jewelry at Christie's, told me in 2006, just before the famous Ellen Barkin sale. (He was explaining the role of Rosenthal's partner, Pierre Jeannet, the business mind behind the operation.) Then he showed me a treacherous looking diamond band and said, "That's a wedding band. All the diamonds are mounted upside down with culet up."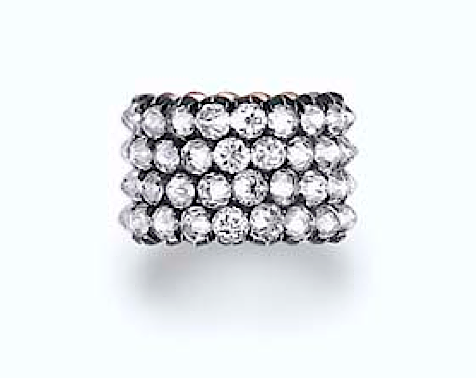 I'd never seen this before. Frankly, it looked intimidating. When I tried it on (above), it wasn't very comfortable. Even in the quick, out-of-focus snap I took that day, you can see those diamonds were flashing, even upside down. The following day, it sold for $156,000, on an estimate of $30,000-50,000.
Here's that ring (left) as it appeared in the auction catalog for the Barkin sale. Barkin, you will remember, had just been divorced from Revlon CEO Ron Perelman and was about to auction off all the jewels he'd given her over their five-year marriage, adding another $20 million to her pile.
So the wedding band was significant in this sale. It was not listed as a wedding band, however, just a "wide diamond band" in a tiny picture that appears at the end of the catalog. Beside it was a full-bleed shot of Ellen looking back over her shoulder as if to say: Buh-bye!
In the catalog, Christie's described it as "set with four rows of bell-cut diamonds, mounted in silver-topped 18k gold."
"Bell" is Christie's word for JAR's pointy cuts. In 2012, a set of three JAR eternity bands belonging to Lily Safra, made in 2001, were described as "bell-shaped." Now here they look at little softer, almost as though they might have been specially cut, not just flipped over.
Ellen Barkin ring was reverse-set, no doubt. So were the aquamarines on the earclips selling this week. Sotheby's comes right out and calls them "reverse-set." I mean, look at those stones. They're upside down.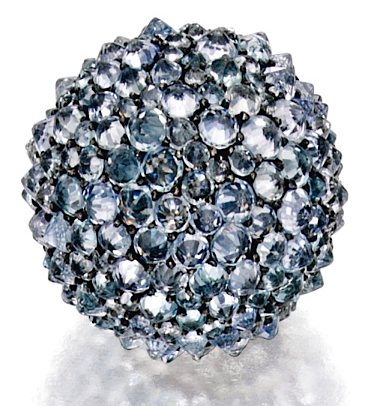 I think that makes them all the more cool.
When those diamond and emerald spiral earrings went on the block at Christie's in November, I posted a shot of them on The Jewelry Loupe's Facebook page and someone in Beirut commented, "I can make it in $5000. Do you want it?"
Joking, I'm sure. But maybe she can make something resembling them for $5,000. A lot of people around the world are madly knocking these things off, even as we speak. Part of the ongoing demand for JAR originals, however, is that few take the time or invest in the skill to achieve the craftsmanship that marks his pieces.
Even the simplest JAR jewels are more complicated than they seem at first glance. The best are beautifully sculpted, finished, and textured. The metal itself is complicated – an alloy of silver, gold and two other metals Curiel calls JAR's "secret recipe" – and so is the pavé.
In the best world, designers are using the more successful of his radical experiments as inspiration, just as he derived much of his own inspiration from antique jewelry.
All photos courtesy Sotheby's and Christie's Images, except the blurry shot of my hand
Related products