So thrilled to learn Baltimore art jeweler Joyce Scott is among the MacArthur Fellows for 2016! Announced yesterday, winners of the fellowship, popularly known as the "genius grant," receive an unrestricted stipend of $625,000 distributed over five years.
Awarded for exceptional "originality, insight and potential," a MacArthur grant is an amazing honor for Scott, now 67, and a big coup for art jewelry. Joyce is not only a highly skilled beadworker, she elevated beading to conceptual art and (sometimes) wearable sculpture. Joyce wears it with pride.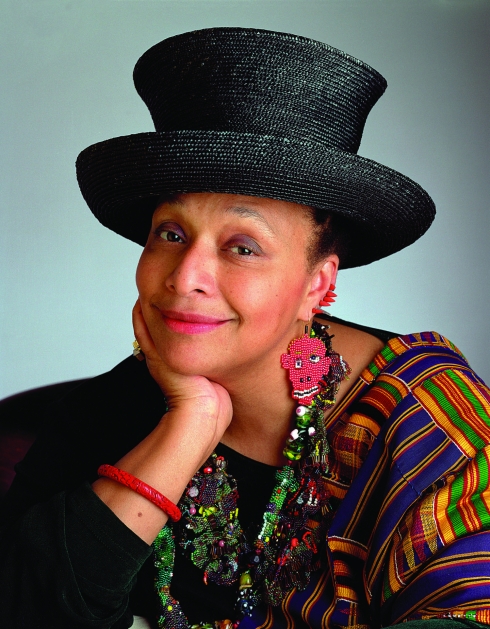 Perhaps most importantly, the MacArthur Foundation's award is public recognition of an artist who has spent decades exploring edgy themes like racism and sexual abuse through her jewelry and performance art – at a time when the world desperately needs to open up that conversation.
Here's what she has to say about it.
On the bright side, we live in a country that allows an artist like Joyce Scott to speak out and thrive. And now we're giving her a big ole award. In honor of this, I'm updating and rerunning my profile of this sassy, outspoken and driven artist. I originally interviewed her in 1998 for a feature in Lapidary Journal titled, "A World Bead."
"My work is really a world bead. Being an African American generally means you're a miscegen, you're mixed. So I bring other things to it as well."
Joyce Scott's beaded jewelry is often figurative, and not in a subtle way. Her figures swell beyond jewelry proportions: faces with vivid expressions, female bodies with full breasts and thighs. Captured in the confines of a necklace, her figures loom around the wearer like cartoon ghosts, demanding attention.
Somehow, "necklace" isn't the right word for these pieces. They're radical, earthy, sometimes violent, sometimes sexual, often humorous, and always spiked with a sharp intellect.
Joyce Scott's beadwork has appeared in important collections of contemporary craft jewelry, including Daphne Farago's at the Museum of Fine Art in Boston, Helen Drutt's collection at the Museum of Fine Arts in Houston, and the permanent collections of the Metropolitan Museum of Art and the Smithsonian National Museum of American Art.
When she's not making jewelry or beaded sculpture, she's printmaking, weaving, teaching or performing on stage. She sings gospel, jazz and blues and does performance art.
"Theater is a great way to get rid of issues that you can't do in visual art," she said. "When people are looking at my beadwork and I'm not there, they walk away with their own ideas. Performing, you're telling them exactly what you want them to know."
Both art forms feed each other, she says: "The performance art can't be as contemplative or detached as the visual art. But I'm a vocal person, a big mouth, and I needed a legitimate place to act out." Both provide ways for her to spark discussion about difficult subjects. And she is driven in this. "An Authentic Voice: Joyce Scott," the 2012 documentary about her life and art leaves no doubt about that.
"They say if you can't change the world, change your immediate environment. I wasn't so happy with the rest of the world."
A descendant of slaves from the Carolinas, Scott grew up in a household where creative expression and handicraft were part of daily life. Her mother and grandmothers were quilt artists. "I'm extending a family tradition of working with needle and thread," Scott told me years ago. "Beading is just a needle and thread with a bead on it."
Beadwork and quilting constitute "a very blue collar approach to art," Scott said from her Baltimore studio. All the better for presenting radical themes to the masses.
In conversation, she's a master of improvisation, sliding from an earnest discussion of art, racism, or Internet pedophiles to a wry one-liner delivered in a goofy voice. Her mind is rich with characters. She tells stories through them.
She describes her studio as a sanctuary. "It's a very meditative place. You're doing metaphysical stuff, making the unseen seen. Sewing becomes a mantra. It's this flow you get in. You're dealing with a light source that can be stiff or serpentine, dimensional or flat. It becomes an interplay between you and the material. It's so tool-free that it's a way to improvise as I work. The peyote stitch allows me to do a stream-of-consciousness with the beads."
Her necklaces morph from one image or object to the next, with very little effort to achieve symmetry. "There are not many mistakes you can make. They're all opportunities for adventure," she says. "A mistake would be making something that would fall apart, But the idea of each side having to match, or taking a thing apart because I've skipped a bead? No."
Though Scott deals with African American themes in her work, the beadwork itself derives from many influences. "My work is really a world bead," she says. "Being an African American generally means you're a miscegen, you're mixed. So I bring other things to it as well: American, Scottish, some Irish, some French." She has traveled extensively in this country, Europe, Asia, Africa, and Central and South America. After graduating from the Maryland Institute College of Art, she spent a year in Mexico studying for her masters degree in crafts and for a while did mola work, a type of stitchery practiced by the Kuna Indians off the coast of Panama.
It was a Native American who taught her the peyote stitch used in Indian beaded leather. Peyote stitching allows Scott to achieve a tactile, glittery surface that emphasizes form rather than individual beads. It allows her to set larger beads and other objects in a glue-free beaded bezel. And the glass-bead surfaces permit light to pass through.
Translucency is something she strives for. Even her figures are usually constructed without armatures to block the light, the beadwork itself forming the image. For larger pieces she sometimes uses a support bead or a doll of wood, metal, or plexiglass.
Her work often has the bizarre chaos and disparate imagery of a surrealist painting, figures and objects caught in a web of snaking vines. The intricacy draws the viewer close, so the artist can deliver her punch: the reality behind the image.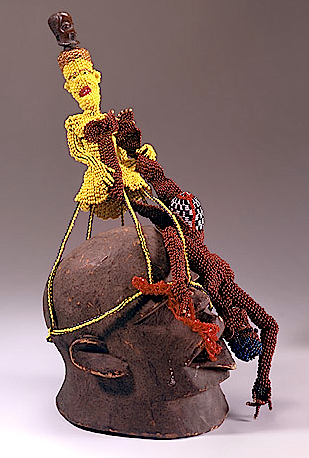 That reality may be as subtle as tiny skulls or as literal as a yellow mulatto giving birth, a black leather "mammy" holding up a pink Caucasian baby while her own brown-beaded child cowers below. Exploding stereotypes is Scott's ongoing quest.
By the time you register the shock of recognition you're already bending close, admiring the craft of the piece. There is a peculiar effectiveness in using a primitive, decorative medium like beadwork in something as cerebral as conceptual art. Scott's work is not always social commentary but the pieces that get people talking are those that question our perceptions.
"They say if you can't change the world, change your immediate environment," she once said. "I wasn't so happy with the rest of the world."
Related posts
Helen Drutt: advocate of contemporary studio jewelry
Albert Paley: bodily ornamentation
Art Smith & Sam Kramer: heyday of modernist jewelry
Handcrafted wood jewelry boxes
Related products