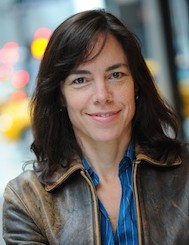 The Jewelry Loupe is a blog/magazine for jewelry lovers, celebrating human ornament in all its facets. I take you behind the scenes at the hottest jewelry auctions and exhibits, and dig up the coolest stuff I can find from designers and studio artists, past and present.
This blog was launched in 2009 and now boasts a deep archive of jewelry history, reviews, profiles, and practical information for serious enthusiasts, including interviews with world-renown experts on gems and jewelry.
If you've landed here, you're probably already fascinated by jewelry. If you follow, you know I feature "high jewelry," but also art jewelry and alternative materials. I love unusual stones and exceptional carving. My interest is primarily in studio jewelry, craftsmanship as well as design. I believe there's value in pushing boundaries. I also like to look at how people are wearing jewelry and what it says about us. And, yes, that includes guys.
I've been covering this topic for a long time and it never gets old. Jewelry is the perfect microcosm for just about every interesting subject I can think of. Besides, we all need a little eye candy!
Cathleen McCarthy, founder and editor of The Jewelry Loupe, came to this blog as an experienced reporter. I'm a member of the American Society of Journalists and Authors, with a B.A. in magazine journalism from the University of Maryland. I've published hundreds of articles in magazines, newspapers, websites and books. You can find a few here.
I covered a few beats over the years but found my groove in jewelry more than two decades ago, when I became editor-in-chief of Accent magazine and regular contributor to Lapidary Journal. A longtime advocate for the jewelry arts and creative independence, I now teach webinars on online marketing for designers, work as a consultant and content strategist for jewelry-related websites, and continue to earn a living by the pen.
Contact me at cm@thejewelryloupe.com.