Wearing Alexander Calder's jewelry to a party once marked a woman as an art world insider. "It was a something of a cult to wear Calder's jewelry in the thirties and forties," says Mark Rosenthal, who helped curate the exhibit Calder Jewelry.
It didn't cost much to wear this hipster badge. Marion Willard sold Calder's jewelry in her midtown Manhattan gallery for $5 to $25 a piece. Similar pieces now sell for $150,000 to $500,000.
Calder began making jewelry for his sister's dolls at age 6 and, for the rest of his life, carried pliers and bits of wire in his pockets. As he once put it: "I think best in wire."
Making jewelry became a way for Calder to work out ideas for large-scale pieces and support his family while he got established as a sculptor. The first time his jewelry was exhibited, in 1929, it was right beside his paintings and sculpture.
At one point, Calder was sending crates of jewelry for Willard to supply society ladies, who would hold a sort of artsy version of Tupperware parties, according to Jane Adlin, assistant curator at the Metropolitan Museum of Art. By then, Calder was better known and his jewelry was in hot demand among avant garde artists, performers, and high-profile collectors like Peggy Guggenheim.
Rosenthal sees Calder's jewelry as a parody of wearable art. "In a lot of ways, this stuff isn't very wearable at all," he says. "I think of the wearer as being sort of bewitched by the wearing of it but also like something surreal come to life, a surreal manifestation.
"There's something so extravagant about these pieces, they almost transform the person wearing them."
Calder Jewelry, now on its final leg at the Grand Rapids Art Museum (closing April 18), is filled with bangles that span a forearm, neckpieces that double as chest armor, and diadems fit for an African queen.
Along with his Modernist take on tribal ornament, Calder also made pieces that were closer to slapstick cartoons.  Classic examples are the wire caricatures of cabaret dancer Josephine Baker, whom Calder captured in all her goofy, sexy glory in 1928, when she was the talk of Paris.
Calder's famous mobiles first took the form of necklaces. "Lifted up by the ring, the elements take their positions in the same way," Rosenthal says. "Calder was accounting for all the components, how each part would be read in relation to the other parts, as well as how those parts would be affected by the person wearing it."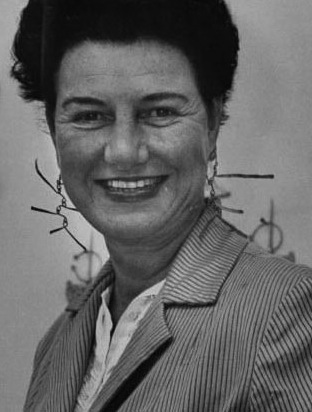 Those pieces mark the beginning of "body-specific jewelry," sculpture that takes form on the human form. Decades later, in the sixties and seventies, jewelry artists such as Albert Paley and Marjorie Schick gave that concept an erotic edge.
Maybe because he pioneered so many trends that took off in the sixties, Calder himself is often associated with that decade. His grandson, Alexander S.C. Rower, says he's always amused to find his grandfather's work in auctions featuring Andy Warhol and Jeff Koons. He may have been ahead of his time, Rower says, "but he was really a pre-war artist."
[UPDATE] And yet, we know Calder was still producing jewelry in the sixties, as evidenced by this silver brooch, designed as the initials WM for Calder's friend Winifred McCulloch, c. 1962. It sold at Skinner in Boston for $15,990 in March 2017. As you can see from this front view, the artist was still working without solder, forming every part by hand, including a wire-wrapped pin that fits into a curve of the brooch itself (no clasp).
As head of the Calder Foundation, Rower has been cataloguing his grandfather's work for two decades. "All his greatest achievements happened before 1945 — the jewelry certainly, but also the wire sculpture, the circus stuff, the mobiles, even monumental sculpture," he says.
"Here's a guy who invented the idea that you could make sculpture out of industrial materials," says Rower. "He found value in things others missed. You can see that in the 'gems' he uses: pieces of broken glass, bits of broken pottery—little treasures passed over by other people."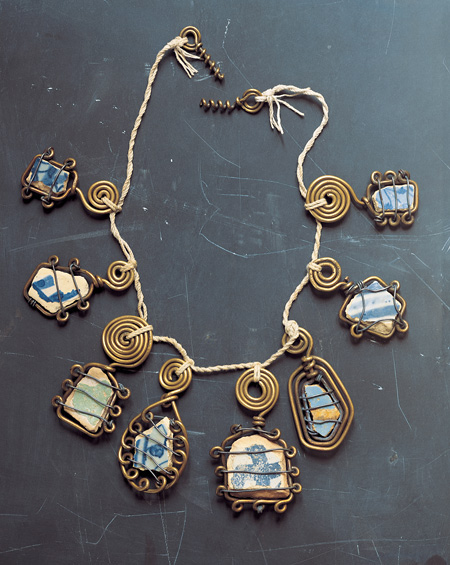 "He produced 1,800 works of jewelry and each is unique, designed by him and made by his own hands. Even if he had made nothing else—even if he hadn't invented wire sculpture, the mobile, performance art—we would look at this body of work as truly remarkable. He would be famous as a studio art jeweler."
If you missed the Calder Jewelry exhibition, you can still buy the book
, which I highly recommend. (Most pieces shown here are in the book, along with a couple hundred more.) You can also find fabulous examples of Calder jewelry at the MoMA and Metropolitan Museum of Art.
Related product: