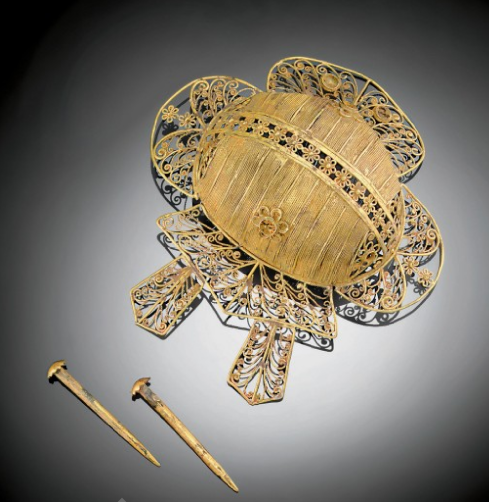 Ah, for the day's when masculine splendor required a guy to proudly pin one of these in his hair – if he could afford to. This elaborate gold filigree hair ornament from the Ming Dynasty (1368-1644) measures 4 3/4 inches across, wide enough to cover a topknot. It's expected to bring between $15,000 and $25,000 at Christie's New York on Friday. [UPDATE: sold for $27,500]
The tradition of wearing large hair ornaments in China goes way back, as does the Chinese reverence for jade.
This elegantly carved tube is more than five inches tall and believed to be a hair ornament as well – dating all the way to the Neolithic Period, circa  3500 B.C.
It's a shape known as mati or "horse hoof" among Chinese archaeologists, who decided – after finding a few next to or under skulls in Hongshain tombs – that these carvings were probably worn on the head. Good guess, I'd say.
This rare example is expected to bring between $20,000 and $30,000 tomorrow, during the first part of the Fine Ceramics and Works of Art sale. [UPDATE: sold for $92,500 – nearly five times the low estimate]
Among the many other jade carvings in the sale are a number of white ones, a rare form of nephrite.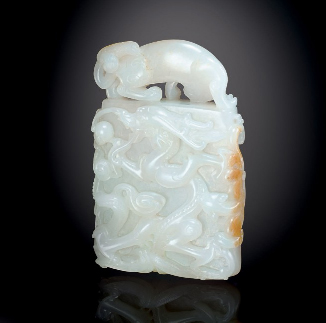 This pendant, probably 18th century, manages to depict "a dragon rising from waves in pursuit of a flaming pearl while being bitten by one chilong to the side, all below a tiger standing at the top peering down" – in only 2 5/8 inches! If you ever wanted something to measure the cheap knock-offs against, I suspect this would be it. But you may have to cough up $60,000 to own it. [UPDATE: Double that – this pendant sold for $134,500.]
The catalog for the sale notes that the pendant "clearly reflects the high skill of the jade carver, who has cleverly carved the details in the pure white portion of the stone, while leaving the golden russet skin and shape of the pebble on the reverse undecorated in appreciation of its natural beauty."
Christie's did really well with Arthur M. Sackler's collections a year ago, so they're playing up the fact that there are more of the famed philanthropist's treasures in this auction. [UPDATE: Christie's scored again with the Sackler collections, which brought in $4,005,250 on Thursday – triple the pre-sale estimates.]