There's nothing more frustrating for jewelry mavens than seeing a star step onto the red carpet with a beautiful gown and no noticeable jewelry – no necklace at the plunging neckline, no bracelet on the slender arms. Minimalism became a frustrating norm for a few years.
Not so this year. Big, bold jewelry is back – trailing with it all kinds of interesting twists. Look for a few of them to trickle into jewelry design on a mass scale this year.
For jewelry and fashion followers, the big event happens before the show starts – when the stars first hit the red carpet, cameras flashing. If you want to see what I meant, join the live tweeting using a hashtag – the latest was #OscarJewelry – or follow me at @thejewelryloupe. Keeping up is the extreme sport of social media, but it does add a rush of adrenaline to the proceedings.
Pulling from my own twitter feed, here's my rundown on trends to watch out for this year, based on choices of the stars and their savvy stylists.
Trend #1: NECKLACES DRAPED DOWN THE BACK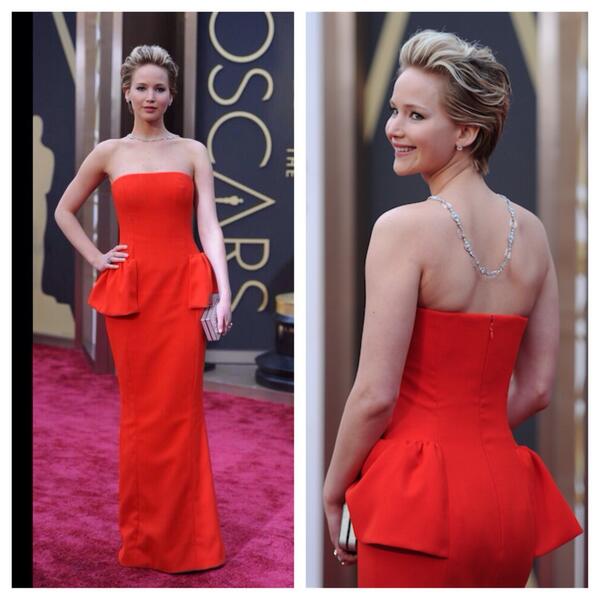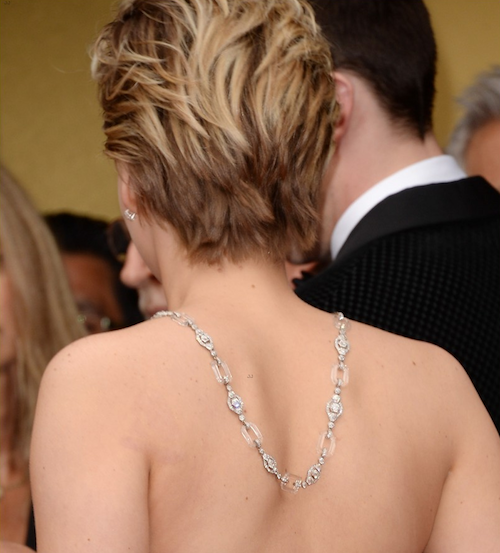 Jennifer Lawrence didn't invent this look, of course. Coco Chanel had it down 70 years ago.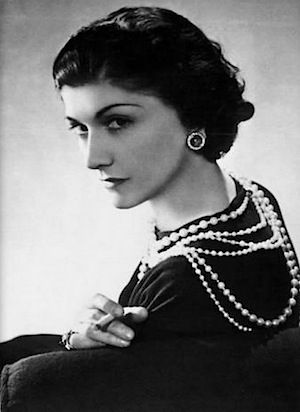 But Jennifer certainly knows how to work it – and even keep it miraculously in place after stumbling to the ground, another signature move. This year, she saved us the suspense by tripping the moment she emerged from her limo, nearly taking down the woman in front of her. Got that out of the way!
Trend #2: STATEMENT NECKLACES
Among the evening's memorable statement necklaces were collars worn close to the throat by Idina Menzel (a 77.12ct diamond collar by Chimento) and Naomi Watts (right) who wore a web-motif Bulgari diamond collar. We'll see that spiderweb theme again in Louise Roe's earrings.
And then came the ultimate statement necklace. Harry Winston never had it so good, and neither did this $15 million 31-carat diamond cluster or the Dior gown Charlize Theron wore it with. Perfect combination in every way.
Here's the woman we vote least likely to fall on the red carpet.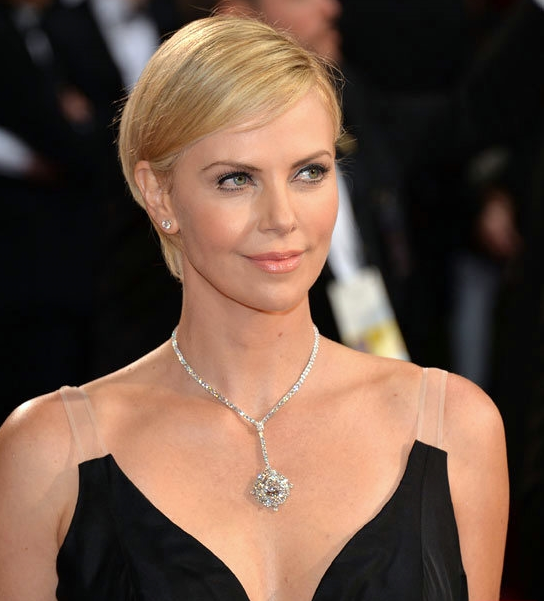 Trend #3: GEM CLUSTERS
And the Oscar goes to… Chopard, who managed to land on the winners of both Best Actress and Best Actor awards. Matthew McConaughey wore Chopard's L.U.C XP Tonneau watch and Cate Blanchett wore their opal cluster ear pendants, an inspired choice for the embellished nude gown she wore. No way she could have added a necklace or even a bracelet to that complication. Diamonds would have pushed the glitz over the top. Opals, on the other hand, read as a perfect extension from a distance and close up, a swingy touch of pastel rainbow.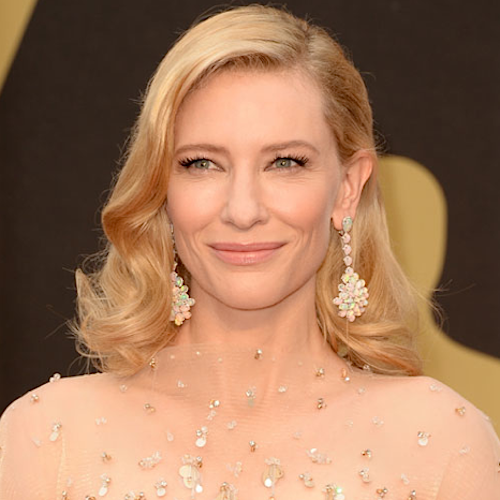 Trend #3: COLORED STONE EAR PENDANTS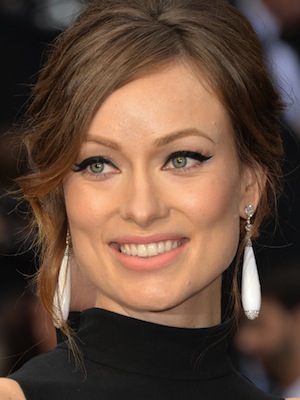 Cate's earrings went along with this award season's general trend toward a different kind of statement earring. Last year, earrings were all about the chandelier style.
This year, we saw a return to long pendants, including the classic faceted teardrop. But instead of the unadorned emeralds Angelina and Julianne Moore wore in years past, Helen Mirren wore her teardrop emeralds at the Golden Globes with pear-shaped diamond surrounds.
And then, something even more interesting happened gemstone-wise. Olivia Wilde appeared with long white jade and diamond ear pendants and an arm full of white and black jade bangles by Lorraine Schwartz.
And Amy Adams' colorful earrings had everybody guessing. She may have missed the Best Actress award, but look how great she looked accepting a compliment from the winner while sporting teardrop pendants of rhodocrosite, lapis, turquoise, and diamonds from Tiffany & Co. (Yeah, we know what she was really thinking, but that's okay.)
Does anyone else love seeing unusual colored stones at red carpet events?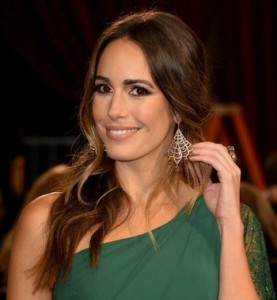 Stars often stick with the same house. Amy Adams wore another pair of Tiffany teardrops, Paloma Picasso's Olive Leaf quartz and diamonds, to the LAFCA Awards last summer. And Cate Blanchett wore Chopard to the Golden Globes as well as the Academy Awards.
I've heard Chopard pays big money to get their jewelry on stars, by the way. Not saying Cate is taking payoffs, but frankly, who cares if she manages to look beautiful and unique at the same time?
One more standout from Chopard: the webbed diamond danglers Louise Roe was wearing. See? That spiderweb motif again.
Trend #5: EAR CUFFS
Some are calling them ear pins – those lobe-hugging curves of gems or pearls that keep popping up at the awards shows this season, especially on younger actresses. Sandra Bullock took a break from the understated, diminutive jewels she's been sporting at awards shows of late and rocked some dramatic diamond ear cuffs from Lorraine Schwartz.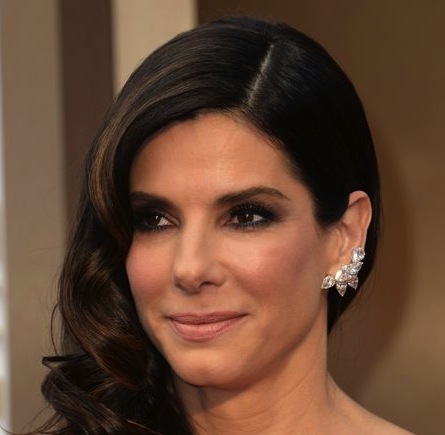 Most memorable version of the ear cuff at the Academy Awards was on Lupita Nyongo, who had established herself as the year's most talked-about fashion icon well before she nabbed an Oscar with a heartfelt speech as memorable as her ensemble.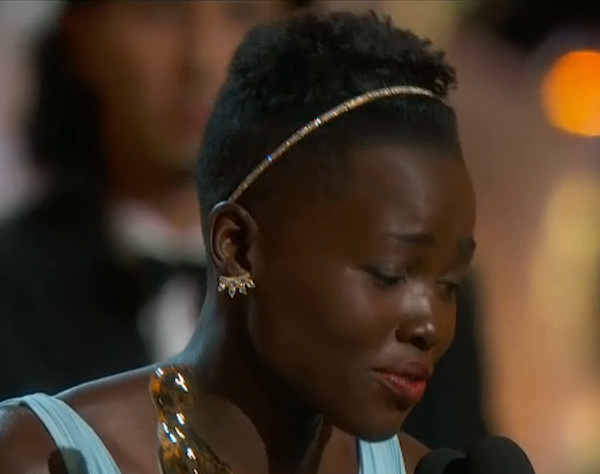 While Charlize is old enough to lend Harry Winston diamonds the regal glamour they require, Lupita has the youthful self confidence to make Fred Leighton jewels look regal in a fresh and sassy way. I'm not going to call that diamond headband a trend – not because I didn't like it but because I don't think most people could pull it off. It looked great with Lupita's hair though, just as that powder-blue Prada gown was perfect against her skin.
Let's face it, you have to be young to pull off a headband of any kind. Remember when the headband was Hilary Clinton's signature? Yeah. Don't try this at home.
Trend #5: FUNKY PEARLS
Funky graduated pearls were all over the red carpet this season, did you notice? Best take on Oscar night pearl earrings was on Portia de Rossi – small pearl in front, larger one peeking out below the lobe. Pearls were the ideal accent for that sheer, beaded gown by Naeem Khan and Portia paired hers with an even funkier graduated-pearl cuff that was to die for, both from Dior.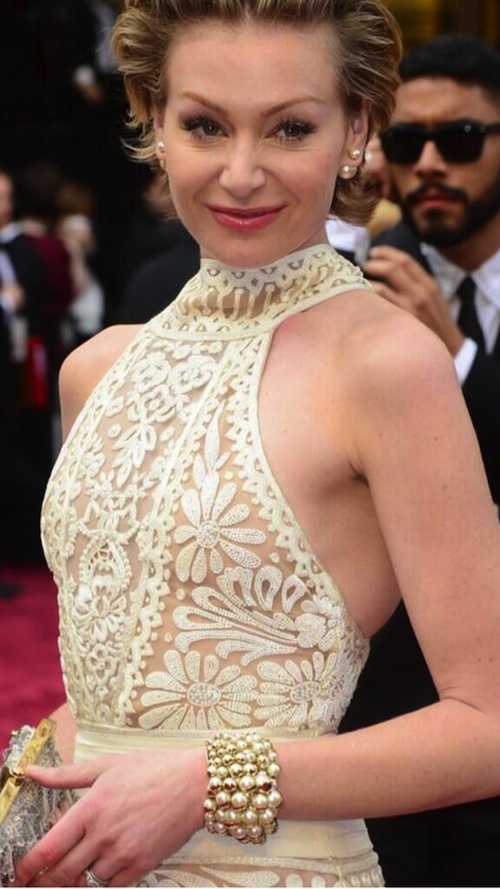 Portia de Rossi's brand of glamour has always been a little punk. Nice to see her moving gracefully but funkily into the next stage of life.
Just to bring home two of these jewelry trends, I'm flashing back to the Golden Globes for a minute to show you Rashida Jones' pearl ear cuffs.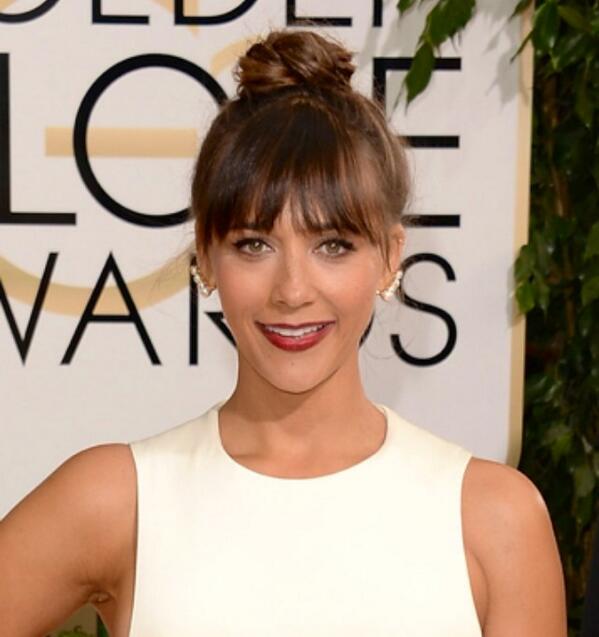 See? I suspect we'll spot plenty of both this year. Nice way to get maximum use of our lobes without multiple piercings, don't you think? Plus, it's a great look.
Related products