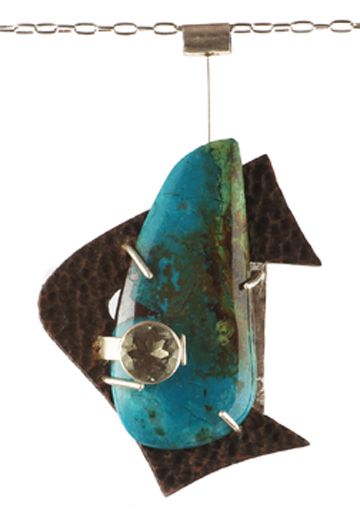 Andrea Rosenfeld designs what she calls "healing jewelry," using stones known for their healing powers and the technique of Reiki. She started designing jewelry fairly recently but brings a wealth of experience and skills to her creations – loom weaving, silk screening, photography, garment design, drawing, painting, ceramics, and wood-working – not to mention a background in fashion merchandising, working with Perry Ellis and Isaac Mizrahi.
She uses a combination of techniques and eco-friendly materials, with an emphasis on texture and movement. She also donates a percentage of all sales to charities such as the Komen Foundation.
How did you get involved in Reiki and how do you apply it to your jewelry designs?
When the sister of a friend found out she had leukemia, she asked for one of my necklaces and I decided to research healing stones to help her. I began cleansing my art jewelry, using sound (bells) and smudging – burning herbs and placing the stone or metal in direct contact with the smoke.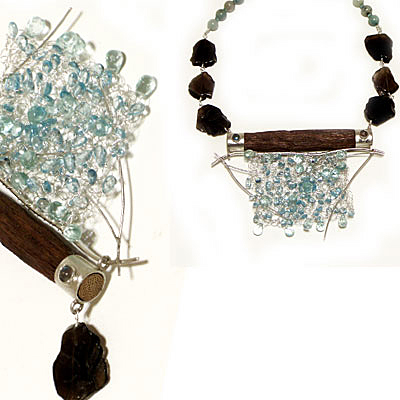 Reiki is more a process that I use after the piece is made. But being an artist opens me up to the Universe through the sheer act of creating. So in a sense, I apply a type of cleansing while I'm working. Applying Reiki after the piece is completed solidifies the healing process, at least for me.
Can you give me an example of a piece designed  with healing stones?
Waterfall (left), a collaborative piece I designed with wood turner Ed Kelle, combining his gorgeous textured, reclaimed walnut with a number of healing stones. Blue topaz helps with clarity and concentration. Labradorite protects one's aura. Blue quartz produces a naturally balanced energy field. Apatite helps with healing, communicating and balancing energy. Smoky quartz disperses negative patterns. Aquamarine encourages the innate ability to always be prepared. And silver attracts and retains the qualities of the gemstones.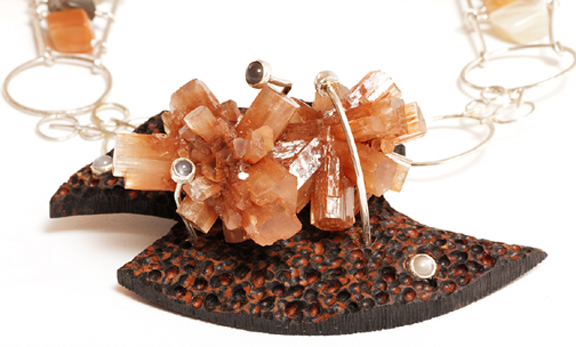 How do the other art forms and materials you work with affect your jewelry?
Sometimes a stone will spark a design – its matrix, color or shape. Sometimes it's a material I want to work with – cement, wood or metal tubing – that brings forth the design. I prefer to use textures and materials that work with and against one another: dry wood against a shiny, "wet" stone, against cold metal. I enjoy juxtapositions.
My jewelry is formed from play and experimentation.  Each new piece becomes a bit more complex as I explore and learn.
How important is sustainability and eco-friendly material to your brand?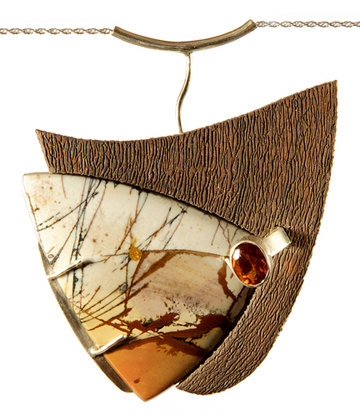 Extremely.  I can't very well offer healing jewelry if collecting the materials I use causes harm to our environment or others. I make sure the wood is sustainable (re-used). I mainly purchase metals that have been recycled and I'm always dipping into my metal clippings. With the price of metal these days, I'm sure that more jewelers are re-using their scraps.
Fair Trade and "conscious" gems are harder to come by. There are few companies who can state that their gems come from mines they monitor. I buy opals from a family who owns a mine in Ethiopia and cabochons from either the mines themselves or people who cut the stones and have extensive knowledge of their origins.
If you walk into a bead store or buy online, you have no idea where the stones came from and who is mining them, how the miners are being treated or how well they're paid. I try to be as knowledgeable as possible about the materials I use.
How does your background in fashion merchandising impact your jewelry?
I have the unusual ability to not only design but also merchandise my line. When I create a piece I take into account the amount of materials used, material prices, number of pieces in a vignette,  length of time to create, and current retail jewelry pricing.
But it really comes down to creating. If I'm feeling a particular way about the design of a piece, sometimes I throw my merchandising hat out the window and just enjoy myself.  There is a balance between the free flow of design and the merchandiser in me and I try to allow them to live together peacefully.
I recently launched Open Studio, Creative Mentoring so that I can guide other artists who want to better understand the wholesale market and how to cross into that business territory.
For more of Andrea's creations, visit Andrea Rosenfeld Designs.