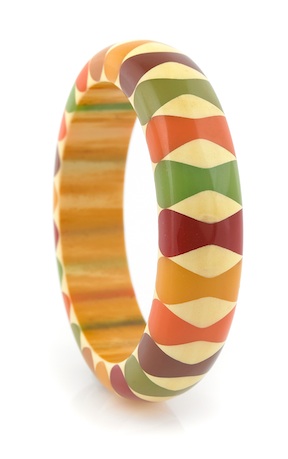 Eighty lots of Bakelite and Lucite jewelry from a private collection will be auctioned off during the Period Art & Design sale at Bonhams Los Angeles on May 20. They show the full spectrum of Bakelite jewelry, from elegant and exotic to splashy, whimsical and cartoonish. (Note the elephant with "googly eyes!")
Invented in the early 20th century, Bakelite was the first completely synthetic plastic. Cheap and pliable, this material could take on almost any color and shape (molded or carved), allowing a new creative freedom that revolutionized costume jewelry. Bakelite jewelry first caught on in the 1920s and remained popular through the Depression and WWII, evolving constantly with fashions of the day. Pieces like these serve as a time capsule, an example of affordable elegance and the spirit of fun that carried our ancestors through some dark days. Here are a few highlights from the sale:
Top to bottom:
Bakelite "bowtie" bangle, est. $1,000-1,500
Two Bakelite elephant brooches one with googly eye, one with metal enhancement, est. $500-700
Bakelite gazelle brooch, est. $500-700
Three Bakelite terrier brooches, est. $900-1,200
Two stretch Bakelite bracelets with diagonal rectangles, est. $600-900
Two striped laminate Bakelite bangle bracelets with two similar rings, est. $500-700
Preview will be held May 18-19, 2012, at Bonhams Los Angeles. Look for the online catalog in the weeks before the sale.
Related posts:
Flights of fancy: Bakelite bangles
Women who paved the way: Elsa Schiaparelli
Bicycle mania: Victorian style