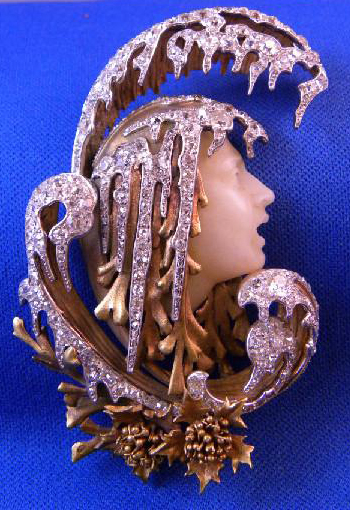 As the final wave engulfs the brilliant career of Ralph Esmerian, the last of his treasures are being sold off to cover his debts. While the former owner of Fred Leighton awaits sentencing for bankruptcy fraud on July 22, most of what remains of the famous collection he pledged (or double-pledged) as collateral is up for sale.
Serious buyers are putting in their bids on four lots, 56 objects altogether, to be sold on June 27.
Gone are the fancy auction catalogs touting Esmerian as having the "eye of a connoisseur" (title of the famously-canceled 2008 Christie's auction). This one has the decidedly unglamorous taint of a bankruptcy sale. But these items are far from the glitzy status symbols auctioned off when Bernie Madoff went to prison.
While many of Esmerian's most valuable treasures have already sold, there is enough here to fill a museum gallery – and I'm sure a few museums are putting in their bids.
Items include the Zucker collection of Islamic rings and prayer stones, ancient bronze sculpture and Roman glass, and a watercolor album commissioned by Marie Antoinette.
Here's a look at the jewelry up for grabs. It ranges from rare antiquities and 19th-century revival (Castellani and Giuliano) to 20th-century designs by Marcus & Co., Raymond Yard, Boucheron and Carvin French. Esmerian worked with all of them over the decades but was probably best known for his Art Nouveau collection. Plenty of that to ogle, including signed pieces by Fabergé, René Lalique, Lucien Gautrait, Gabriel Falguieres, and Georges Fouquet.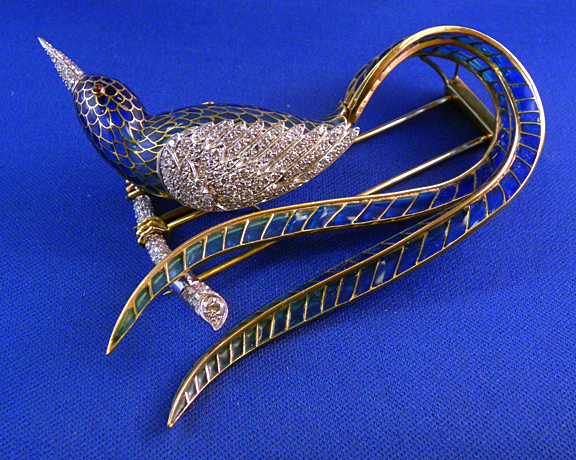 Above, top to bottom:
Orpheus gold and diamond pendant by Gabriel Falguieres, Paris
Peacock necklace by Lucien Gautrait of gold, turquoise, enamel and pearl
Gold and enameled Byzantine dagger by Castellani
Necklace comprised of approximately 36 carats of diamonds and 20 carats of emeralds
Enamel necklace by Philippe Wolfers with pink tourmaline, carved white hardstone and pearl
Sappho pendant of opal, hardstone and enamel by Gabriel Falguires
Gold and enamel cigarette case with diamond "Jean Nicot," Russian
Hellenistic gold and garnet earrings, c. 350 B.C.
Micro-mosaic of a swan by Marcus & Co. with green and white enamel
Bird of Paradise brooch by Mellerio of enamel, gold and diamonds
For more on the sale, email Edward Lewand at ealcas @ msn.com.
Related posts:
Ralph Esmerian: lost legacy of jewels
Bankruptcy sale of Ralph Esmerian's historic jewelry
Ralph Esmerian: rise and fall of a jewelry connoisseur
René Lalique: ultimate art jeweler
Related products: