UPDATE (Sunday, Nov. 15) CNN posted video of the Madoff auction today, demonstrating that people are willing to overspend on generic pearls and duck decoys but not vintage Rolexes.
UPDATE (Saturday, Nov. 14): Ruth Madoff's jewelry sold well today. Her Victorian dangle diamond earrings brought $70,000, five times the estimate, but Bernie's Rolexes went for a song.
The "Prisoner Watch" (described below) sold for $65,000, well below expectations, and one of the Oyster models went for half the estimate. As expected, Madoff's initials added value. A Mont Blanc wallet with the "BM" monogram, estimated at $70-100, sold for $2,200.
Buyers of Ruth Madoff's jewelry told Reuters they were looking for bargains, but glad to be helping pay off Madoff's victims. It's the best excuse for a spending spree many people have had all year.
ORIGINAL POST: After ripping off investors for $65 billion, former NASDAQ chairman Bernie Madoff is adjusting to life in prison while his mansions – and all the booty in them – are being sold off to satisfy his endless debts.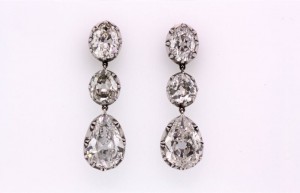 Madoff and wife Ruth bought a lot of jewelry with his ill-gotten gains – along with other revealing items (a gent's rhinestone-studded "grill" mouthpiece?) – and itgoes on sale this Saturday, November 14, at the New York Sheraton's Metropolitan Ballroom. Preview will be held Friday, 11am-4pm.
The auction will be simulcast and auctioneers Gaston and Sheehan are aiming to move 75 items per hour, so bidding should be fast and furious. If you choose to join the fun, remember you're not only getting fire-sale prices (hopefully) but a chance to help the U.S. Marshals pay back the folks Madoff swindled.
Not enough incentive? OK, imagine the collectors' market for Madoff's 1960 college ring, engraved with his initials (BLM), estimated at only $360. His similarly initialized  Tiffany sterling keychain can be yours (according to appraisers) for $440 – with a set of 14kt bull-and-bear cufflinks thrown in. (Something tells me these estimates are low.)
Neither Madoff nor his wife wore the same watch more than twice a year, it would seem. Among the nearly 3,000 items culled from their various mansions are 125 luxury watches, including several by Cartier (Tank, Cougar and platinum Ronde Solo). Just about every other luxury watch brand makes a brief showing, but Madoff was – surprise! – a Rolex man.
Among his 17 Rolex watches are several rare vintage models, including a couple Oysters estimated at about $60,000 each. Most valuable is his vintage 18kt O.P. "Monoblocco" chronograph, known as "The Prisoner" (how appropriate), expected to bring $87,500.
For a corporate type, Bernie Madoff owned a surprising amount of jewelry. Along with the expected cufflink collection, he had invisibly-set diamond link gold bracelets and necklaces and (what appear to be) his own 14-carat diamond ear studs.
Quirkier items like that Hannibal Lecter mouthpiece carry modest estimates but may induce a collector-fever bidding war, leaving buyers feeling as fleeced as the people whose fortunes purchased Madoff's bling.
In the days following Anna Nicole Smith's death, for example, her autograph sold for as much as $2,500 – 25 times its worth the week before. "Anyone who purchased those autographs then will never get their money back," says Bob Eaton of R&R Enterprises. "It's human nature to jump too fast. You have to know when not to jump."
If only Madoff's victims had followed that rule.