I've always loved magazines – which is why I decided to focus on magazines when I was in journalism school – and I've always loved jewelry. So guess what I really love? Magazines about jewelry!
A lot has changed in the media world over the last decade, but I still love magazines (especially print but I'm warming to digital), and writing about jewelry for magazines is still my favorite gig. If you work with or collect jewelry, you no doubt subscribe to a jewelry publication or two, to keep up and be inspired.
Quite a few have come and gone since I last posted about this. A few were partially reabsorbed into their parent magazines, some went from print to digital. Others have undergone overhauls and even expansion. Here's an update on what's out there.
MAGAZINES FOR AND ABOUT JEWELRY MAKERS


Lapidary Journal Jewelry Artist. Have to start with this one, since it's the one where you can find me, in every issue. I've been writing for this magazine for two decades and counting. It's evolved from a glossy monthly that glorified the gem arts to something aimed squarely at jewelry designers/makers, the niche I was covering from the start. I now write a regular column called Net Profits on marketing and selling jewelry, along with the occasional multi-page feature on studio jewelry trends and exhibitions. Still my favorite gig. Other art jewelry magazines have fallen in recent years. Subscribe and keep this one going!
Lapidary Journal Jewelry Artist – 9 issues / 12 months – $24.99

Ornament. I've written for this one too, though not for a long time. I profiled Carolyn Morris Bach and Marne Ryan, both cover stories. The editors actually paid for me to spend a day with those amazing women in their studios. So fun! They are exactly the kind of artists this magazine still spotlights – the creative masters of wearable craft, apparel as well as jewelry. Ornament is more fabulous than ever and worth every penny.
Ornament – 5 issues / 12 months – $29.99

Metalsmith. This is a beautiful magazine devoted to the finest handcrafted art jewelry. Published by the Society of North American Goldsmiths (SNAG), Metalsmith presents the most scholarly take on studio jewelry stateside. It focuses on the edgy, provocative world of art jewelry and metal craft, treating it as an extension of the fine arts, complete with reviews of exhibitions. The magazine recently underwent an overhaul. If you want to check it out before committing, you can download a free digital sample on the SNAG website.
Metalsmith – 5 issues / 12 months – $40.00

American Craft. Jewelry is just one of the studio arts this magazine covers, but if you appreciate fine, handcrafted wearable art, you'll appreciate the innovative, beautifully-made furniture, art glass, metalwork, and ceramics you'll find here as well. Published by the American Craft Council, American Craft is full of compelling, well-written stories and lots of eye candy.
American Craft – 6 issues / 12 months – $40.00

Gems & Gemology. GIA's quarterly magazine is aimed at those who are serious about gemstones. You'll get the latest, peer-reviewed research on diamonds and colored stones—where they're found, characteristics, simulants and synthetics, treatments, and identification techniques – in beautifully-illustrated articles by the world's leading gemologists.
Gems & Gemology – 4 issues / 12 months – $79.99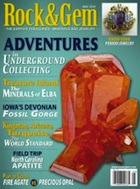 Rock & Gem. If you work with gem materials or (like me) are simply fascinated by colored stones, you'll come away with a new appreciation and understanding of the complexities behind your favorite gems and minerals, and discover many you didn't know existed. Not to be confused with Rocks & Minerals (although it's pretty easy, given these titles!), which is aimed squarely at mineral and fossil collectors. Rock & Gem is not a scientific journal, it's aimed squarely at hobbyists.
Rock & Gem – 12 issues / 12 months – $27.95

Bead & Button. If you like to bead, particularly using seed beads, this magazine will supply you with quality projects and lots of inspiring profiles of creative bead artists. Bead & Button is particularly good if you want to perfect your peyote stitching and bead embroidery techniques, and like to have a lot of different pieces to work on every couple months.
Bead & Button – 6 issues / 12 months – $28.95 ($4.83/issue)

Beadwork. This one, too, focuses on the tricky and meditative art of seed beading, not just stringing. Features informative FAQ sections, lots of projects with detailed diagrams and personal insights from bead artists. If you like to work small and use beads like paint or a sort of textured embroidery, this one will give you plenty to work with.
Beadwork – 6 issues / 12 months – $22.95 ($3.83/issue)
Many of these magazines now have digital versions as well, and a few let you download samples via their websites. Just FYI, if you like to read on a mobile device and you have an Amazon Prime account, there are lots of magazines available to you free. I'm not talking about Kindle Unlimited (which gives you access to thousands of magazines and ebooks for $10/month) but something called Kindle Reading, a recently-added perk for Prime members. You don't get subscriptions but you can download current issues of about 40 magazines free of charge.
Magazines available change constantly and you're not likely to find specialty publications like the ones profiled in this post, but I just downloaded the current issues of Vogue, Vanity Fair, and Entrepreneur at no charge. I've also downloaded Town & Country and The New Yorker. You don't have to buy a Kindle to read them. I read digital versions of magazines and books on my iPad using the free Kindle app.
Prime members also get access to some free Audible series, Amazon Music, and Amazon Prime Video, my go-to now for binge watching. I assume everyone has a Prime account now, if only for the free two-day shipping. If you don't, you're missing out. I don't think you can find a better value for $8.25/month ($99/year). Try it out via the 30-day free trial and see what I mean. If you do have Prime, check out all the perks. Amazon adds to them constantly.
INTERNATIONAL JEWELRY MAGAZINES
Several European magazines have made fashion and jewelry print coverage into an art form in itself. Seriously, they set the standard here and you know what I mean if you've flipped through a few of them at international trade shows or, sometimes, a well-stocked Barnes & Noble. Not all are translated into English but several are available through Amazon for shipment in the U.S., sometimes at surprisingly affordable rates. Others are not so affordable but might be worth a splurge for true aficionados or folks in the biz who can write it off.

Vogue Accessory. Vogue Gioiello is no more, but Vogue Accessory is available via Kindle. This specialized version of Italian Vogue now includes shoes, bags, sunglasses – all that other stuff Italy is known for – along with jewelry and watches. If you want to be on the cutting edge of international jewelry trends, it's a nice skim every three months. It's in Italian with English translation, and you can't beat the price.
Vogue Accessory – Kindle edition – 4 issues / 12 months – $6

GZ: Goldschmiede Zeitung. As a studio jewelry fan, I'm particularly keen on German-made jewelry. The apprenticeship program there has set the world standard for "master goldsmith." Even the clasps and backs of the best German studio jewelry are a thing of beauty and an engineering feat. Idar-Oberstein has likewise set the standard for gem-carving. For these reasons, plus the fact that it's beautifully-produced and photographed, GZ is truly "das magazin für schmuck," a standard for any studio jeweler who aspires to greatness.
Gz: Goldschmiede Zeitung European Jeweler – 12 issues / 12 months – $155

CIJ Trends & Colours. Published by Geneva-based CIJ International in winter and summer editions, Trends & Colours tracks global jewelry trends and fashion influences. Circulated in 100+ countries, the magazine covers all major international trade shows, analyzes color forecasts, tracks upscale influences in cities from London and New York to Tokyo, Rio and Dubai. Trends & Colours was revamped in 2010, in print and online, adding a flip-book for the iPad.
CIJ Trends & Colours – 2 issues / 12 months – $78

Europa Star. For luxury watch aficionados, this one needs no introduction. Europa Star has been around for nearly a decade, long the premiere source of international watch industry news, information on production, distribution, marketing, and the latest products and collections. Online and print publications are followed closely by the watch trade and knowledgeable collectors. Available in several languages, this is the English-language European edition.
Europa Star Watch Magazine European Edition – 6 issues / 12 months – $220

Four Seasons of Jewellery. This bimonthly magazine covers the jewelry industry in Japan, including gems and accessories, Asian trade show coverage, new products and design trends. Four Seasons was established in 1966, making it the longest-standing jewelry trade magazine in Japan. If you need to keep abreast of the industry in this particular part of the world, you can now have it delivered to your door via Amazon within the U.S., although it doesn't come cheap.
Four Seasons of Jewelry – 6 issues / 12 months – $213

Hong Kong Jewellery Magazine. Hong Kong Jewellery is the first bilingual (Chinese and English) jewelry trade magazine published in Hong Kong. It covers news and trends on jewelry and watches, and reviews jewelry shows worldwide, with particular focus on the Hong Kong market. You can pick up a copy at tradeshows worldwide from Basel to JCK, but here's your chance to have it delivered quarterly within the U.S.
Hong Kong Jewellery – 4 issues / 12 months – $78.00

Journal of Gem & Jewellery Industry. Published since 1963 by the Gem & Jewellery Information Centre of India, this bimonthly magazine covers news (in English and Hindi) about the jewelry industry in India, including market trends, imports and exports, taxation, policies, technological advances, trade fairs, and exhibitions.
Journal of Gem and Jewellery Industry
6 issues / 12 months – $90
This post contains affiliate links.