Few jewels are more quintessentially Italian than those from the house of Buccellati, with its emphasis on textured gold, bold-colored gems, and nature themes. With both nature and gold peaking in popularity again, Buccellati jewels from all eras are looking mighty toothsome and bringing new interest at auction.
Buccellati jewels bring anywhere from $984 for a simple, elegant, gold leaf brooch that sold at Skinner last month to this gem-set cuff bracelet that went for $152,500 a couple years ago at Christie's New York – on an estimate of $20,000-30,000. I obviously wasn't the only one coveting this beauty.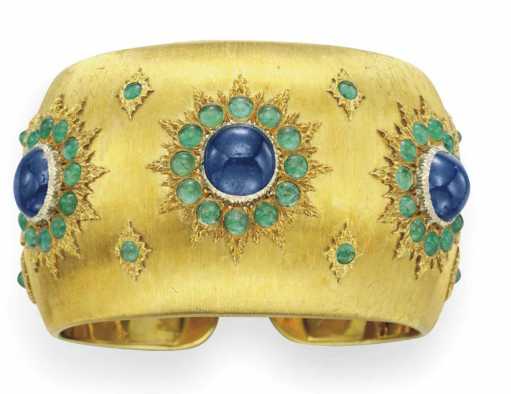 More typical is the diamond-set cuff up for sale at Sotheby's New York in two weeks (pictured below). Nobody does a hinged gold cuff like Buccellati – instantly recognizable, yet works with everything from a little black dress to your next trip down the red carpet. (We can dream, can't we?) Cuffs offer a wide plane to show off the Buccellati specialty: luxuriously textured metals, gold made to look like fine fabric.
Why the range of prices? One key can be found in the marks. Italy does not have an assay office that issues hallmarks, but it does have a sophisticated system of maker's marks, and Buccellati's range from the "M. Buccellati" of Mario's early days to "Buccellati, Italy." Like all marks, they provide a key to the house's history as well as the value and age of its jewels.
After a long apprenticeship with Milan's Beltrami e Besnati, Mario Buccellati emerged a master goldsmith and opened his first shop in 1919. He quickly began attracting a high-rolling, international, often royal clientele. Four of his sons joined the family business and, in 1953, Buccellati established a Fifth Avenue outpost, first Italian jeweler to do so.
Although Buccellati remains a family business, things got a little complicated after Mario Buccellati died in 1965 and his offspring divided the business. Frederico Buccellati worked with his father and then ran the show in Milan and Rome for many years, while two of his brothers took over the U.S. business and expanded in other countries. Brother Gianmarie Buccellati then launched a separate business under his own name in 1971.
Four decades later, in 2011, the family managed to consolidate the brand again, and international outposts continue to appear as a new generation takes over. Last year, Buccellati attempted a rebranding effort with a new bridal collection and "high-tech" jewels, including the "world's most expensive iPhone case," patterned after that classic cuff.
What brings the most at auction are extra-special versions of Buccellati's signature looks, created from the 1920s to the 1960s. Here are some highlights from the spring sales.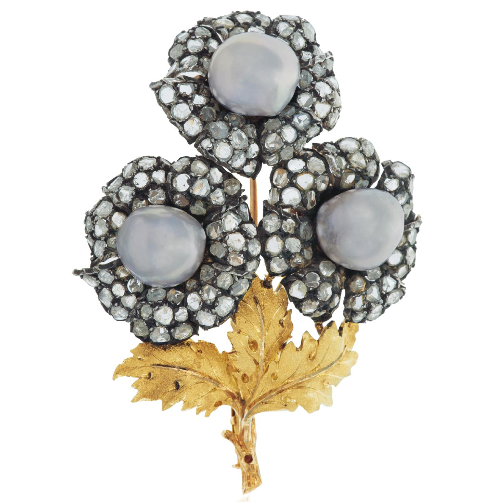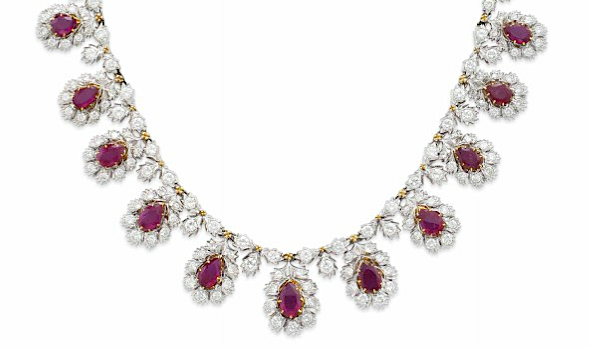 Top to bottom:
Brooch with lasqué-cut diamonds, baroque cultured pearl, textured 18k gold stem and leaves, signed "Buccellati, Italy," estimated at $5,000-7,000 at Phillips New York on April 20, 2015
Ring with 3.90ct oval-cut citrine surrounded by sapphires in 18k white and yellow gold, marked "Buccellati, Italy," estimated at $5,000-7,000 at Heritage Auctions on May 4, 2015
"Butterfly" brooch by Mario Buccellati of baroque cultured pearl, ruby, sapphire, emerald, diamond and 18k gold sold for $8,061 at Sotheby's Hong Kong on April 6, 2015
Buccellati brooch of mabé pearl, diamond, emerald, 18k gold estimated at $8,000-12,000 at Sotheby's New York April 21, 2015
Buccellati "Thistle" brooch and earrings with carved and textured 18k gold leaves sold at Sotheby's Hong Kong for $8,867 on April 6, 2015
Cuff bracelet of 18k two-color gold and diamonds demonstrates Buccellati's goldsmithing skills and obsession with fabric: gold and diamonds transformed into silk and lace. Expected to fetch $80,000-100,000 at Sotheby's New York on April 21, 2015.
Buccellati 18k gold and diamond cuff, signed M. Buccellati, estimated at $20,000-30,000 at Sotheby's New York on April 21, 2015. For those with tens of thousands to spend on jewelry, a cuff like this should be a wardrobe basic.
Hoop earrings of 18kt gold by Mario Buccellati, each engraved with applied florets, sold at Skinner, Boston, for $2,952 on March 17, 2015. A fine example of the many more-accessible pieces available from this house.
Buccellati pendant-earclips of gray cultured pearl, diamonds and 18k white gold estimated at $10,000-15,000 at Sotheby's New York on April 21, 2015
Buccellati necklace of diamonds and rubies set in 18k white and yellow gold, signed "Buccellati, Italy," estimated at $60,000-80,000 at Christie's New York on April 14, 2015
Photos courtesy of Christie's Images, Buccellati, Sotheby's, Phillips, Heritage Auctions, and Skinner Inc.
Related products