[Originally posted on Oct. 19, 2009; updated  Oct. 21, 2009]
This Wednesday, October 21st, Christie's Rockefeller Center will auction off what François Curiel calls "a fabulous sale of Fred Leighton jewelry." The catalogue, titled "Rare Jewels & Objets d'Art: A Superb Collection," doesn't mention the Fred Leighton connection outright, but many of the treasures going on the block are the same ones we saw in Christie's April 2008 jewelry sale – the one that was famously cancelled, at the last minute, after owner Ralph Esmerian filed for Chapter 11 bankruptcy protection, freezing Fred Leighton's assets.
Famous for popularizing estate jewelry on the red carpet, the Fred Leighton brand has since drifted from Esmerian's control. Now many of the treasures Esmerian put up as collateral, when Merrill Lynch loaned him the millions he needed to buy the chain, are being sold off again. It doesn't look like there will be any last-minute reprieve this time around.
For collectors who have waited patiently for these museum-quality pieces to become available, this week's sale is exciting news. The sale comprises more than 200 exceptional vintage jewels with impressive pedigree – owners ranging from actresses to royal families. "Seldom in my 40 years at Christie's have I seen such a unique selection," says Curiel, Chairman of Christie's Europe and director of the international jewelry department.
Among other museum-quality pieces to be auctioned off:
• the 17th-century Taj Mahal carved Mogul emerald, estimated at $800,000 to $1,200,000 [UPDATE: Sold for $794,500]
• the Sarah Bernhardt pendant by Lalique [UPDATE: sold for $554,400, on an estimate of $400,000-600,000]
• a citrine and gem-set "Mystery Clock" by Cartier (pictured above), estimated at $500,000 to $700,000 [UPDATE: sold for $530,500]
• the "Blue Venus," a carved sapphire sculpture made for Prince Youssoupov in the mid-18th century, estimated at $300,000 to $500,000 [UPDATE: sold for $554,500]
• the famous "La Bretonne" pendant by Vever
• la "Cage d'Hortense", a whimsical bird cage by Van Cleef & Arpels. Orginally commissioned by an Indian Maharaja in 1935 to serve as an aquarium for his pet tree frog, complete with tiny gold ladder, the cage was later transformed to house two emerald lovebirds [UPDATE: sold for $122,500, twice the low estimate]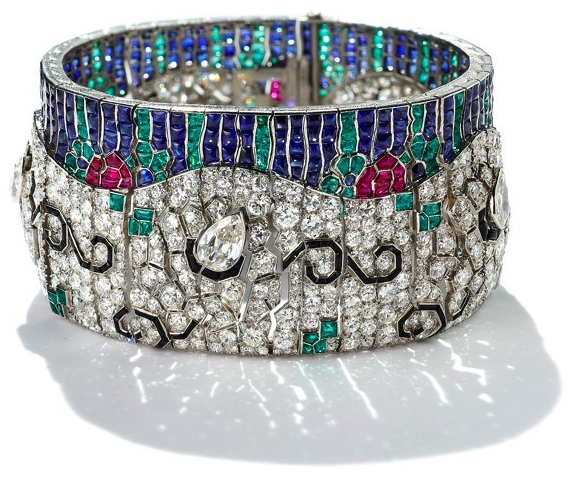 • the John Rubel "Wave" bracelet (pictured above), circa 1925, estimated at $500,000 to $700,000 [UPDATE: sold for $506,500]
• a black carved chalcedony cat scent bottle by Boucheron, circa 1895, estimated at $50,000 to $70,000 [UPDATE: sold for twice that at $182,500]
• Lady Kenneth Clark's necklace by Alexander Calder, estimated at $60,000 to $80,000 [UPDATE: sold for $254,500, more than four times the estimate.]
• the Art Nouveau gem-set "Juno" brooch by Boucheron, estimated at $200,000 to $300,000.
Other pieces on sale date from the 17th Century to contemporary, by Boucheron, Bulgari, Daniel Brush, Cartier, Fabergé, Janesich, Lalique and Van Cleef & Arpels, among others.
Related products