Looking at all the textured gold leaf motifs and open-work rings and bracelets that debuted this year in Vegas, I couldn't help thinking of an Italian jeweler that perfected that style decades ago: Buccellati.
Launched a century ago in Milan, the house of Buccellati didn't invent those things. Its founder Mario Buccellati turned to the goldsmiths of ancient Rome for his inspiration. But few jewelers, before or since, have surpassed the perfect hand-finish of this Italian jewelry empire, now in its fourth generation. Unlike other established jewelers, this brand expanded gradually, maintaining its signature style and high standards of craftsmanship. Buccellati is probably most famous for two things: charmingly realistic nature motifs and goldwork textured to resemble fine fabric.
Whether you're looking for rare, early pieces or wardrobe basics – the textured gold cuff, openwork rings – you can always find an amazing inventory of Buccellati at Oak Gem. A top-rated estate jewelry dealer of three decades, Oak Gem is based in the antique mecca of Bucks County, PA, with an outpost in Palm Beach.
Right now, Oak Gem has more than 50 pieces of Buccellati listed, running the gamut from antique to vintage-seventies and contemporary. Here's a small sample of what you can find, starting with rings and brooches, and ending with that classic gold cuff.
This post was sponsored by a partner of The Jewelry Loupe.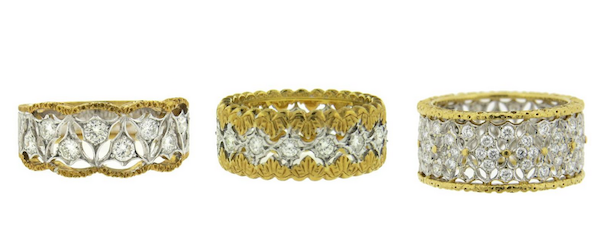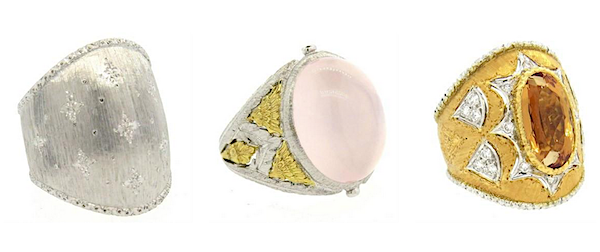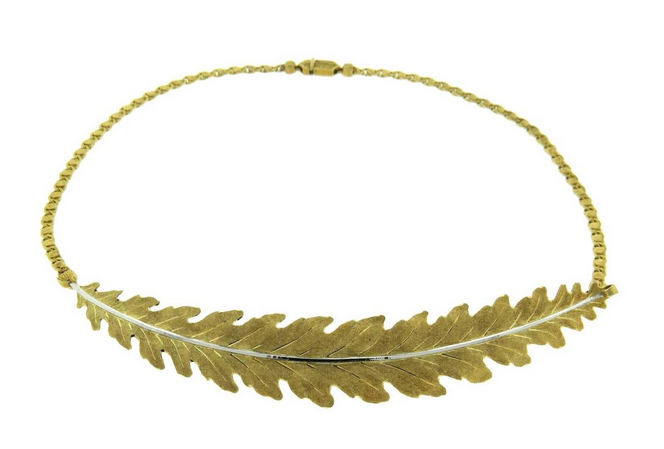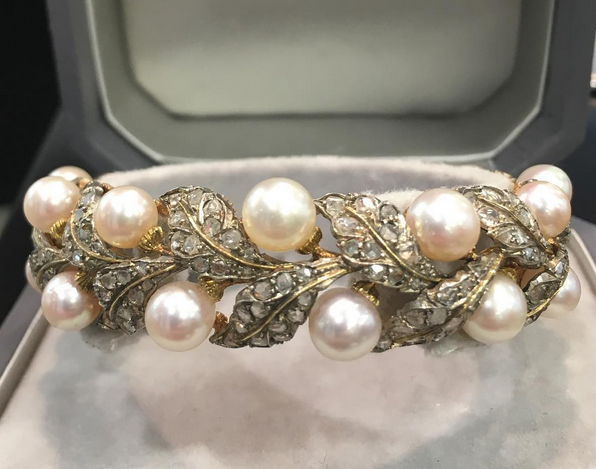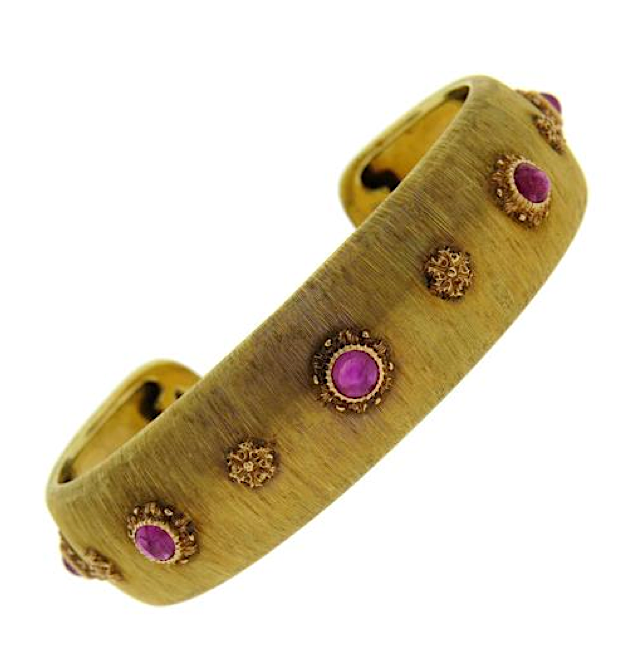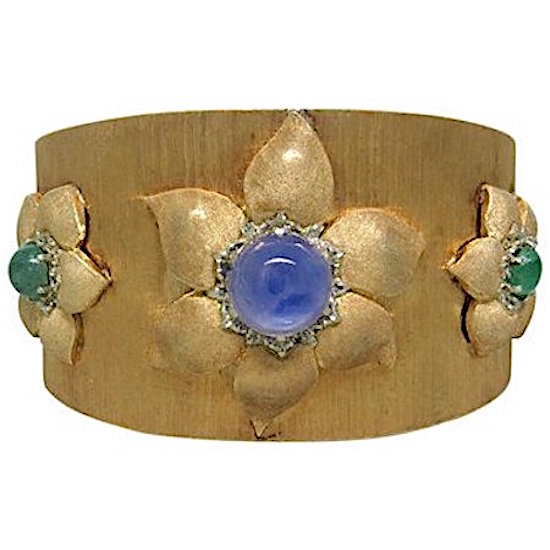 Top to bottom:
Three open-work band rings of 18k yellow and white gold and diamonds, first two marked M.Buccellati ($4,500-9,800)
Buccellati dome rings of hand-textured 18k gold: white gold ring, $2,600; estate ring of yellow and white gold with 11.5ct rose quartz cabochon, $3,700; rose and yellow gold ring, crafted by Mario Buccellati, with 8.5ct padparadscha topaz and diamonds (0.44ctw), $13,800
Two rare, vintage Buccellati brooches of 18k yellow and white gold with cabochon rubies and rose-cut diamonds, both in excellent condition, $9,625 and $9,267
Buccellati open-work brooches of 18k gold with 13ct emerald-cut tourmaline in diamond surround (3ctw), $13,500, and large (56mm x 32mm) honeycomb brooch with diamonds (5ctw), $37,500
Buccellati 18kt gold leaf motif necklace, 17 inches, $7,400
Buccellati pearl bracelet of 18k gold and silver set with rose-cut diamonds and 7.5mm pearls, $26,000
Buccellati 18k gold cuff bracelet with cabochon rubies, $13,500
Rare Buccellati 14k yellow gold cuff floral bracelet, c. 1960s, with three flower designs, 14.15ct sapphire cabochon and two emerald cabochons (3.34ctw), $28,000