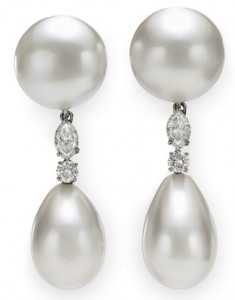 Christie's is claiming no less than a dozen world records for the December 13, 2011, auction, known officially as The Collection of Elizabeth Taylor: The Legendary Jewels evening sale. Day after the sale, I posted about five of them.
With a haul of almost $116 million, the sale was the most valuable private collection of jewels sold at auction, clobbering the previous record set in Geneva in 1987 by the Duchess of Windsor's jewels which brought $50 million. The Taylor jewelry sale also set a world record for the most valuable jewelry auction, period.
La Peregrina, top lot of the night at $11.8 million, set two world records – one for pearl jewel, breaking the record set by the Baroda Pearls ($7 mil at Christie's NY in 2007), and another for historic pearl, previously held by La Perle Napoléon, better known as La Régente pearl (below left), which sold for $2.5 million at Christie's Geneva in 2005. The Bonapartes claimed La Peregrina too at one point.
But there was a third pearl record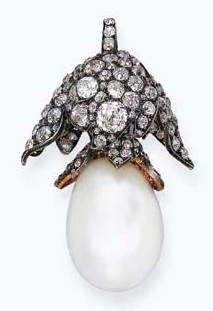 set that night for the most ever paid for a pair of natural pearl ear pendants (above) designed by Bulgari. Though not as elaborately set or pedigreed as the Peregrina, those were some sweet natural pearls and they sold for just shy of $2 million.
The Bulgari emerald and diamond pendant brooch broke the 2004 record set by the Jahangir Shah Emerald at Sotheby's London for any emerald jewel, as well as the per-carat record set this year by the Muzo emerald at Sotheby's Geneva.
Another Bulgari number, the fancy vivid yellow diamond ring (below) broke the per-carat record for yellow diamonds set at Sotheby's NY in 1997. Taylor's ring sold for $962,500 ($367,366 per carat).
That Van Cleef & Arpels ruby and diamond ring I mentioned last time also broke not one but two records, topping the per-carat record set by the Graff Ruby at Christie's St. Moritz in 2006. It was also the most ever paid at auction for any Van Cleef & Arpels jewel, a record set at Sotheby's NY in 1989.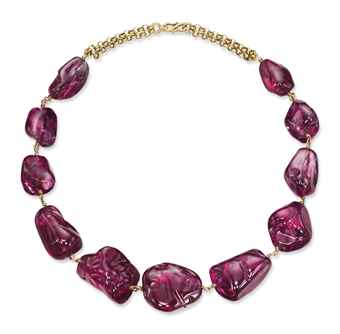 This was a big year for Indian jewels. Taylor's Taj Mahal sold for $8.8 million, setting a world record for Indian jewels – but the record it broke was set only last spring at Christie's Geneva for another interesting piece of Indian jewelry history, the Imperial Mughal spinel necklace (left), which went for $5.2 million.
It was set with spinel beads engraved with the names of emperors. Along with diamonds and emeralds, large spinel beads were favored by the Mughal emperors, who spared no expense in the search for spectacular stones. "As much as these gems were a symbol of the opulence and dignity of the empire," the catalog states, "they were also treasured as protective talismans."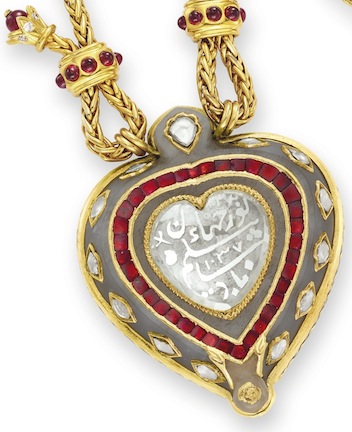 Taylor's Taj Mahal Diamond (right) was also engraved, and mounted on a ruby and gold chain designed by Cartier – just a little something from Richard Burton for her 40th birthday. More about that in my previous post.
You'll notice that many of the record-setters I just listed had some kind of royal pedigree. In this country, Hollywood is where the royalty hangs – and that kind of royalty inflates auction prices far beyond any practical estimate can ever account for.
As a specialist at Christie's told me a decade ago, after a string of record-breaking celebrity sales that began in 1999 when Marilyn Monroe's ring from Joe DiMaggio sold for $772,000 on a high estimate of $70,000: "These sales are emotion-driven. How do you put an estimate on Marilyn Monroe's makeup case? My solution is to estimate very low in hopes that the market will find itself. In this market, there is always more shock than disappointment."
Related posts:
Elizabeth Taylor jewelry auction breaks five world records
Liz Taylor on the block: $100 and up
Elizabeth Taylor: jewels of a lifetime
Van Cleef & Arpels: celebrity style
Van Cleef & Arpels: glamor and invention
Related Products:
Note: Buying through links on this site puts a couple bucks toward blog maintenance.