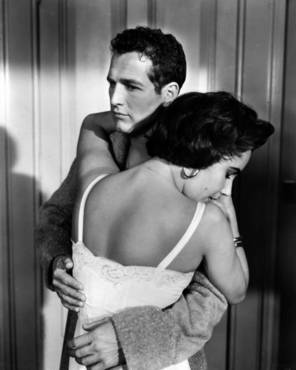 With the death of Elizabeth Taylor today, we lost not only a Hollywood icon and often-amazing actress, but one of the world's most famous jewelry collectors.
Her vivid, colorful life went on for decades longer than Taylor had expected it to, given her history of life-threatening injuries and illnesses – not to mention five dozen movies and seven marriages that ended in death or divorce. Along the way, she acquired a lot of spectacular jewelry to soften the blows.
Personally, I love Liz in the simple, fifties-style white-metal hoops and bracelets she wore in Cat on a Hot Tin Roof (left), worth watching just to see the sizzlingly beautiful Taylor and Paul Newman at their physical peak.
But that wasn't the kind of jewelry Elizabeth Taylor became famous for. That would be the gem-laden, over-the-top variety. You can find a few of her famous jewels at the Cooper-Hewitt right now in Set in Style: the Jewelry of Van Cleef & Arpels exhibit, including this VC&A  bracelet, a gift from her fourth husband, Richard Burton.
Taylor loved to flaunt her jewels but also used them to do good works over the years. For a 2002 Christie's auction to benefit the Elizabeth Taylor AIDS Foundation, founded in 1991, she donated this emerald ring, given to her by Burton in 1962.
The ring sold for $80,000 – twice its value minus Hollywood legend. Thirty pieces from her personal collection went on exhibit in conjunction with the sale, including the Krupp and Taj Mahal diamonds and La Peregrina Pearl given to her by Burton.
Purchased by Burton at Sotheby's in 1969, that historic pearl was once given to Queen Mary Tudor by King Phillip II of Spain. It was set in a pearl, diamond and ruby necklace by Cartier (below), which Taylor later lost, then famously found – in her dog's mouth.
The Christie's sale coincided with the publication of the book Elizabeth Taylor: My Love Affair with Jewelry
, filled with dishy stories of being showered in world-class jewels by her famous lovers, including Burton. "I used to get so excited, I would jump on top of him and practically make love to him in Bulgari," Taylor said.
"My memories are the real jewels of the book," Taylor said at the time. "Looking at these beautiful pieces has invariably stirred up many moving memories and reminded me of some truly outrageous times. I mean, how many young women get a set of rubies just for doing something wholesome like swimming laps? Or win a diamond ring at ping-pong with their husband?"
Hmm, I'd say not many. The rubies she refers to were won on a poolside dare from Burton's predecessor, film producer Michael Todd, Taylor's third husband. The diamond ring resulted from a later bet with Burton over a ping-pong game. Whenever there was wager to be made, Liz went for jewels, not cash – and usually won.
Taylor did just as much for Van Cleef & Arpels and Cartier as she did for Bulgari. She also acquired some of the finest diamonds in the world, thanks mainly to Burton.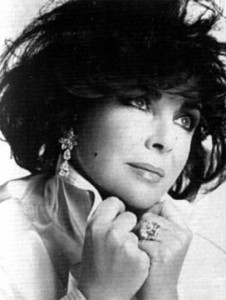 Most famously, he gave her the Krupp diamond (on her finger at right), a 33.19-carat white diamond. Taylor wore it every day.
Burton also gave her a 69.4-carat pear-shaped, internally flawless diamond. Burton was outbid by Cartier on that one, at a 1969 Sotheby's auction, then bought it from them for more than $1 million, a record at the time. It was renamed the Taylor-Burton Diamond and mounted in a necklace by Harry Winston, which Taylor sold in 1978 to raise funds for a new hospital in Botswana.
Yes, Elizabeth Taylor was that rare creature: unapologetically greedy and incredibly generous at the same time. I mean, how many show-stopping jewels does one woman need? Well, in Taylor's case, very many. "Each one tells me a story," she once said of her jewels.
Related posts
Van Cleef & Arpels: celebrity style
Van Cleef & Arpels: glamour and invention
Elizabeth Taylor jewelry auction breaks 5 world records
Elizabeth Taylor auction: Make that 12 world records
JAR: designer jewelry as calling card
Related Products
Note: Buying through links on this site puts a couple bucks toward blog maintenance.