We're seeing lots of nature motifs in studio jewelry lately, sometimes with an element of motion. Some jewelry artists zoom in on abstract details: shapes and textures you might see through a macro lens. Others zoom out for an aerial view.
Elysha Roberts likes to recreate the dried husks of flora she finds in her wanderings on Martha's Vineyard, the beautiful island off the Massachusetts coast that she calls home. Roberts is just launching her jewelry-making career and already has landed some major accolades. One of her necklaces placed in the student category of the Niche Awards in 2013 and another took second in Alternative Metals in the Saul Bell Awards last year.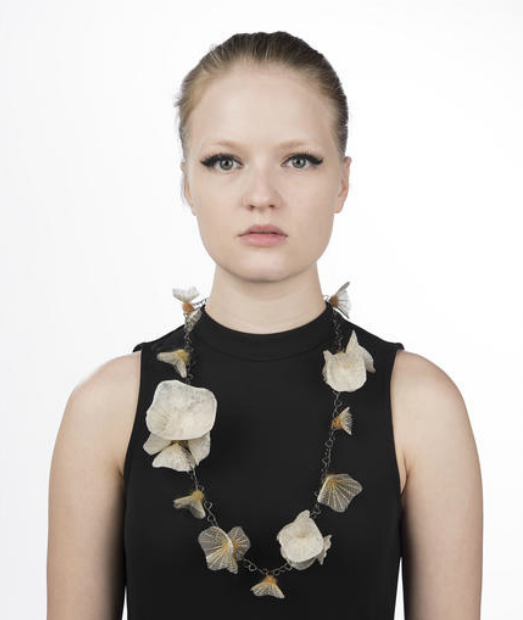 Asked to name her favorite tools, the first thing Elysha Roberts mentions is her own hands. While every jewelry artist relies on their hands, Roberts often finds herself using nothing but her hands when she's making jewelry.
The bulk of her jewelry is formed from Thai kozo paper she makes from mulberry tree bark that she boils, pounds into a pulp, presses onto screens, then breaks into strips. Sometimes she wets the strips and presses them around molds to create small balloons she can pop to form open pod shapes. Then she coats the paper pods with resin using a paintbrush, sometimes following with wax and copper-paint detailing.
Sometimes she incorporates wool and fibers into her necklaces or makes pieces that resemble living organisms viewed through a microscope. "I just try to recreate things reminiscent of organic structures, cellular structures," Roberts says. "I look at a lot of macrophotography and I think that plays into the work too."
Elysha enjoys working directly with metal, even when the metal serves mainly as a frame for more fragile materials. "I always go back to simple hammers," Roberts says. "I really like forging metal and building structures." And she loves torches. She uses a Miller-Smith oxygen/acetylene torch that emits highly-concentrated heat for pinpointed work and another that mixes the oxygen just within the torch tip so you get "a fluffier flame that heats an overall piece."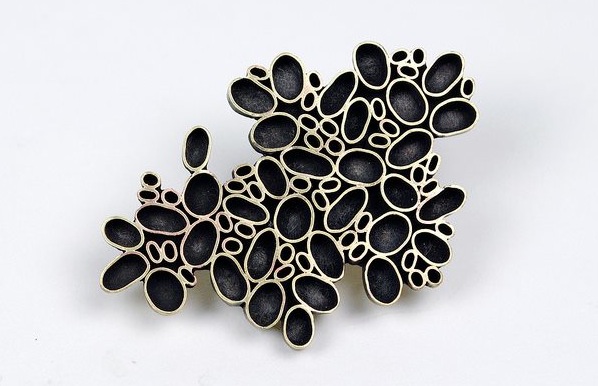 In all her work, you can see a fascination with nature. Her primary inspiration is right outside her door. She grew up and lives in Martha's Vineyard, where a hike or bike ride will quickly take you from woods to shore, and back again. "It's such a small place with so much access to nature," Roberts says. "I grew up on the beaches finding things and collecting things. I've always collected and kept things from nature."
Here's what Martha's Vineyard looked like to me last time I was there. As you can see, creative inspiration everywhere you look.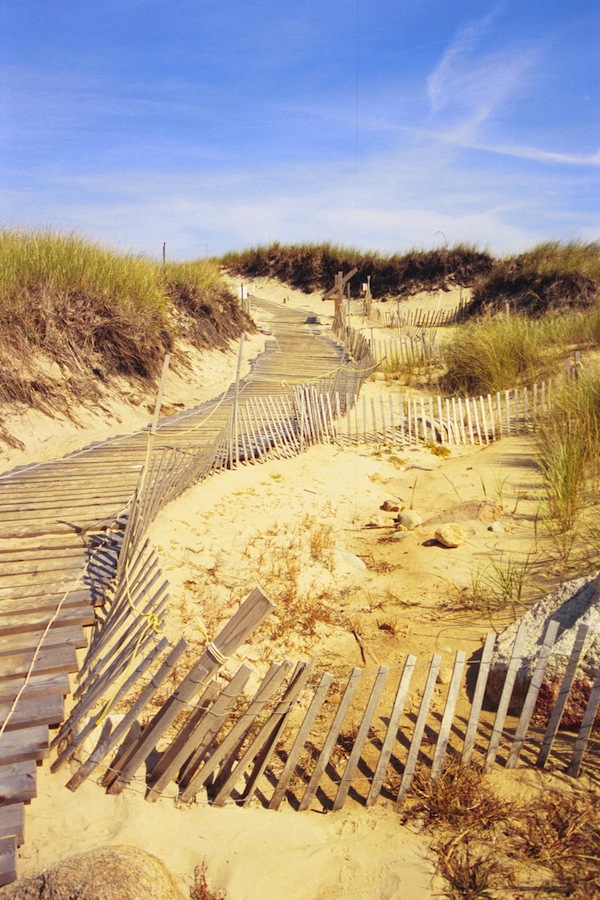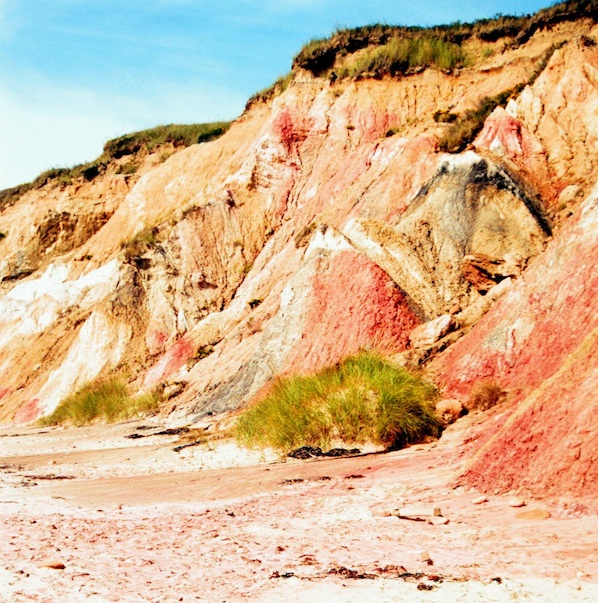 Like many jewelry artists who work with nature themes, Roberts' home and studio are cluttered with evidence of her scavenging. "I have multiple little collections all over the place – washed-up branches, different rocks, things that have coral or barnacles growing on them," she says. "I just find all that so interesting. I keep some of it in my studio, some of it just around the house."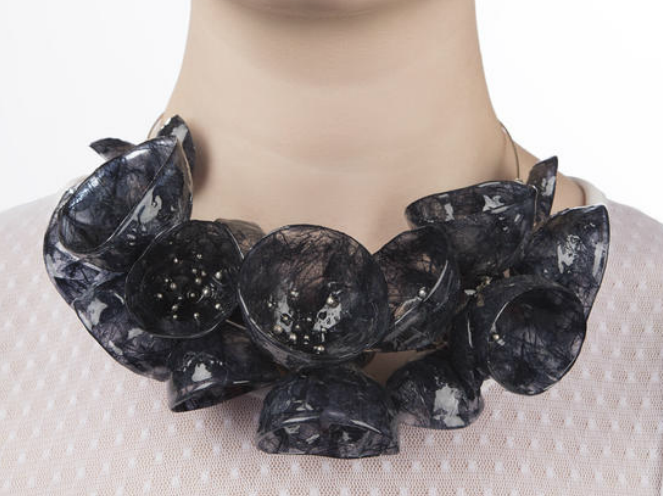 Trained as a metalsmith at the Rochester Institute of Technology (RIT), Roberts often hangs her paper forms on fabricated metal frames. At this early point in her career, she is more interested in experimenting and developing her design vocabulary than worrying about commercial practicalities, but she's off to a promising start.
For more information, visit her website.
Related posts
Related products