As I get ready to head to Vegas for jewelry market week tonight, I'm excited to find innovative new design, as well as vintage. But I'm particularly interested, as always, to meet the makers and designers themselves – the studio jewelers – especially emerging talent.
Today I'd like to showcase one I know I will be meeting tomorrow for dinner with Hilary Halstead: Niki Grandics of ENJI Studio. I take a particular interest in Niki, because I helped select her as winner of the Halstead Grant last fall. (I had the honor of being the first guest judge for that contest.) It's been nearly a year since Niki received the Halsteads' generous $7,500 grant and all the publicity that goes with it, and I can't wait to hear how she's used it and what is going on with her designs and jewelry business.
Here is an example of Niki's signature handmade jewelry on my arm – where it now belongs (it's mine!) – her Point bracelets, which come in this stack of three. If you run into me at the shows, look for this stack on my arm. I'm giving it a tour of Vegas this year.
The Halstead family gathered in April with their social media guru Mercedes Berg and marketing director Katie Hacker (behind the camera) to fete their latest grant winner when she visited their Prescott headquarters. They took the time to raise a glass and text it to me before dinner, because that's the kind of people they are – and because I couldn't be there to meet Niki and help them finish off that bottle! (We'll make up for that tomorrow.)
I've written here before about Niki's favorite tools as a studio jeweler. Here's a little about that lovely and talented designer who will hand over her Halstead crown in September to the next luck winner. (Could that be you or someone you know? See details at the bottom of this post.) Much of what follows comes from an interview I did with Niki for this magazine story published last year.
Niki uses wire forms to complement her glass castings, the material closest to her heart, as well as raw quartz crystal. When we first spoke, she had recently been included in Corning Museum of Glass' exclusive New Glass Review.
While she makes a concerted effort to make her jewelry wearer-friendly, much of it has edgy and industrial look. Fresh out of art school, many of her necklaces were quite large and wildly organic in form, but as she has established her business, she has moved back to the cleaner, geometric look of the Ghosts line she developed as a student – which the Point collection expands on. (That she came up with this sophisticated signature look that early in her design career is amazing in itself.)
As a child of immigrants from Hungary, Niki grew up dividing her time between Hungary and California. "There was such a contrast between those two places, especially in the 1990s. Communism had just ended in Hungary and it was really a different world," she says. "I grew up feeling like a fish out of water. Both of these places were supposed to be home but a lot of times, I felt neither was. Growing up like that makes you a lot more aware of yourself in relation to your surroundings."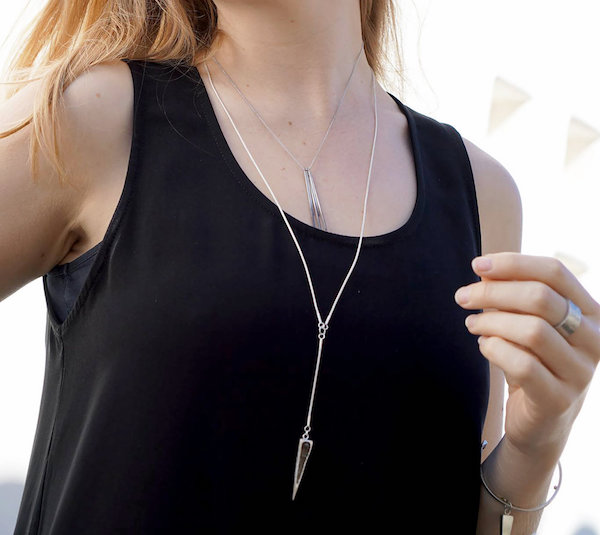 Contrast is a big theme in her jewelry. "I've done stuff with glass and leather and metal – all very different, contrasting materials," she says. "The approach you use to work with glass or metal is 180 degrees different. So for me, the challenge was bringing together these two materials, and these two halves of how I work, into one whole."
A GIA graduate jeweler with a B.A. in applied design and a B.S. in marketing from San Diego State University, Niki was introduced to wire in the metals program in college where students were taught to solder a simple band. "A big part of my process was experimenting with the material and approaching it like a blank slate." She broke a lot of pieces trying to see if she could rivet on glass, for example. Her jewelry is evidence of her creative experiments.
She launched her business in 2014, the same year she graduated and was awarded the 2014 Windgate Fellowship Award by the Center for Craft, Creativity, and Design, which recognizes innovative upcoming talent in the fields of jewelry, glass, furniture, and textile arts.
Most of her jewelry at the time began in the hot shop, with the glass. "That's where a lot of my ideas and inspiration come from," she says. "Glass is such an interesting and inspiring material to work with, really diverse. And the cast glass seems very different once I bring it back to my bench."
In her Ghosts line, developed in 2012 as a student, she found wire an ideal means of connecting a lot of different pieces and a perfect frame for the rough, crystalized-looking glass. "With that, I just wanted a very simple, linear metal piece to complement the glass, because it's so complex and textural in itself."
Most of what you'll find in her shop these days, is more fashion-forward – still sculptural but not quite as over-the-top artsy. Though she is building a bridal line using gold and diamonds, her signature look is still all about sterling silver, often set with quartz.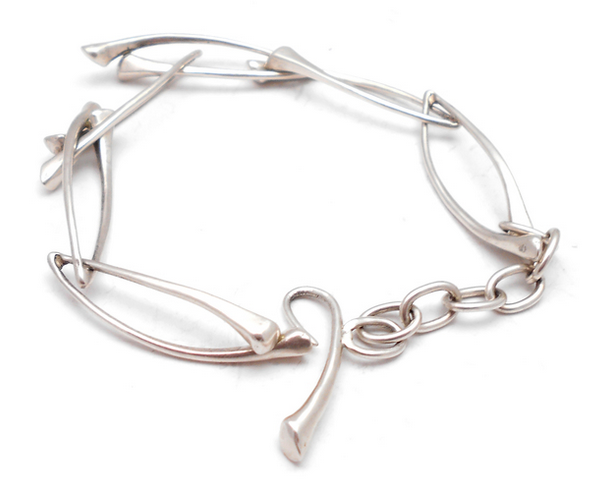 She achieves an effect similar to her cast glass with the natural quartz crystal in her Point collection, like the bracelets I'm wearing above. What she loves about wire is its versatility. If she's learned anything from working with wire, it's not to limit herself to conventional approaches. "For a something so simple and commonly available, you can do just about anything with wire," she says.
ENJI Studio is now a member of Ethical Metalsmiths. All ENJI jewelry is handmade using recycled and sustainable silver and 14k gold whenever possible and our custom and bridal pieces are made using recycled gold or fair-mined gold and use fair-mined, recycled, or lab-grown diamonds. Find more about Niki and shop her jewelry on her website.
By the way, if you (or someone you know) are an emerging designer or in the early years of setting up a jewelry business, you have until August 1st to apply for the grant Niki received last year – which means you still have a couple months to pull that application together. You can find more about the grant, including a story by me on last year's judging process, an interview with Hilary Halstead and Niki, and the application itself.
Trust me, this one takes some time and thought. Whether you win or not, it's worth the effort because it will force you to stop, analyze where you are as designer and small business owner, and set some goals for the future. This grant does not just reward design, it rewards a well-thought-out business strategy. As a fellow independent creative, I can tell you that thoughtful business planning is crucial to your success. So get on it – and good luck!