A friend posted a diamond dog collar on Facebook today, incensed that there even is such a thing. I don't mean dog collar in the Victorian sense. Or the punk/biker sense.
I mean a diamond collar designed for a pet that barks. In this case, the collar in question retails for $150,000 and looks like this.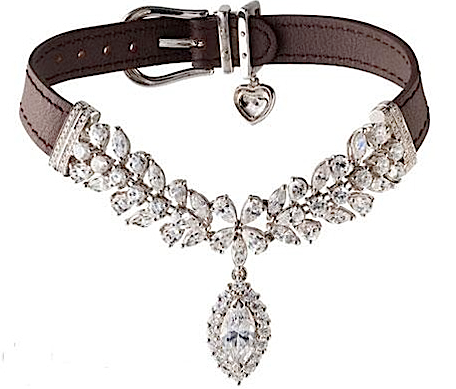 Given today is National Dog Day, my friend was making the point that money like that – assuming you have it to spend – would be better donated to an animal shelter.
No doubt! And imagine how many animals this one could rescue.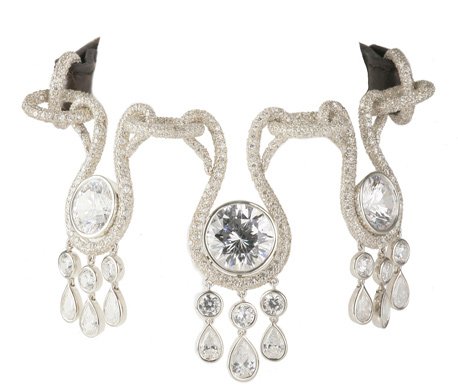 That was retailing for $3.2 million a couple years ago but the company that produced it appears to have gone out of business. Hmm. Not enough demand, do you suppose?
On the other hand, I'm sorry. There is something kind of fetching about ornament on a dog, when it suits them. For example, here's a dog that belongs to friends of mine. His name is Oliver and I'm a little smitten with him, mainly because he makes me laugh. In fact, just looking at this picture makes me laugh.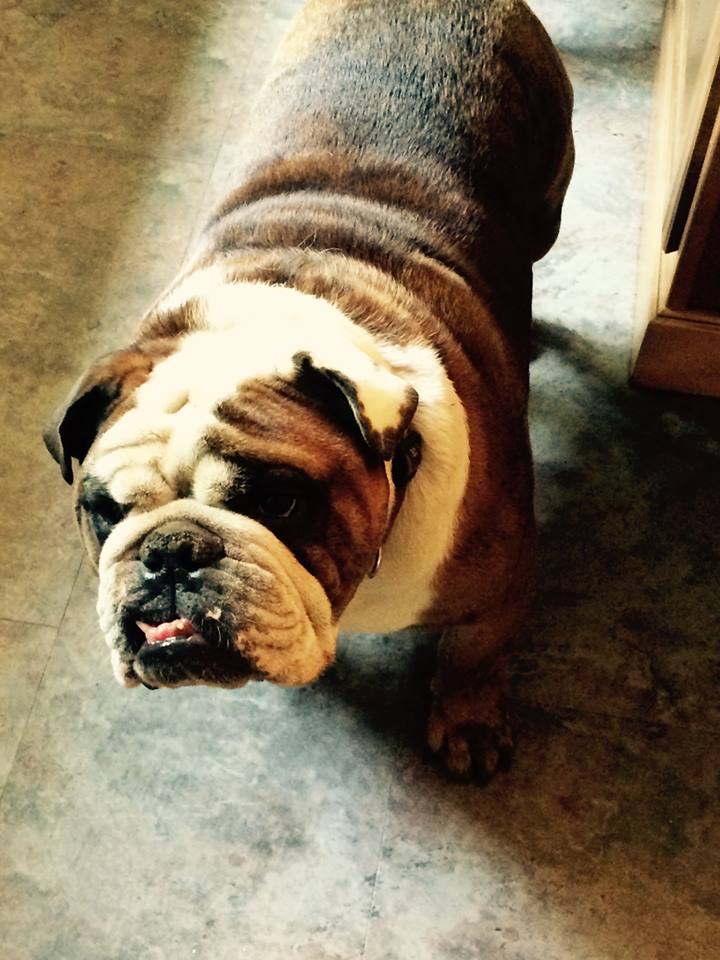 Is it wrong of me that I would like to see Oliver wearing this?
Maybe just for special occasions?
Putting custom collars on dogs is not a new thing. Google "Victorian dog collars" and all kinds of crazy things pop up. The search engines don't know whether to show you those multi-strand pearl chokers that went hand-in-hand with boned corsets or things like this.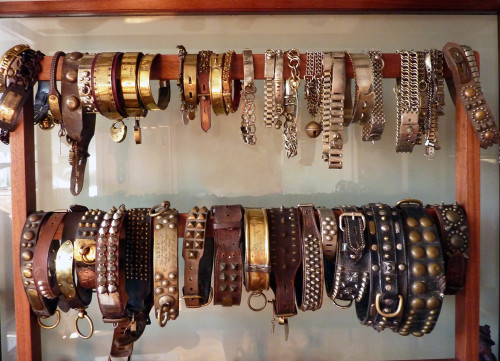 From The Stately Hound, taken in a shop in London called Maison Dog which specializes in antique dog collars. It would appear that Victorian London, and probably Jazz Age Paris, were full of eccentric dog owners who loved to walk their pups around in bespoke collars. But high-karat dog collars date to antiquity. This one from the British Museum was made and presumably worn 1250BC – 800BC!
I have a couple dogs in my own life these days. One is a standard poodle, far too regal to be shaved into poodle-style garden sculpture, let alone don a diamond collar. The other, though, is a very small, kind of goofy-looking mystery poodle mix. I'm starting to see how people get into dog ornament.
It starts innocently. In the winter, you have to put a coat on Zoey or she shivers. Then you find it's kind of amusing to see her waddling down the sidewalk in her little parka. Suddenly, you're looking at dog sweaters… and dog hats. Dog boots. And yes, the world's smallest dog collars. If I found a really charming antique collar, I would be sorely tempted.
But, even if I could afford them, I'd like to think I would draw the line at a $150,000 diamond collar. Not for the reasons my friend states though. First of all, I would be wearing the diamond dog collar, thank you! I think I'd have a better chance of pulling it off than Zoey. And honestly, if you have a fortune to spend and your goal is to fund animal shelters, maybe you should be thinking big picture. No reason why you can't indulge your eccentric passion for dog ornament, get your collection splashed all over the media, then sell it at auction for a small fortune and donate it all to charity. Hey, Lily Safra did it (with her JAR jewels).
But also, I think if you're going to wear the bling, it should be voluntary. Dog's choice. Would Zoey want that diamond necklace? I don't think so. I think she'd prefer something less over-the-top, a little sportier. Something with not so many dangly bits to get in the way when she starts rolling around in the mud, as she likes to do.
Nope, if you're going to wear a diamond dog collar, you should be ready to work it, and work for it. Which is why I think that particular collar would work better on… Rihanna.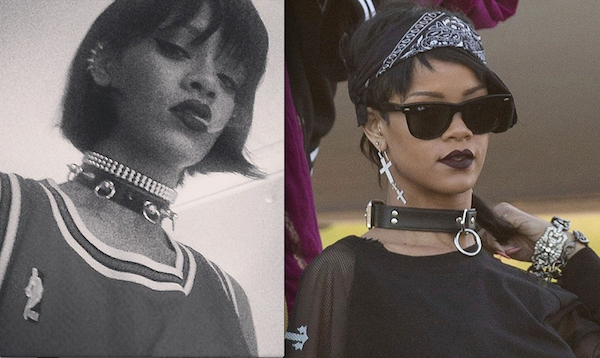 Right?? With her punk fashion sense, the Diamonds (in the Sky) pop star was made for that diamond dog collar. Someone should contact her instead of sending their press releases to the animal activists.
Related products