Not that you have to get literal with the valentines, but there is something about that shape. It's tempting to call the attraction sentimental, what with all those memories of second-grade valentine exchanges and heart-shaped boxes of chocolate at every checkout counter.
But there are theories that the heart symbol sprang from more erotic sources, such as the seed of the silphium plant, used as an ancient herbal contraceptives, or various parts of a woman's anatomy.
Whether you lean toward sappy or sexy, artsy or elegant, there are valentine-style jewels out there for every taste and wallet. As with all gifts of the heart, just make sure it captures her sense of style because she's going to be wearing this particular valentine all year round.
Here are a few that caught my eye: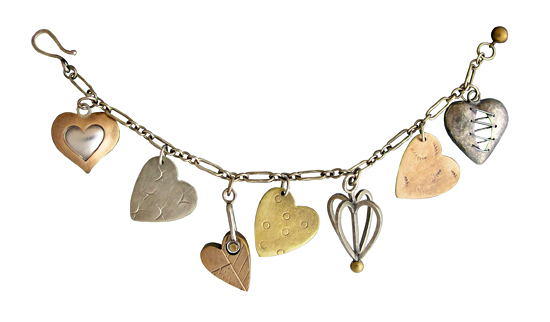 From the original Techno-Romantic, Thomas Mann (art jewelry pioneer turned QVC star) offers an artsy take on the heart charm bracelet of sterling, nickel, bronze and brass. You can find this one on Artfulhome.com for $260.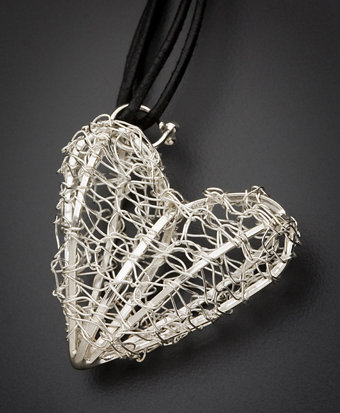 Designed by Randi Chervitz, this pendant was crocheted from sterling silver with a handmade toggle clasp ($175, Artfulhome.com).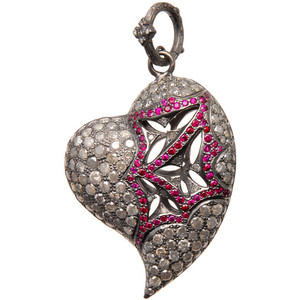 A ruby and diamond heart pendant by Loree Rodkin, whose fans include Michelle Obama, Cher and Goth chicks everywhere. This fab reinvention of an old standby sells for $20,150.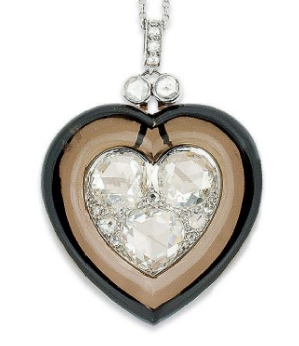 Suzanne Belperron, whom I wrote about recently, designed this pendant of smoky quartz, diamond, platinum and gold in 1950. It sold at Christie's Paris in December for $101,493.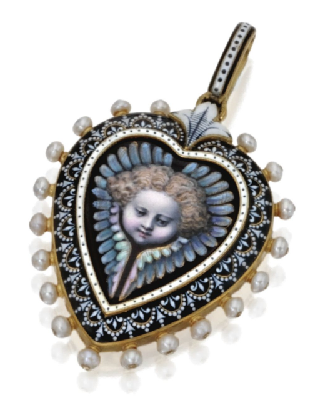 Limoges enamel cherub in a heart of gold and pearls, made in Renaissance Revival style by Carlo Guiliano in 1884, sold at Sotheby's New York on Feb. 2 for $74,500.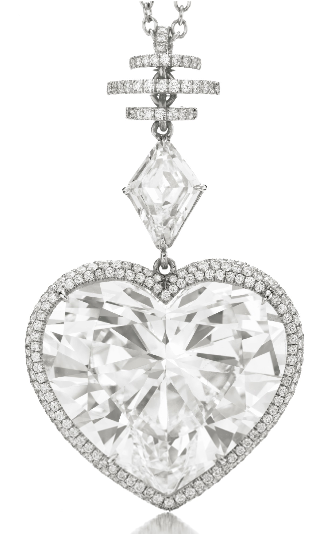 Sorry, you missed your chance on this 28.28-carat diamond that brought $3,778,500 at Christie's New York last April. Darn, she would have been so thrilled.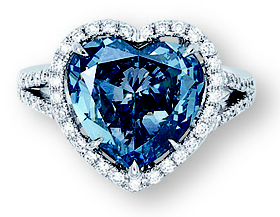 Another one that passed you by: this 5-carat, vivid blue diamond sold at Christie's Hong Kong in June for $4,686,600. QVC has one kind of like this in blue topaz by Judith Ripka for $530. If that doesn't work, I know where you can find a ring like this only six times bigger and free of charge – well, to look at anyway. Sometimes looking is bliss in itself and there are enough colored diamonds at the Smithsonian's National Museum of Natural History to get you both punch drunk.
That's right, find her a nice budget-priced heart and take her to a museum to look at gems and jewelry. Hey, I'd go for that.