Gay marriage is now a fact of American life. With the Supreme Court ruling last month on the eve of a giddy Gay Pride weekend, all 50 states now officially embrace same-sex marriage. A whole new portion of the population is proposing and exchanging rings. What are they looking for exactly?
They're still figuring it out. "Gay couples have been so caught up in the fight to legalize marriage, they haven't had much time to develop a protocol," says Rony Tennenbaum, a NYC designer who has been catering to the LGBT population for a decade.
"As state by state passed the laws, I got more and more questions, more couples coming in saying, "Oh my gosh! We're so excited. Our state is now allowing marriage equality. Uh… what do we do now? Do we get engaged?"
Tennenbaum, in a relationship of 22 years, is figuring this out himself. "We consider ourselves married, with or without a license," he says. "So what does a couple like us do? Do we go backwards and get engaged all over? Do we start fresh? Do we start looking at rings? There are many avenues in this niche."
As a designer, he is among those not only navigating this new terrain, but building their brands on its shifting sands. Here's what they've learned so far.
How do gay couples shop for engagement and wedding rings?
Well, they may be a little tentative. You can probably assume, especially if they're older, they've had some negative experiences in similar situations. For all they know, the store staff could be among the still-sizable population who disapproves of their union.
"You need to make people feel extremely comfortable," says Rachel Meyering, owner of Sparkles in Chicago, whose primary customer base is male, primarily gay. "They're nervous. I've heard horror stories about the way gay couples have been treated. In my store, I make sure everyone is treated fairly. Everybody should be able to love whoever they want to. It's just love."
Tennenbaum agrees: "It's really about creating a very comfortable, very supportive environment. The dynamics of the couples have shifted. When stores decide to pick up my line, I host evenings I call Rony talks, lectures aimed specifically to the community.
"We're at the infancy. These brand new protocols have not been established yet," he says. "The LGBT community is still unaware of what is available to to them."
Do certain styles appeal more to gay men or to lesbians, than straight couples?
"I think sometimes people assume they have to sell gay couples a certain style or certain thing," Meyering says. "We just treat everyone with respect and try and find exactly what they're looking for."
And yet there is a portion of the LGBT community looking for something original, not in a rainbow flag-waving way, but in the sense of a style that reflects their own identities.
Certain ring designers developed a strong gay customer base, for example, long before the idea of legalized same-sex marriage was even on the table.
Gaia Pelikan, who makes gold-lined textured iron bands, told me two decades ago that gay men were among his best customers. Todd Reed always had a strong customer base among gay men. Jacob Albee, who is based in Vermont, one of the first states to legalize gay marriage, is another goldsmith/designer who tapped into the LGBT market early on.
For the first two decades, Reed said, "my customers have been 55- to 75-year-old women and gay men." But a decade ago, the bridal market really opened up and lesbian couples began buying his bands, as well as "people in their 20s and 30s who are interested in breaking with tradition and getting something unique."
All these designers make rings that are rugged but also modern and individualistic, with a dash of color and texture, a little left of center.
"There is a movement – not just in the LGBT community but also in the straight community – away from that Tiffany engagement ring," Tennenbaum says. "Women are not as attracted to that one center diamond as they used to be."
And there is a movement toward not just one ring, he adds. "More couples want to exchange a ring, a so-called engagement ring." His gold nautical Tie a Knot ring is his best-selling engagement ring – "and that doesn't look like an engagement ring at all."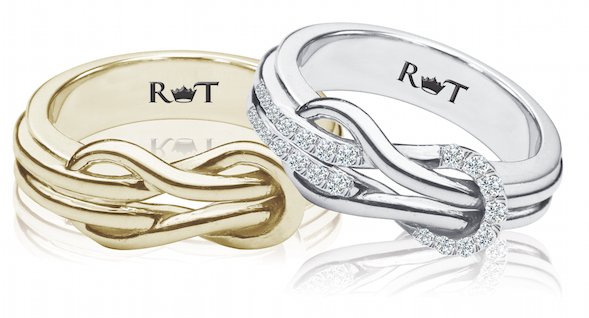 Tennenbaum's Bricks collection is the best-selling diamond engagement ring among lesbian couples, he says. When he had a store in Soho for three years, lesbian customers were always asking for "something different, something rugged and durable." The Bricks rings, with durably embedded princess-cut stones and an architectural brick motif, were developed from their requests.
"I'm not putting down lesbian couples who are still looking for traditional engagement rings, but the majority are looking for something different," he says. "They love that it's not that traditional and that it evolved from thinking outside the box."
"Not to generalize but I always say the LGBT community has a much higher taste level and tends to like better quality things," Tennenbaum says. "This could be because they are early adopters, trendsetters, usually first on board with ideas and concepts."
"We're so excited! We won! Uh… what do we do now? What do we get?"
How does the ring exchange work with same-sex couples?
With heterosexual couples who shop at Chicago's Sparkles, the woman traditionally gets an engagement ring and then bride and groom exchange wedding bands. Generally, there is one less ring with male couples, and one extra with female couples.
"It depends on the couple, but what we have seen with gay men is one proposes to the other," says Rachel Meyering of Sparkles. "Once they're engaged, they usually come back right after the proposal to purchase the other band. So they both have something to wear to show their excitement and love for each other."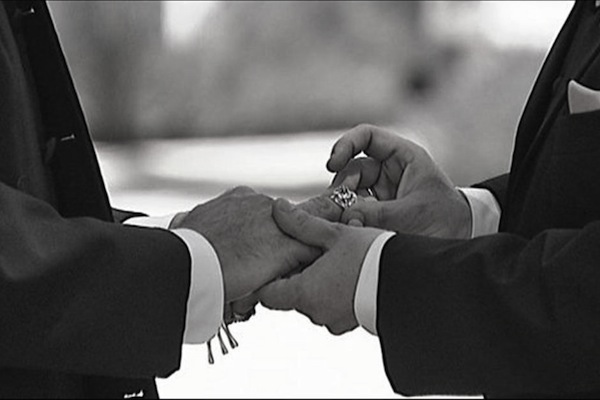 "Most men use their engagement ring as the wedding band," Meyering says. "Some couples do buy an engagement ring and wedding band, so there are four total rings. But mostly we see the purchase of two rings."
"We always see some sort of connection between the two rings. Most men get the same exact ring or one with some variation of metal color, width, or stone," she says. "As for women couples, we see most women buy both an engagement ring and a wedding band."
This first round of gay marriages includes an inordinate amount of couples who have been together for many years – often decades. At least for now, many gay couples approaching the altar are older, more established in their careers, and with the self knowledge that age brings.
Also, as a rule, gay males are a wealthier, more style-conscious demographic than the average population. This is one reason the hospitality industry began actively pursuing gay travelers more than a decade ago, rolling out what gay-friendly hotels called the "pink carpet."
Remember: this is just a couple in love, making a lifetime commitment.
They're experiencing the same emotions any newly engaged couple would have. Excited! Happy! Divorce is a long way off! (Sorry, it slipped out.) Seriously, these couples who have been together a decade or two or three? They're pretty solid.
These are rough guidelines only.
"The great thing is that there are no rules," Meyering says. "It just depends on what the couple wants."
Related Products