Some amazing works of art are coming up for auction at Bonham's Los Angeles next week, and I'm not talking Warhol or Matisse. These are as much nature's works of art as they are human-made, but I have always had a particular admiration for sculptors who take on gemstones. Technically, these are sculptures, but like all lapidary art, they are as much about color and light as form.
First up: an entire sale devoted to opal, on November 23, something I've come to look forward to this time of year. Opals on the block in Los Angeles are expected to sell for as much as a quarter million each. Following day's sale is devoted entirely to lapidary arts, gems and minerals, and includes an aquamarine carving of Poseidon wrestling an octopus that's expected to sell for as much as $200,000, and a life-size skull carved from Gibeon meteorite. Only in L.A., my friends!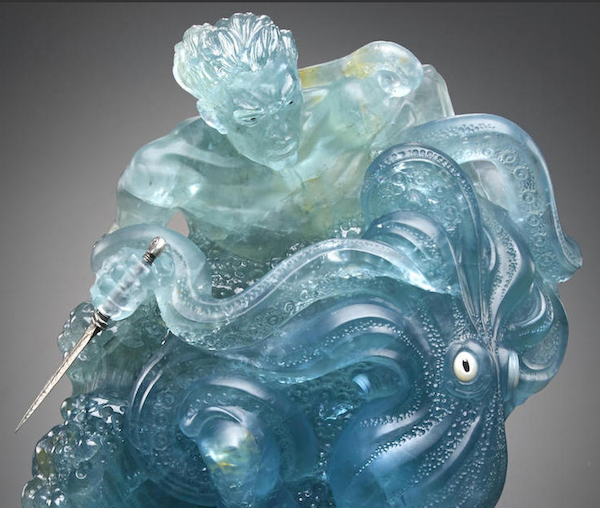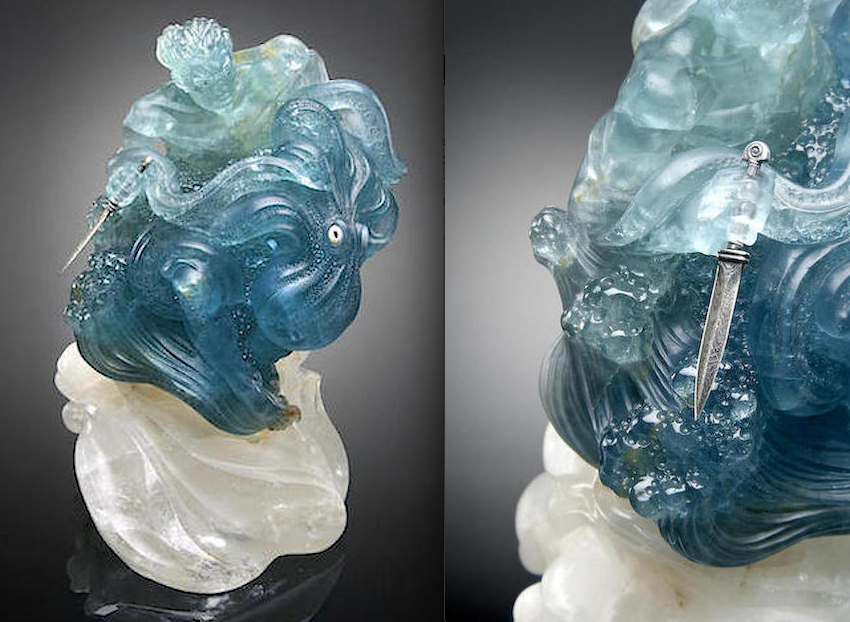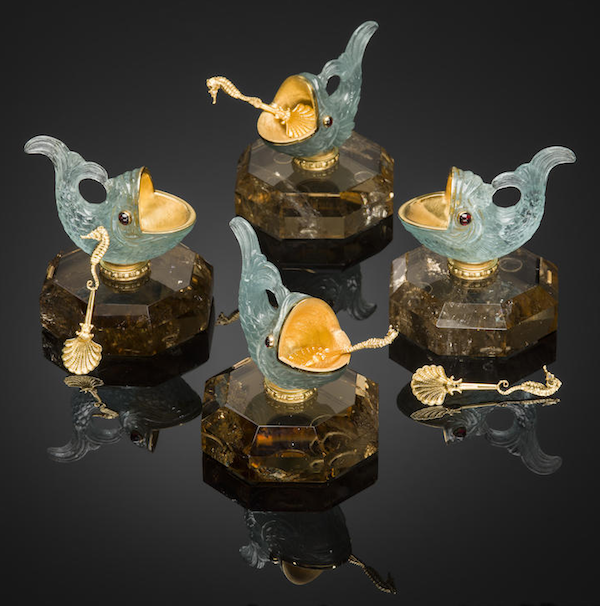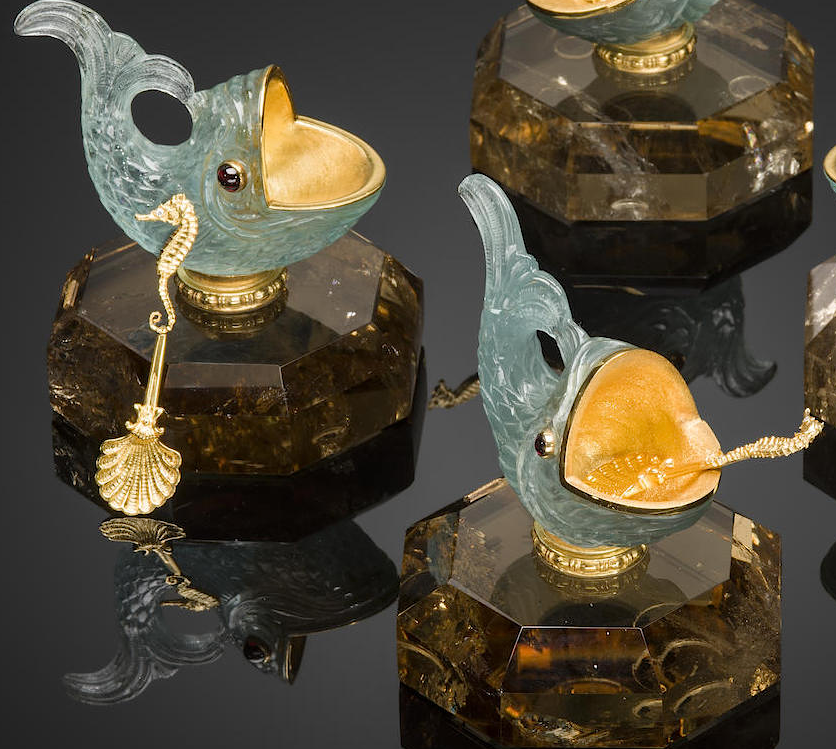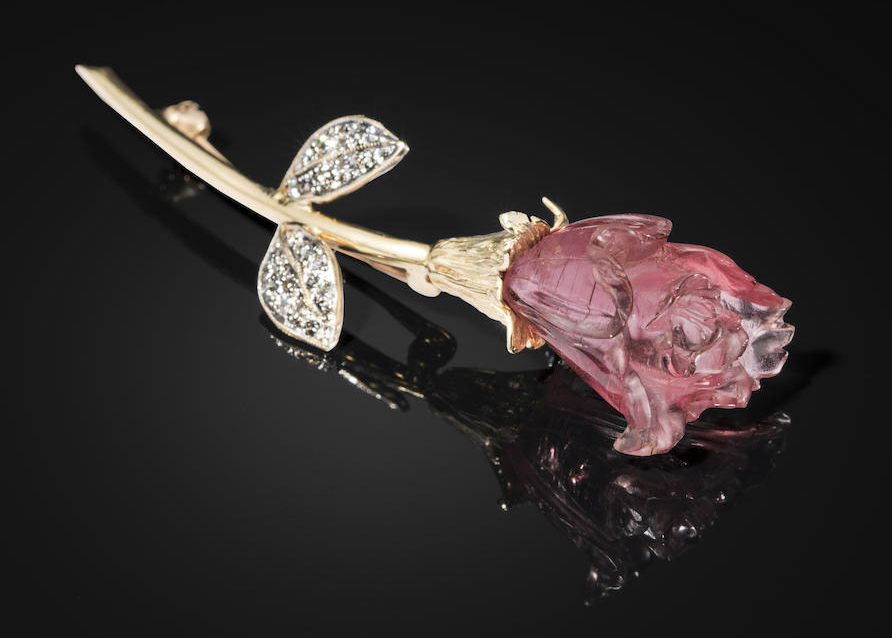 "Poseidon Wrestling an Octopus" carving by Zadora, (16,459.5 carats, 11 x 6 x 7 inches) from a piece of aquamarine rough weighing more than 30,000 carats. Russian master lapidary Andreas Zadora-Gerlof depicts the Sea God tussling with a giant octopus, with mother-of-pearl eyes and silver knife on a frosted rock crystal base. Estimate: $ 150,000 – 200,000
Four salt cellars by Zadora, c. 1995, of carved gem-grade aquamarine, citrine and 18k gold with spoons. Rococo-style dolphins (each 3 1/2 inches) with cabochon garnet eyes on natural citrine base, spoons decorated with scallop shell and sea horse motifs. Estimate: $ 45,000 – 55,000
Brooch of carved pink tourmaline (24ct) from Nigeria, 18k gold, and diamonds. Estimate: $ 2,500 – 3,500
Free-form black opal with fascinating play of color from Lightning Ridge, New South Wales, Australia, 167.93 carats. Estimate: $ 190,000 – 220,000
Black opal, also from Lightning Ridge, New South Wales, Australia, 29.83 carats, with green-orange leaf pattern. Estimate: $ 150,000 – 170,000
Carving of Horses by Erwin Pauly, c. 1995, from white opal from Coober Pedy, Australia, with diamonds, bezel-set in 18k gold on a black obsidian base. Estimate: $ 7,000 – 9,000. Classically-trained as an artist, Erwin Pauly launched his business in 1958. He is considered among the best cameo carvers in Germany, helping to establish Idar-Oberstein as the world center for lapidary art. I've met and written about carver Hans-Ulrich Pauly, one of three sons who followed in their father's footsteps.
Life-sized skull carving of a Gibeon meteorite (with Tridymite inclusion) from Namibia by California lapidary and jewelry artist Lee Downey. Weighing 46.45 lbs. (21,070 grams), this is the largest carving of Gibeon meteorite known to exist, based on an actual human skull (!!), then acid-etched to bring out the natural pattern. Bonham's has not posted an estimate, because – how do you predict the demand for this? Is there going to be a bidding war between a rock star and a billionaire from Silicon Valley? I'll keep you posted.