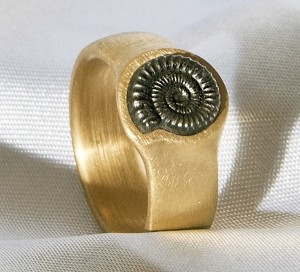 Ammonites are more than the raw material and focal point of Hendrik Hackl's art. You might say they're his muse.
Hackl is an artist based in Mannheim, Germany, who makes jewelry and sculpture out of – or inspired by – fossils, especially that iconic spiral we know as ammonite.
I met Hendrik at the Tucson Gem Show in 1998, during one of those torrential rains that turn the desert into a mudslide. I'd heard there was an art installation that year, an ammonite-shaped tent you could walk through, perched on a hill so you could see it from the highway. I remember slip-sliding up this muddy slope as a guy with a leather jacket, intense green eyes and a mad grin waited at the top.
Hendrik's tent sculpture was touring deserts around the world, starting with the Saharan, source of ammonite. It had recently spent a week at Burning Man in Nevada where festival goers, often nude or wearing costumes, paint themselves and become part of the radical art. Only Hendrik knows what went on inside the trippy walls that glowed pink and green after dark. "It's illuminated every night like a UFO," he told me.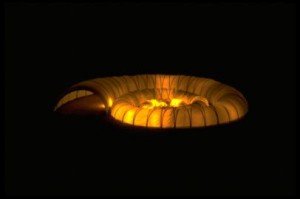 The tent got smaller and smaller inside, until you were crawling on your hands and then on your belly. Hackl said people compared it to returning to the womb and being reborn, although he meant it more as a statement of evolution.
I skipped the tour that day – it would have meant crawling through mud – and hung out instead in his trailer, talking fossils and art. I'm a fan of ammonites but I'd never met anyone so intensely focused on them – and who made such crazy beautiful things out of them, from sleek pendants and earrings to full-size sculpture, furniture and now… art happenings.
So I was pleased to hear from Hendrik again 16 years later and discover … he's still making ammonite art and jewelry. And it's gotten even better.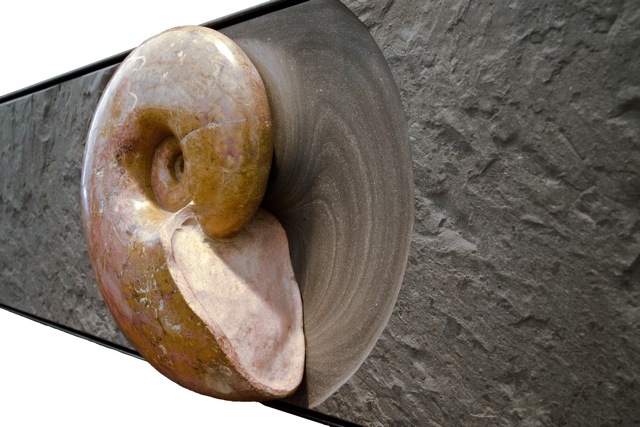 Hendrik recalls telling his parents at age 7 that he wanted to be an artist, but he only got around to it after discovering ammonites. First, he trained and worked as a dental technician, making teeth of ceramic and gold – an experience that came in handy when he began turning his ammonite collection into jewelry, using lost-wax casting to frame the pieces in silver and gold.
"Training as a dental technical was very good for recognizing shapes," he says. "Everybody has a different smile. You have to make a tooth exactly as it was before, so you develop an eye for organic forms."
He discovered ammonites at their primary source, Morocco, while visitng friends who wholesale fossils. He spent several weeks at their ammonite-filled house and, when he left, they gave him a few as souvenirs. Fascinated, he began to fashion earrings, pins, and pendants out of them.
"I liked the idea of making the history of the Earth wearable," he says. "You can wear a 150- to 250-million-year-old piece of life, a part of evolution – human evolution perhaps."
The jewelry was well-received and he began to expand his repertoire to wall sculptures – framed landscapes with ammonites, brass, and aluminum – which he sold through galleries. "My customers are not fossil dealers or collectors," he says. "They come to ammonites by their attraction to my artwork – the aesthetic side of the thing."
Inevitably, though, they became interested in the fossils themselves, something Hendrik is always happy to discuss. "I'm attracted by the shape of the ammonite, but what's more important to me is the age, which is unbelievable," he says. "You hear dealers saying that this fossil is 500 million years old or that this one is 'only' 140 million." Hackl makes some cool jewels out of Orthoceras fossils, thought to be about 400 million years old.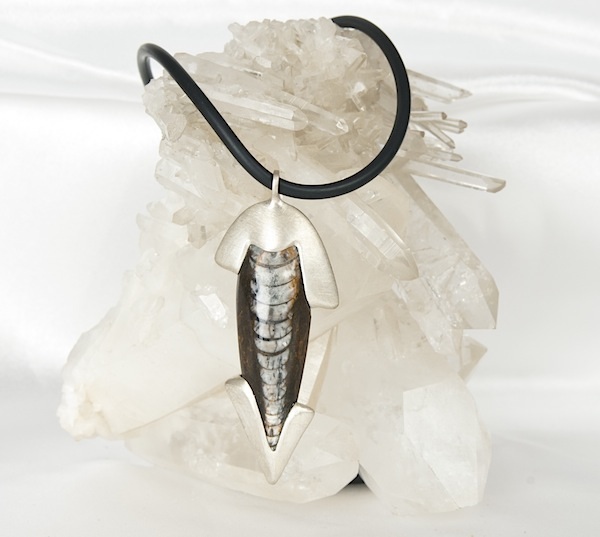 "I use ammonites as a piece of information, something like a watch that shows what time it is," Hendrik says. "When you find one, you know it was living in the Cretaceous age, which ended 140 million years ago. Fossils are a kind of mirror of the development of life. They give people a little idea of how short our lives are, how short our appearance on the surface this planet."
"I see ammonites as being as individual as we are," he says. "There are 1,500 different species of ammonites all over the planet and every one has a different color, shape origin, and age – just as we have."
You can find more of Hendrik Hackl's ammonite art, furniture and jewelry on his website. If you're going to the Tucson Gem Show this year, look for him at the Granada Gallery and Exclusives show (338 N. Granada Ave.). Alas, no ammonite tent this time.
All photos by Elles Magermans, courtesy  of Hendrik Hackl
Related posts
Carolyn Morris-Bach: talismans from the woods
In pictures: Tucson Gem Show 2010
Copal, amber and… copal amber?
Jewelry trade shows and antique fairs in the U.S. 2014
Related products
(Shopping through links on this site doesn't cost you extra but puts a couple bucks toward keeping this site going.)