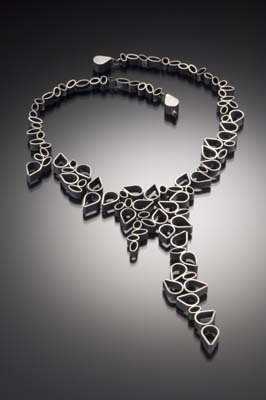 Somehow it's not surprising to learn that many collectors of Hilary Hachey's jewelry are architects. There's something architectural about the pared-down quality of her designs.  They're all about form, mostly geometric, not much embellishment.
It took her a while to find her signature look, and the key, she says, was to learn to ignore conventional wisdom about how to make a living as a jewelry artist.
"I feel strongly that if you do what you love, somehow people will pick up on that," she says. "It will come through in the work and benefit you. Anytime I try to do something that should work and that seems smart, it doesn't work."
It took a few false starts to figure that out, however. "When I first started making jewelry for a living, everybody said, 'You need to have a production line,'" Hachey recalls. "So I did one with wax carving in very organic leaf shapes. It never did very well."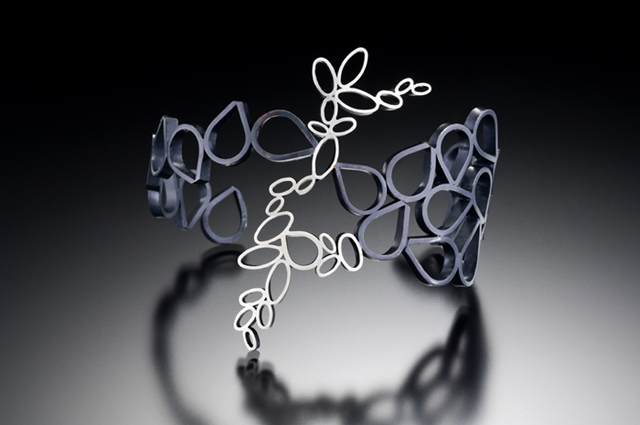 "I try to make them look random. That's kind of tricky, making something look random."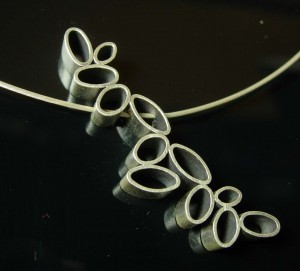 After she abandoned the organics and began following her own muse, her jewelry began to move. Since then she has given up chasing market demand and applying conventional wisdom. "I was doing what I thought I was supposed to do, what people told me was right."
After seven years of designing with colored stones, she stopped using them, finding she prefers to work with all metal and a monotone palette. "I was never that into stones," she told me in 2009. "People like color. Color sells, but I just got sick of doing it. Maybe because I moved on, something else will come up."
But nothing stays static in the life of an artist, and jewelry is no exception. You still won't find colored stones in her jewelry but recently Hilary began to introduce hits of color, in the form of fabric. The fabric highlights the clean, geometric lines of her fabricated metal, adding texture without compromising the architectural form. In fact, it reminds me a little of Frank Lloyd Wright interiors.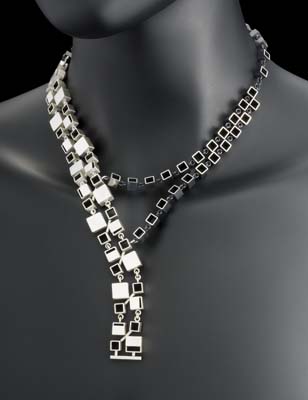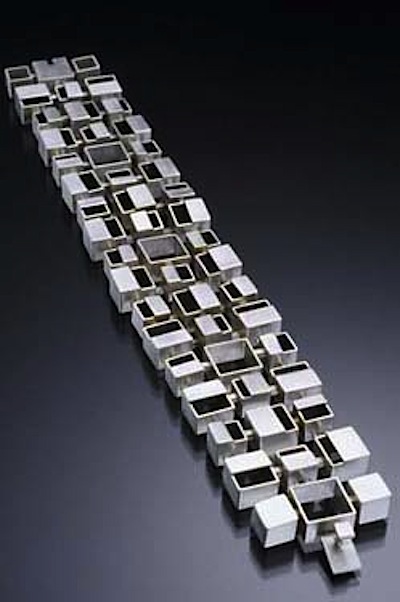 Even when she's at her most geometric, hints of nature slip through – especially in her Avocado collection (top two pieces pictured) but even in the cascading necklaces (above left), a highly stylized take on nature.
She started making these puzzle piece necklaces after finding a bunch of squares on her work table left over from smaller pieces. "I started playing with them and it evolved into these pieces with repeating patterns."
"I like the look of multiplicity, the repetition of patterns. I like playing with the figure-ground relationship, the positive-negative space," she says. "I try to make them look random. That's kind of tricky, making something look random."
You can find more jewelry from Hilary Hachey on her website. And here are her tips on photographing your own jewelry.
Related products