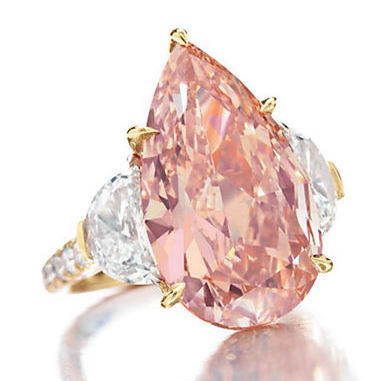 I'm being carried along by the mob swarming Rockefeller Center. Today is the first day of previews for next week's big New York jewelry sales and I'm here to try them on.
It's also the first weekend in December and it seems half the world has descended on this spot. They're here to see the sparkling tree. I'm here to see the sparkling jewels.
My friend Noriko makes it to Christie's first. "Massive crowds everywhere, except for this building," she shouts from my cell. "It might having something to do with the intimidating security guards stationed out front."
We enter the building where billions of dollars in treasures change hands, and the roar of the crowd fades away. "The calm in the storm," Noriko says.
A young woman at the front desk points us toward the jewelry galleries, no ID required. One of the guards jokes around with us along the way. We find a dozen people milling about the gallery, mostly couples, most in jeans.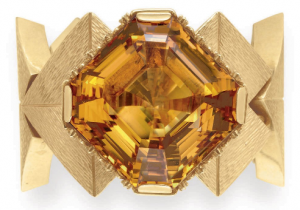 We get our bearings by trying on a massive citrine and gold bracelet and admiring a Cartier Mystery Clock with a similar-sized citrine face.
But we've spotted the pink diamond ring in the center of the room and it's pulling us like a magnet. I sent Noriko a photo two days ago and promised her goldsmith boyfriend that I'd take a picture of it on her hand. "Wow," he said.
Yet now that we're here, I'm paralyzed. I've been to a few jewelry auctions and tried on some amazing jewels but this is the biggest, pinkest diamond I've ever seen. I'm sure there's a reason no one is trying it on. It could sell for $3 million in a few days. What if we drop it?
"You ask," I whisper.
Noriko has never been to an auction preview and I'm sure she's never worn a jewel worth $100,000, let alone a few million. She asks a woman behind the counter, who tells us a more senior sales rep handles that case. Seconds later, an elegant brunette materializes, unlocks the case and pulls out the black velvet display with the pink diamond balanced on top. Her name is Phyllis.
I slip the ring against my wedding band. My knuckle is obliterated. "It's too big," I say.
"No stone is too big," Phyllis quips.
"Spoken like a pro," I say and we all laugh. I slip it on my index finger instead: perfect.
No one seems alarmed that I'm trying on this ring as if it were a Cracker Jack prize. I'm starting to feel pretty comfortable myself. I move my hand so the rainbow spectrum glitters from the giant, pinkish-orange pear shape.
Is there anything more beautiful than a really fine colored diamond?
"I can't see the case," a woman behind me whines. The natives are getting restless. I try to pull the ring off but…it doesn't budge.
Just like that, the entire experience turns into a Seinfeld episode. "It's stuck," I say, trying to smile reassuringly. I pull harder. "This is kind of stressful."
"They'll get it off for you but you may have to leave your finger here," Noriko says.
"You'll be working here for the rest of your life," Phyllis says.
She's joking but a vision flashes in my head of myself as an old lady, huddled in a backroom at Christie's with a giant pink diamond attached to my shriveled hand.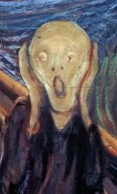 I can see why they put Phyllis in charge of this case. A less-experienced sales assistant would be in full Munchian silent scream by now.
Is it my imagination or have the security guards perked up?
I take a deep breath and pull the ring free. I'm so relieved I start to hand it back, but Noriko intercepts.
"You should probably hold it over the display," I say nervously. Phyllis slides the velvet pad over like a dealer at an upscale casino. Noriko snaps the ring with her cell phone.
"It's amazing that people can just walk in and try on jewelry like this," I say.
"Not many people realize this is open to the public," Phyllis says. "Sotheby's is open today too, as is Doyle's." Both are having jewelry previews now. "Isn't this a perfect way to spend the day?"
I'll say. If I had my way we'd head to Sotheby's and Doyles, but there's shopping to be done of the non-millionaire variety and we're about to take a very crowded subway downtown to do it. Until then, however, there's plenty more ornament to ogle right here.
If you're in New York this week, here's the skinny on the big jewelry sales:
New York Jewels, Christie's, 20 Rockefeller Center, Dec. 7, 2010: previews Dec. 4-6, 10am-6pm
Magnificent Jewels, Sotheby's, 1334 New York Ave., Dec. 9, 2010: previews Dec. 4-8, 10am-5pm
Important Estate Jewelry, Doyle New York, 175 E. 87th St., Dec. 8, 2010; previews Dec. 4-5, 10am-5pm, Dec. 6, 10am-6pm, Dec. 7, 10am-4pm