It's easier than ever to put up an ecommerce site these days, with all the self-hosting options, free templates and shopping cart applications available. But if you're just starting out, should you stick to established marketplaces like Etsy or go it on your own? How can you stand out in this crowded online market – without alienating existing customers?
If you've built a following via craft shows, Etsy or Artfire, social media – maybe it's time to put up your own storefront. Lori Anderson builds her customer base via craft shows, her blog and social media, then directs those customers to her website. Don't expect to automatically attract customers simply by putting up a standalone website, she says, especially if you do what she does: beadwork. Building traffic to an ecommerce site works best if you use an unusual technique or rare material likely to register high in Google searches.
Even though Lori updates her site daily, she says she never shows up in a Google search for bead jewelry. "There's just so much handmade beaded jewelry on the web," she explains. "Handmade beadwork is a useless tag." However, if you search for jewelry made with Larimar or jewelry promoting diabetes awareness, her site ranks pretty high. "People who come to my site randomly are looking for some specific thing."
She also comments on other blogs, leaving links, and writes for magazines, "You have to really market yourself if you put up a website and expect people to find you," she says. "You have to work at it every day."
Adding ecommerce to the mix
Let's say you've established a shop on Etsy or want to expand beyond the wholesale craft show circuit. Can you launch your own ecommerce without upsetting your customers?
Selling jewelry from your own site usually means selling retail, which can create a conflict if your core business is wholesale. If your main business is selling on Etsy or similar online marketplaces, you're technically already selling retail – but possibly at (or close to) wholesale prices.
The proliferation of online marketplaces like Etsy have caused a shift in the conventional protocol for selling handmade goods. That, coupled with the recession, has inspired a few designers to experiment with direct sales.
Danielle Miller is one. She launched her own website in 2003 as an online portfolio for the shops and galleries she sold to at wholesale prices. In February 2011, she added a shopping cart, offering her jewelry at retail. Her gallery customers can access a wholesale version of the site with a password, entering what Danielle calls "the backdoor." What they see is wholesale pricing, not the retail prices shown to the public.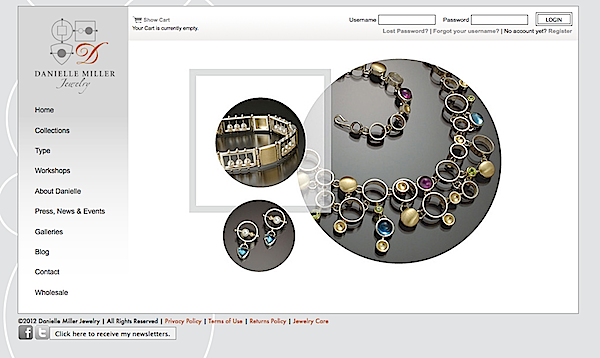 Straddling wholesale and retail online
One reason Danielle waited so long to introduce ecommerce was fear of alienating wholesale customers. "Back in the day, galleries didn't want you to have your own website because they thought it would be a conflict of interest," she says. "And if you did have a site, they didn't want you to put your prices up."
Danielle established her business in the late '90s, primarily at Buyer's Market, the high-end wholesale craft show run by the American Craft Council (ACC), where she landed most of her key customers. (I met her around then, when I profiled her for a magazine.) For the next decade, she sold 90 percent of her jewelry wholesale. But the recession has kept many buyers away from the show, costing her thousands each year in booth fees, promotion and travel costs. As her wholesale business has dwindled, her retail sales have picked up at craft shows and on Etsy, where she launched a shop four years ago.
For artisans like Danielle who came to Etsy with an established wholesale business, it's tricky pricing jewelry online. If she offers a piece to wholesale customers, she has to mark it up on Etsy (and her own site) to avoid undercutting retailers who've already bought in. But as soon as she marks up her prices on Etsy, sales dry up.
Jewelry artists who make a good living on Etsy tend to make jewelry that fits a demand among the Etsy crowd and don't do wholesale, Danielle says. So either they don't have a complicated price structure or they create a separate, high-end line for wholesale customers. She knows people who sell everything they make on Etsy, but wants to avoid putting all her eggs in one basket. "It doesn't seem like a smart business plan to me," she says.
Through Etsy, she learned about social media, blogging (she's part of the awesome Etsy Metal group), and how to effectively sell to the younger, wired generation who shop for their jewelry online. To her surprise, she has cultivated a thriving wedding and engagement ring business on Etsy. This year she decided to skip the ACC show for the first time in 13 years, focusing instead on building direct sales online.
Danielle is just starting to ramp up her own ecommerce site, sending out email blasts – one version to retail customers, one to wholesale. The key challenge, she says, will be keeping wholesale clients happy while growing the retail side of her online business.
SETTING UP YOUR OWN SITE

How much will a web site cost you? It really depends how complicated you want to get, how much functionality you need, and how much time and patience you have for web-based puzzles. Some options:
Set up a DIY site. Speaking from experience, I can tell you that putting up a basic site on WordPress is not complicated. I set up The Jewelry Loupe by myself and it didn't cost a dime. If I can do it, anyone can. However, I wasn't really trying to establish a brand or appeal to a specific market (in your case, a customer base). If you already have a presence on Etsy or other marketplaces, it may be worth paying a bit to have someone develop a consistent look and logo.
For another website, I hired a web designer who specializes in the StudioPress Themes which had the features I was looking for. That site required multiple functionality and a fun but more polished brand image – way beyond my capabilities.
Become your own host. If you go it alone, you'll need to have your site hosted. Many people opt for GoDaddy, the popular one-stop shop for buying and parking domains. But if you're in it for the long haul, you'll find a more user-friendly interface, better features and customer service with Blue Host
or HostGator
. I know many online entrepreneurs who use Blue Host and are very satisfied.
I host The Jewelry Loupe along with two other sites on the Baby plan on HostGator
, which costs $6.36/month if you commit for three years. So far, I haven't had any crashes. I find HostGator easy to reach by phone and their customer service reps always talk me through whatever I'm trying to figure out. I feel comfortable bringing them my dumbest questions and I'm happy to report I have fewer than I did three years ago. (You too will find you're less of a Luddite than you thought, once you swim around in this stuff for a while.)
After you have your domain hosted, log into your control panel (cpanel) and ask it to recognize the platform you're using. After I registered with WordPress, for example, I logged in to my cpanel, clicked on WordPress, and followed the steps. (If you use WordPress and plan to add ecommerce to your site, by the way, make sure the to establish your site on WordPress.org, not the original WordPress.com which does not allow commercial use.)
Add a shopping cart. Adding a shopping cart function to your site can be as simple as installing a plug-in and setting up PayPal, but you might want a little help with integration. If you know from the get-go that your main objective is to sell jewelry directly from your site and you can't afford to have an e-shop designed from scratch, consider starting with a ready-made template designed for that purpose.
There are free templates, or themes as WordPress calls them, available but some "premium themes" can be had for the cost of a dinner out. As an example, $39 a year will buy you access to all the Elegant themes, along with technical support and a user forum to help you set up. I love these themes and subscribed a while ago, hoping to redesign my writing portfolio with one. If I were selling my own jewelry, I might consider using the Elegant eStore theme: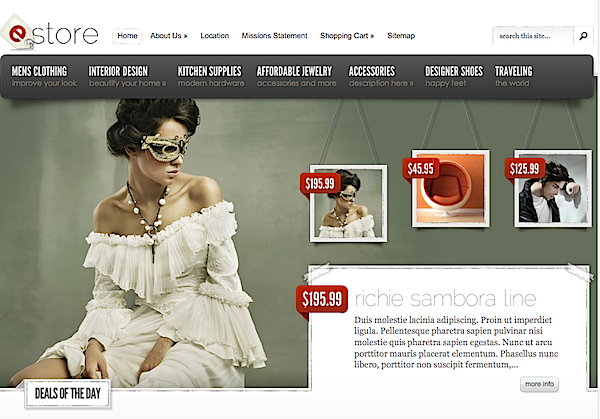 Hire a pro. If you want a simple online portfolio, you can probably find someone to put it together for you for between $700 and $2,000. Having my other site designed cost me a minimum because my designer was tweaking a preexisting theme. A full-fledged ecommerce site design can get a lot more expensive, depending on your requirements and the designer's experience. An ecommerce site by boutique web designer Lisa Bacon of Moxie Pear costs between $500 and $1,300, for example, but she will create a basic informational site for $500. For $115, Moxie Pear will set up a shop for you on Etsy, designing an avatar, header, and reserved listing image.
Want to test the web design waters? Try placing a request on oDesk or Elance. I've posted requests for virtual assistance on Elance and know jewelry designers who swear by oDesk. It doesn't cost anything to invite bids and proposals and it will give you an idea of the available options and price range. (Web design is something that can done electronically – you don't need to meet in person, although I found it helpful to brainstorm over the phone.)
If you just need help with graphics or logo, try Fiverr. Many graphic designers on the site sell their services cheap. A custom logo with three concepts and unlimited revisions, or even an entire site design, can cost a fraction of what you'd pay a conventional designer.
Figure out what you want first. Whether or not you hire a designer or do it all yourself, take some time to look through online portfolios and ready-made templates. Many web designers – especially more affordable ones – do minimal or no coding. They simply tweak existing templates. Increasingly, you'll find designers who work only with WordPress, for example, and often a specific set of themes. If you find a theme you like, try doing a web search for a designer who specializes in that theme. Check out the sites of jewelry artists you know. When you find something you like, ask where they had it designed. Just make sure you don't end up with a carbon copy. Individual branding is key.
As with any commission, the clearer you are about what you want ahead of time, the easier (and cheaper) it will be to get the job done.
This article was adapted from Net Profits, the column & blog I write for Lapidary Journal Jewelry Artist and its website, Jewelry Making Daily. Since writing this article, I've partnered with a couple of the vendors mentioned – which means if you sign up through links on this site, I may get a small commission. Information presented remains as is, objectively reported.