Second in a series on DIY tips from jewelry artists for shooting your own jewelry

Like Hilary Hachey, jewelry artist Lauren Schlossberg has a few pieces photographed by Hap Sakwa to use as jury slides or counter displays at craft shows. She shoots the rest herself – and takes it very seriously. Because she sells on Etsy as well as her own site, she needs a steady stream of images. All photographs on this page feature jewelry made and photographed by Lauren.
Buttercup earrings of beads and enamel designed, made and photographed by Lauren Schlossberg
She shoots her jewelry whenever she finishes a new piece, about twice a month. "Ideally, you should list once a day on Etsy," she says. "I don't get a lot of orders there but I've noticed when I relist often, I get more. But it's time-consuming to photograph jewelry and I'm really picky."
She typically spends a couple hours playing with lighting and angles, then chooses one or two shots and edits them in Photoshop – mostly to remove dust and blemishes. On Etsy, where five shots of each piece is typical, she includes a couple "runners-up" – including, sometimes, a shot of the jewelry on her own hand. "You want the main image to grab people and bring them in," she says. "Then I'll do a detail shot and maybe a piece on the body. It helps people see what the jewelry actually looks like."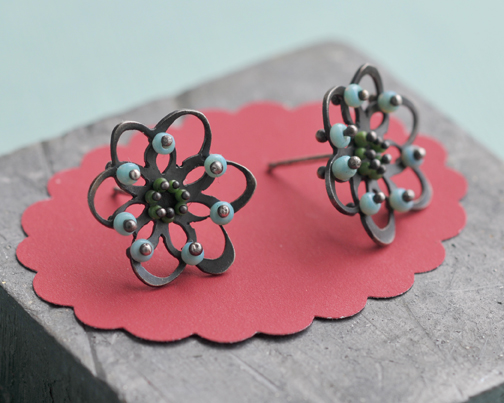 While her setup is nowhere near as costly a professional product photographer's, Lauren spent some money on equipment – including a Nikon D300
and a 60mm Micro-Nikkor lens
, a combo that costs more than $2,000. She has one other lens she uses a lot, but the 60mm is her go-to. "My camera equipment has paid for itself," she says. "If I had to send these things out, even to a local photographer, it would be way more expensive."
She invested for the long term and has no intention of getting caught up in constant upgrades. "There will always be new camera models but this will work just fine. I don't need to keep upgrading it – although if I had lots of money, I probably would! It's a matter of your budget. I did a lot of research and chose this camera for the build and quality. Nikon also has the D90
and D40
– great packages with camera lenses for $1000 or less. But as you go up in price with Nikon, the quality is so much better. With the D40 or D90, you get a plastic body. Mine is made from magnesium which lasts longer. I will never need to upgrade, and I'm looking at this as a lifetime investment."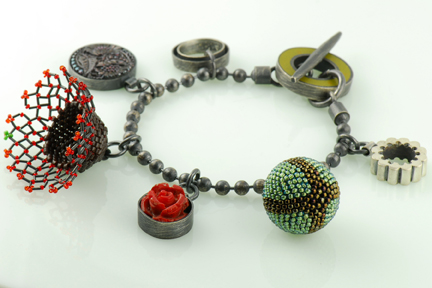 She shoots her jewelry in a soft box she bought online with built-in florescent lighting, and uses a Bogen Manfrotto tripod
. "You have to use a tripod," she insists. "Get a really cheap tripod if that's all you can afford, but you have to have one. When you press the shutter, your camera's going to shake a little. I use a cable release to avoid pressing the button on my camera. You can also do a two- or three-second delay, but you get a little shake. I got my tripod 20 years ago. It's Italian and a really great brand. You can get a good one for $150."
While the professional images she uses are crisply and uniformly focused, a requirement of jury slides, Lauren prefers the artsy look of partial focus – a look that works fine for Etsy and her own site.
"To get everything in focus, you have to have your F-stop very high," she says. She usually sets hers to F22 and allows the camera to automatically compensate with shutter speeds. She also relies on a tripod and shutter release to minimize shake.
"I still have a lot to learn," Lauren says. "But the investment I've made has definitely paid for itself."
Lauren's Equipment
• Nikon D300S 12.3MP camera
: $1,697
• Nikon 60mm f/2.8G ED AF-S Micro-Nikkor lens
: $549
• Manfrotto tripod
: $198
• Tabletop Studio jewelry photography kit
: $290
Next Friday we'll hear from a jewelry artist who shoots all her jewelry in the great outdoors – no lamps, no flash, just sun (and sometimes wind and rain). For more DIY tips, read about Hilary Hachey's approach to shooting your own jewelry.

Related posts:
How to photograph jewelry: DIY tips from successful designers #1
How to build your own website to sell your jewelry
How to photograph jewelry: tips from the pros
How to photograph jewelry: Photoshop tips from the pros
Free passes to International Gem & Jewelry Shows
Jewelry in the digital age: Ganoksin, CAD & romanticizing craft
Note: Buying through links on this site doesn't cost you any extra but it does put a couple bucks toward the maintenance of this blog, so thanks in advance!
Related products: