Third in a series on DIY jewelry photography
SHOOTING JEWELRY OUTDOORS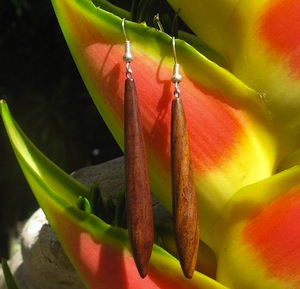 Not everyone has a tropical paradise as a backdrop, but Sheila Arguello Slick happens to live in Nicaragua. She moved there from Florida in 1995, became obsessed with gardening, and now her backyard is brimming with tropical plants and flowers – and the cardinals, hummingbirds, and guardabarranco who nest in them.
Since her jewelry is made from local materials – wood, coconut, crocodile leather – and inspired by her surroundings, Slick feels it's only fitting to shoot it there. "We have 365 days a year of warm sun," she says. "If I were to shoot indoors I would create a 'white box' I guess, but that would not feel as natural and, so far, 'natural' is my theme."
Because she sells her jewelry on Etsy at terrabella accents, Sheila has to relist often in order to stay high in searches. She is constantly creating new jewelry for her Etsy shop and photographs it once or twice a week – a process she enjoys as much as jewelry-making.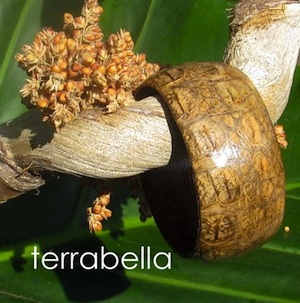 Having good pictures on Etsy is crucial to sales, she says. "Speaking as a buyer, if a picture is not crisp and well-lit, it feels as if the product itself loses quality. I want to see all angles – the inside, outside, back, front – as if I were picking it up in person."
She occasionally posts shots taken in overcast conditions, until she has a chance to reshoot. She admits that while these drive her crazy, they don't always result in loss of sales. "Some pieces are so well-loved, they sell anyway," she says, the quality of the rest overriding the exceptions. "But when an entire shop has unclear or low-lit pictures, it brings the entire shop down."
When we spoke, five different shades of frangipani were about to bloom in Sheila's backyard and she was looking forward to shooting her jewelry among them. She also had a new collection of volcanic rocks gathered while hiking the Mombacho Volcano. All would appear in her next photo shoot. "That's how my brains works," she says. "Sometimes it's the beach – I have stones, shell and driftwood all lined up for my summer collection – and sometimes it's the birds, or the tamarind tree that just dropped all its seeds."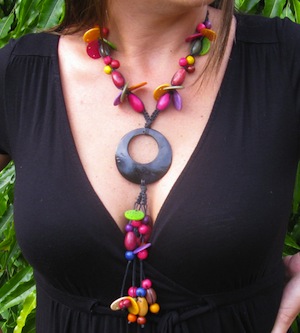 Shooting in natural light saves the hassle and expense of artificial lighting, but it comes with its own problems. Primary among them: wind. "Just a slight breeze moves the jewelry or props, since they're so lightweight," she says.
She always shoots jewelry on the macro setting of her Canon PowerShot, which is particularly vulnerable to shake. "In the macro setting, any kind of movement causes blur, so patience is key." While she waits for the breeze to die down, she edits pictures on her camera.
"Then, just as everything is ready and the breeze is gone – along comes a cloud!" she says, and the wait begins again. One glance around her Etsy shop, however, and you can see how much fun she's having. Creating pictures from her jewelry is, for her, the final, satisfying step of the artistic process.
Sheila's Equipment:
Canon PowerShot camera
(12.1 MP with 5x wide-angle zoom): $480
For more tips from jewelry artists who have mastered the art of shooting their own work, check out my posts on Hilary Hachey and Lauren Schlossberg.
Related posts:
How to photograph jewelry: DIY tips from successful designers (Hilary Hachey)
How to photograph jewelry: DIY tips from successful designers (Laruen Schlossberg)
How to build your own website to sell your jewelry
How to photograph jewelry: tips from the pros
How to photograph jewelry: Photoshop tips from the pros
Related product