As jewelry models go, no one is more available than you. Ask anyone who posts jewelry regularly on Instagram. Most of us did not set out to be models and are often a far cry from model-perfect. But jewelry is a product designed to be worn, and sometimes – especially if you're trying to sell your jewelry – it helps to show it on the human body.
Guess what? You have one of those! It's always available and you don't have to pay model fees to use it. This is particularly helpful if you're a young artist trying to save your cash for the rather expensive show circuit where you sell your work.
"Using myself as a model is partly a matter of convenience," says Jera Lodge, whose own image often pops up when you Google her jewelry. "It was easier to buy a remote for my camera than track down someone in the vicinity who's willing to serve as a model, usually on short notice."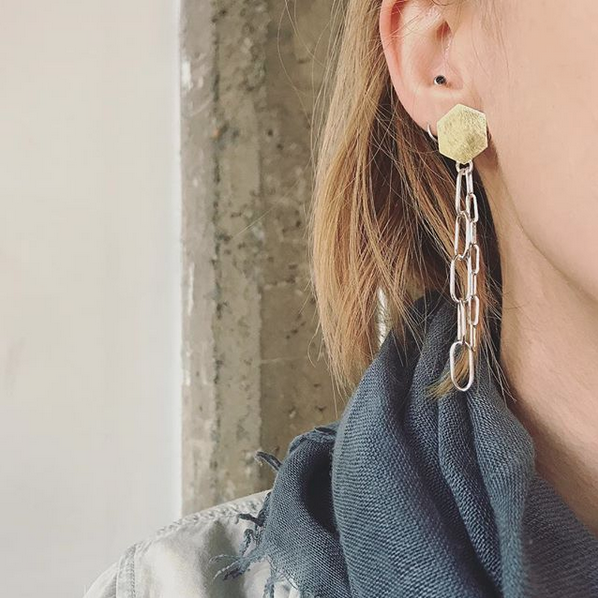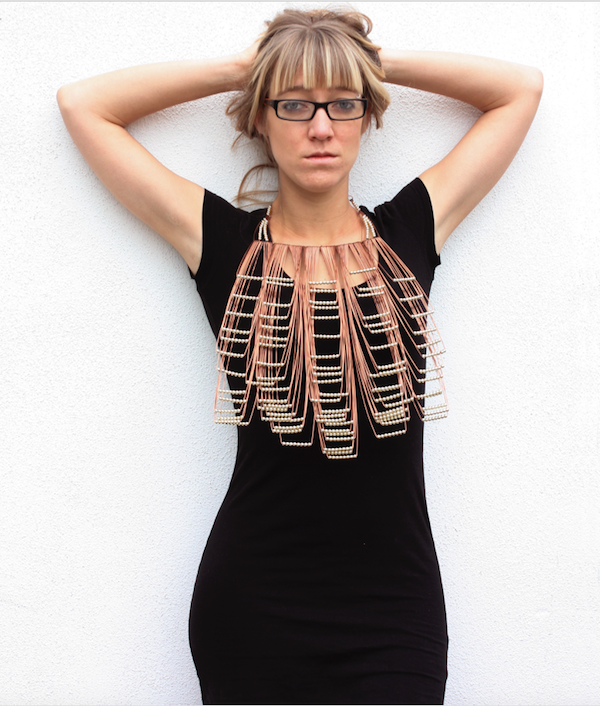 I know what you're thinking. It helps to be young, slim and blonde if you happen to be using yourself as a model. But Jera does not airbrush herself and often (as in this shot) purposely leaves her glasses on. She's not going for sultry. She's going for smart – and a little funky.
Just so you know, she's not normally this serious in real life. In fact, when you meet her at shows she's more likely to look like she does in this image from a profile of her work produced by PBS Houston.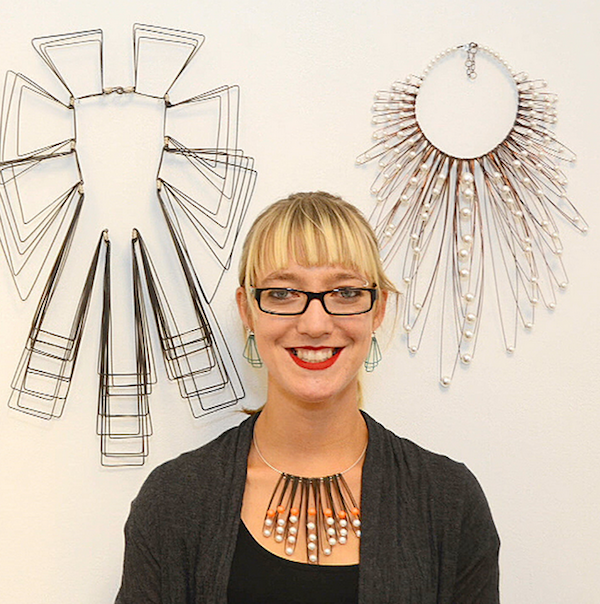 This is kind of how I think of Jera. When I first introduced myself at a SNAG conference a couple years ago, she looked blank for a second, then lit up and threw her arms around my neck. I had included her in a magazine roundup of emerging art jewelers that had recently published, so we'd talked on the phone but never met. I meet artists under those circumstances fairly often and few are as warm and openhearted as Jera – which is not the image she projects when modeling her jewelry.
The growth of e-commerce created a need to see jewelry on the body. Then Instagram and Facebook came along and the jewelry/fashion selfie became an art form in itself. But selling jewelry with these shots is a type of selfie that focuses on an object, using the body (your own in this case) as prop. Like many working artists, Jera's bread-and-butter lines are scaled-down versions of her more over-the-top wearable sculptures.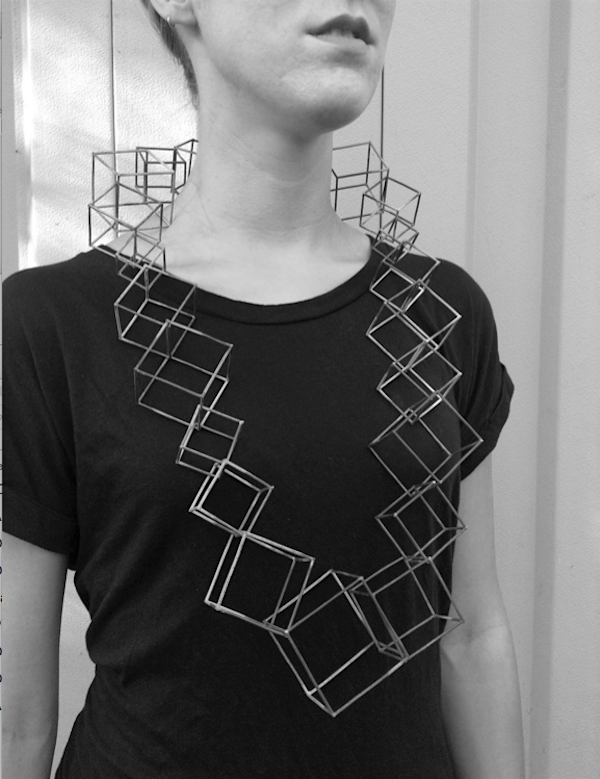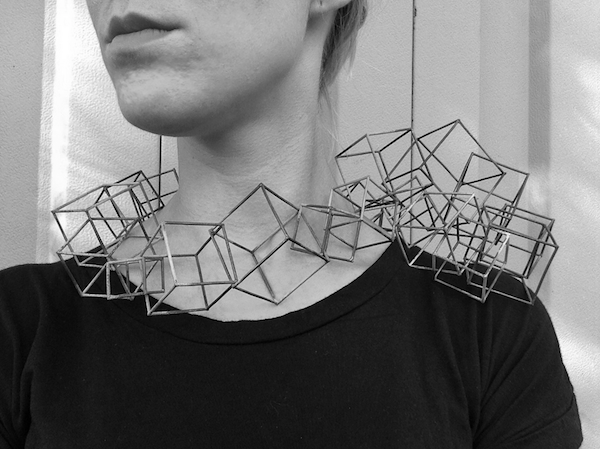 When you're modeling a necklace like this, a big goofy grin sends the wrong message. At best, it detracts. At worst, it can give the impression this is some kind of joke, an exaggeration, a costume. Showing three different ways to wear it, without a hint of ingratiation, more effectively demonstrates the engineering prowess that went into this piece.
Jera puts hours of structural calculation into these pieces. This necklace is a prototype of sorts for her smaller, more wearable Cubic collection. Every designer needs a showpiece, however, and when you make art jewelry, the showpiece does not always involve $20,000 worth of gemstone. In Jera's case, it's primarily silver, transformed into wearable sculpture.
Even with art pieces, a primary challenge of photographing yourself is to look natural and not overly grim. "There's a line between being serious – not making too much expression – and looking really pissed off," Jera says. "I try not to look angry."
Part of the problem is that you're concentrating on setting up the shot. It's difficult to direct the model when you are the model. For the jewelry she's photographing, which is usually art jewelry, Jera doesn't think this is a deal breaker.
"I try to make myself laugh and goof around a little bit," she says. "But I usually end up with half serious and half smiling. I tend towards the serious ones."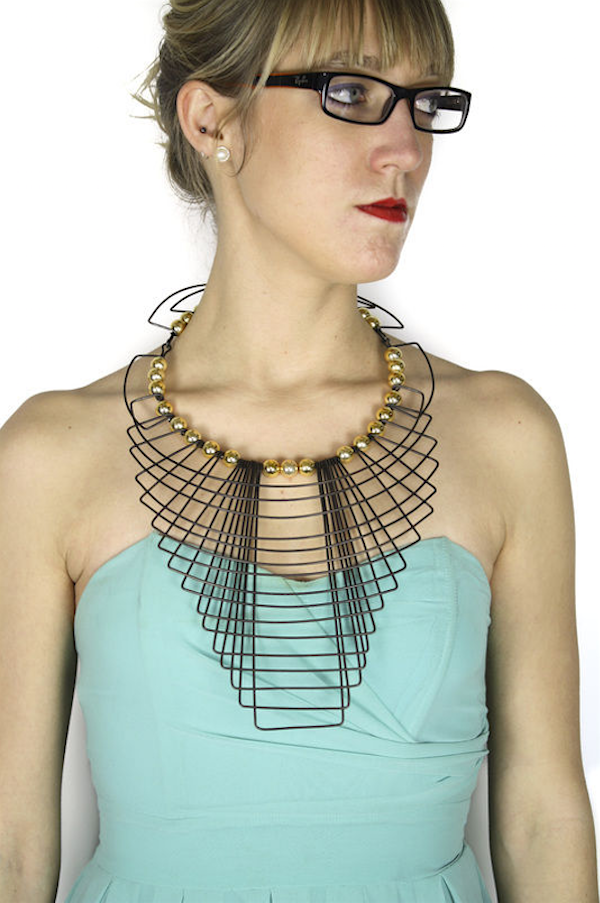 "Maybe it just looks more natural and genuine if somebody else is generating the smile out of you," she says. "But you need to also ask yourself: What is the focus of the image? Is it the piece or is it you? When you're smiling, you're engaging the camera and drawing attention to your face rather than the object."
Jera does not use studio lighting. She always shoots outside, preferably in the diffused light of late afternoon or an overcast day. She looks for a wall that's fairly monotone but with a little texture and character. She avoids rain or snow, but it's often pretty cold outside. "I'm not doing close-ups, so you don't see the bumps."
When she finds the right spot, the sets her camera up on a tripod. Originally, she was using continuous-shoot mode on her Canon, shooting five to ten images in a few seconds. She would set a 10-second timer, then run around and stand in front of the camera. Last summer she purchased a tiny remote she can click from wherever she stands. "I snap a couple shots every couple seconds as I'm slowly changing position," Jera says. "This helped a lot."
Ironically, in using herself, Jera sometimes feels she's perpetuating a stereotype. "I fit the image for the kind of model people use for this type of thing – young, thin, white, with long blonde hair," she says. "I am wearing my glasses and I sit like I would for somebody who's making alternative-style jewelry, but I'd like to push beyond that."
Her goal is to find models who represent the variety of her own customer base. "I think it's important to use diverse models. When I start being able to photograph other people, that's something I want to pursue.
"I've been thinking about how to find other models of different ages, ethnicities, sizes and shapes. My customers don't all look like me. My grandma who's 85 wears my earrings. She's one of my best customers."
Jera's equipment: Canon Rebel XSI, Canon EF-S 18-55mm lens, universal wireless remote for Canon cameras
You can find out more about Jera Lodge and shop her jewelry here and follow her on Instagram.

© 2018 The Jewelry Loupe. All rights reserved.
This page contains affiliate links.
Jera's Equipment:
Like what you see? Subscribe to The Jewelry Loupe to receive more posts like this!