It's coming! The gem show to beat all gem shows. Next week, jewelers and gem dealers from all over the world will begin to descend on Tucson, turning this usually quiet Arizona town into a massive international marketplace. Shuttle buses will scuttle from hotel to hotel to convention center, filled with people speaking mineralogical jargon and trading inside scoops.
Many designers rely on this show for raw material. Many gem dealers and lapidaries do the bulk of their annual sales over a few manic days. I will be roaming among them, reporting live.
By February 2, when the big shows open, some 55,000 gem and jewelry aficionados will swarm the streets, taking up every available hotel room. Trade fairs such as AGTA and GJX, filled as they are with millions of dollars worth of gems, let in only registered buyers (or people like me with press passes).
Much of the other 45 shows held around the city are open to the public, and gems are only a sliver of the bounty. Here's the full schedule. It's a shopper's paradise. Today, I'm addressing those who plan to do some serious gem buying.
I've been attending TGS, off and on, for two decades, often accompanying designers as they shop. By the end of a typical day, I feel drunk well before the margaritas begin to flow – from hours spent touching and staring at the most luscious pearls and colored gemstones in the world. If you've ever done this show, you know what I mean. If you haven't…
Well. It can be a little overwhelming. So I'll start by sharing some insider tips from jewelers who've not only mastered this show but view it as a treasure trove that feeds their creativity and profit margins for months to come.
Work it! Your efforts will pay off.
Hope Wixon of Wixon Jewelers in Minneapolis says she and her husband Dan have attended many gems shows but TGS is their favorite. It's a bit like running a very exciting marathon. "We work our butts off from the second that show opens until it closes," she says.
If you see something amazing, should you jump on it?

Eventually, you'll learn when to jump. Your first time at the shows, force yourself to look before leaping, and then look some more. Trust me, there will be more.
That is exactly how Carolyn Tyler launched her career as a jewelry designer. A friend, whose mother had just died, asked Carolyn to do her gem buying at the Tucson shows. She handed her a shopping list and said, "Please stay for ten days and buy my stones. You'll learn. Just spend the first seven days looking. Here are the prices you should pay."

"By the end of that week, I was completely into gemstones," Carolyn says. "I was addicted." On top of the stones she bought for her friend, she spent $5,000 on gems for herself. She designed her first pieces around them, began exhibiting her own jewelry at TGS, and still does the bulk of her gem buying there.
What do you consider your best buys from recent shows?
"We have had really good success with 10-carat sapphires," Hope Wixon says. "Every one we buy sells. We're talking beautiful 300-grand type blue sapphires with fabulous color. We also love the more exotic stuff. We do really well with Paraiba tourmaline."
Last year the Wixons brought home an amazing tanzanite suite and had their goldsmith make a necklace with it.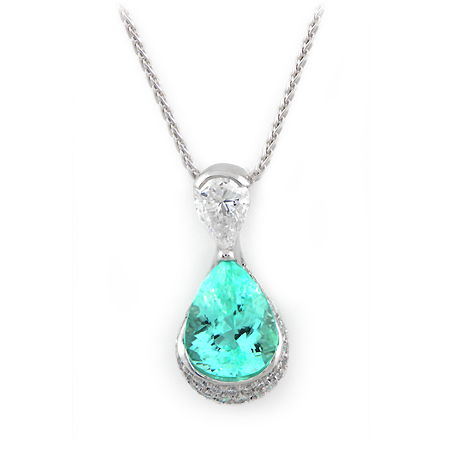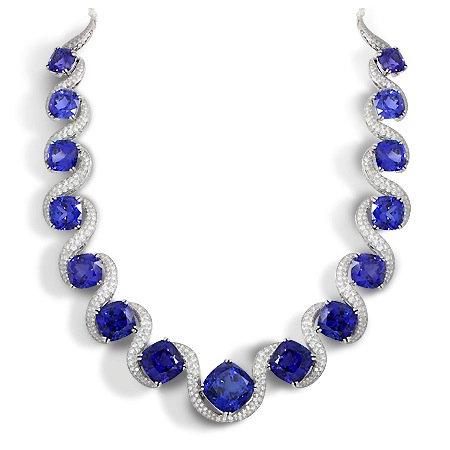 Necklaces designed in-house at Wixon Jewelers of 2.83ct Paraiba tourmaline and diamonds in platinum (top) and tanzanite (137.64 carat total weight) and diamonds, both set in platinum
What advice would you offer designers and jewelers new to TGS?
"Buy the best," Hope says. "We have found over the years that if we buy the best we never regret it. Beautiful stones with bright color and the best cutting sell themselves. We don't buy mediocre color any more because when you see it next to the best, your eye goes to the best, and you want it."
Where do you head first?
Designer Shawn Warren starts with the AGTA show. "That's where all the finest vendors are," she says. "But GJX has the more unusual things from some of the German cutters who do really amazing work with spinels and unusual colored tourmalines, things that I don't see all the time."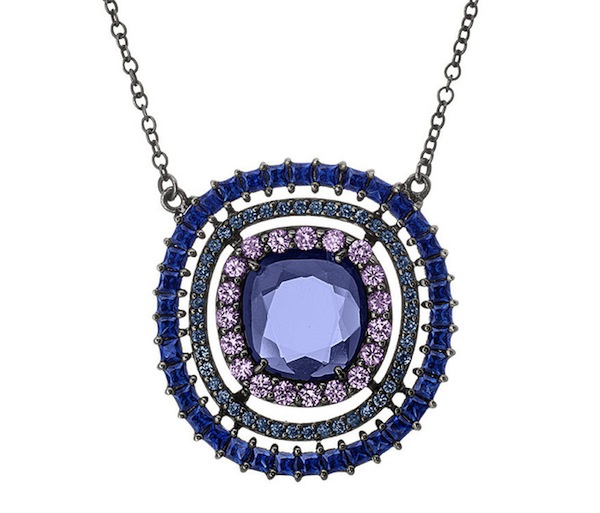 Pendant and ring by Shawn Warren of blue sapphire and spinel in 18k white gold with black rhodium
Shawn is a fan of Claudia Hamann [Edelstein Gmbh]. "They're Italian but they work out of Germany and the Germans are often the best stone cutters. So they always have unbelievable material, lots of cool tourmalines and spinels."
"A few doors away is that Thailand section where, if you're looking for an unusual color palette in smaller sapphires, they have spectacular things in every shade of the rainbow."
What do you do first after returning from the show?
"When I come back, it is like a craziness," Hope Wixon says. "There are clients asking, 'Is she back yet? Is she back?' But I don't show anything until I've educated my sales staff." She's been known to do blind tests, like unveiling four rubies from different locations and asking if anyone on her staff can tell the Burmese rubies from the Sri Lankan or Thai. "I try to make it fun."
"You have to have a passion, then share," she says. "My employees can never truly appreciate a stone until they understand why I'm so excited. That's why I pass each gem around when I come back and talk about why I love it, what makes it special, what makes it rare. That builds their excitement and appreciation." They, in turn, pass that excitement along to the customer.
My advice is to enjoy the ride. Like Carolyn, Shawn and Hope, you will find your way. Each year, it will get easier to find the treasure meant just for you.
 Related products