Men may think twice about wearing jewelry to the office but you'd be surprised how many keep a stash of skull rings and Celtic cross pendants in their dressers. That's because when they're safe at home or partying with like-minded friends on the weekend, they're rock stars.
Just ask Gerard Marti, who left a career as a record producer at EMI (1974-1989) and opened Célébrités, a Maui gallery with his wife Colleen, using his rock-world connections to sell the artwork and signed memorabilia of famous rock legends and, eventually, the jewelry they made famous. (The jewelry was Colleen's idea.)
I visited the Martis' galleries in Lahaina and Wailea in June and, while my husband was drooling over the signed Fender guitars, and artwork and lyrics by John Lennon, I was ogling the jewelry by Ari Soffer, Royal Order, Borgioni, Pianegonda, Rosalina, and Loree Rodkin.
Paris Hilton has been known to close this gallery down – literally – so she can buy out the jewelry. But she wasn't in town – and neither was Steve Tyler, Mick Fleetwood, or any of the other celebs who hang out with Gerard in their off hours. So I got to bend his ear:
If you compare the shot of Keith Richards in my first post to modern rockers, it doesn't look like rocker style has changed much in four decades.
Gerard Marti: It hasn't. This look has been around for ages. Keith Richards has been wearing that skull ring forever. It's his trademark. Steve Tyler, Tommy Lee, every single musician in rock-and-roll wears a skull in one form or another – in a ring or pendant or t-shirt.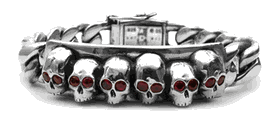 The skull is a rock staple, it comes from the image of the pirate, the black flag, and that's been around for centuries. It's an image of being a rebel, an outlaw, someone who lives life by different rules.
More is definitely better with the rocker look, isn't it? The more outrageous, the more layers, the better it works. Steven Tyler is really good at that. So is Tommy Lee.
GM: Well, Steven will wear anything. He was on vacation [in the top shot] wearing a hat and beaded necklaces he got in Chile and Bolivia mixed with jewelry he got from me. He was just returning from being on tour in South America. Steven mixes everything. He can wear silver, beads, chokers, feathers. He comes to my store and tries on girl clothes, kids clothes. If I give him a t-shirt, the first thing he does is take a pair of scissors to it to make it his own.
The cross is another staple of rock jewelry. In this shot, Steven Tyler is wearing Christ without the crucifix.
GM: He had that custom-made, that's his thing. But crosses have been around forever too – not just Catholic crosses but Celtic crosses, all kinds. Skulls and crosses are the major sellers in the gallery.
Just last night, I sold a skull ring and cross necklace to one of the founders of MySpace, a 38-year-old millionaire. He was telling me, 'I spend every day in a suit and necktie and on the weekend, I like to dress down in jeans and t-shirts and look like a rock star.'
He actually said that?
GM: Yeah, yeah. I have a lot of people – dentists, lawyers – everybody wants to be a rock star, even millionaire businessmen. You want to be a rock star because that's what everybody wants: to have fun, drink, party, sleep with a bunch of girls. That's the fantasy even if it's not your reality. Trust me, my customers are businessmen with wives and kids, all very successful financially, but they still secretly want to be rock stars.
Stay tuned for more on how to wear jewelry like a rock star. If you're lucky enough to visit Maui any time soon, you can play out your own rock star fantasies at Célèbrités Galleries.
Related posts:
How to wear skulls like a rock star
How to wear jewelry like a rock star
How to get this look: