Nature themes in jewelry date to ancient times, and the earliest jewelry known to man was made of found organic material. Nature is our original ornament and primary inspiration, but its influence on design is constantly morphing. Lately, jewelry artists – and their customers – seem to be responding to a particularly strong Earth-bound zeitgeist.
Some jewelry artists zoom in for a macro or even cellular view of plant life. Bruce Hartman likes to zoom out for the long view. "Some of my work is inspired by more of an aerial view, the different patterns of the land," Hartman says. "I love looking at the land."
His most recognizable jewelry along these lines was inspired by the sea – more specifically, where sea meets land. This is the piece that caught my attention, after it won a Saul Bell Award last year. I was thinking earthquake – as in Earth splitting open, everything falling into it – but Hartman was picturing sea foam in a rocky crevice, after a wave breaks.
Hartman carved the carnelian and fabricated an innovative setting around it, mixing diamonds with silver granules. This piece, it turns out, started as a mistake, like so many works of art. "Bottom line: I carved through the top and the stone got too thin," he says. "Now it had this V in the top, but I liked the way it looked. So I started sketching on a restaurant napkin, wondering what it would look like if there were bubbles on the crest of a wave. That's what inspired that: the idea of a wave breaking between rocks."
It proved to be just what he was looking for: a way to combine the lapidary and granulation skills he'd learned decades earlier from masters in both fields. In the late 1970s and early 1980s, Hartman studied granulation with Harold O'Connor and stone-setting in Idar-Oberstein. Then he started a family and took a job to support them in rural Pennsylvania. For the next couple decades, his workbench sat idle.
Eight years ago, he picked his jewelry back up with a new resolve, to merge all his latent skills with the wisdom and inspiration he'd accumulated in the years since. His son, Sten Hartman, now a professional photographer, took the wonderful model shots on his father's website.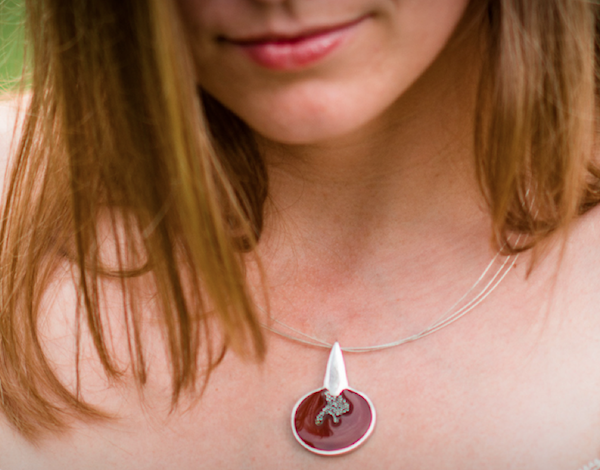 "Even as a kid, I loved collecting minerals," Hartmans says. "It always fascinated me that, centuries ago, patterns formed in these rocks and I have the privilege of bringing these patterns out and incorporating them with other materials from the Earth."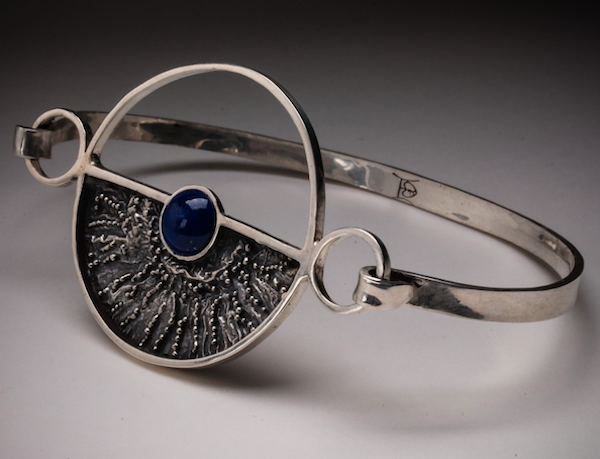 Hartman often starts with the stone. "Sometimes the stone reminds me of tree bark, a scar on a tree. Some of my jewelry takes more of an aerial view of nature," he says. "I love looking at the different patterns of the land, the internal structure of mountains that have been sliced by the highway."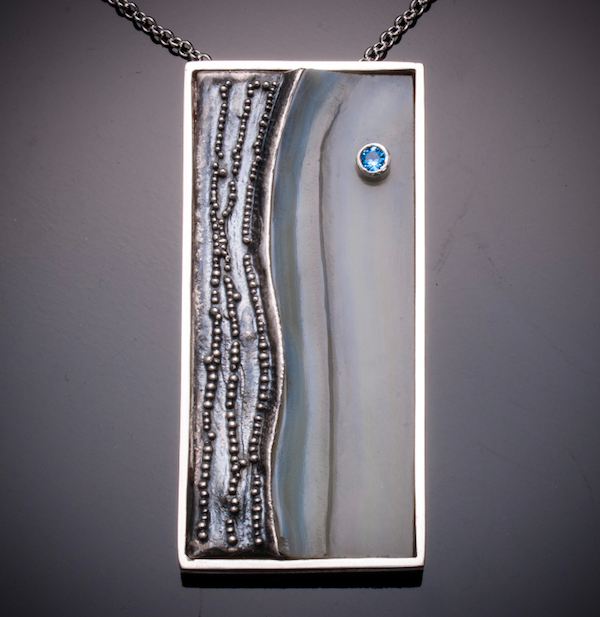 Inspired by German lapidaries Deiter Lorenz and Bernd Munsteiner – especially the agate reliefs Munsteiner was making in the 1970s – Hartman began his Wave series by carving free-form matte-finish layers into polished carnelian, then building the granulated part in fine silver, with a prong to hold the stone in place instead of a conventional bezel.
Like many of Hartman's designs, the Wave is abstract enough to evoke different interpretations, including my original idea of an earthquake. This is the beauty of focusing on abstract details in nature, rather than identifiable objects. The viewer or wearer sees what they want to see.
For more, check out Bruce's website, Creek Reflections.
Related posts
Related products