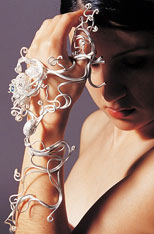 Twigs and vines are nothing new in jewelry design. René Lalique reinvented art jewelry 120 years ago with wearable leaves and vines. Carolyn Morris Bach has been using the woodlands around her home as inspiration for decades, and artists such as Karen Gilbert and So Young Park are known for designing jewelry around the tiniest signs of life, from sea creatures to sprouting vines (like this bracelet, right, by Park).
But I saw a major theme around this at the Buyers Market of American Craft Show in Philadelphia over the weekend. The show was bumped up to Jan. 18-21 this year, a post-holiday time slot that worried some jewelers, including Sydney Lynch, but she told me she was delighted to find she had already sold a third of her one-of-a-kind pieces on the first day.
Lynch is one of many artists at this show creating handmade jewelry inspired by macro forms in nature, and obviously buyers are responding. I'm talking sprouting seeds, lichen, sea life – those minute signs of life that appear when you look closely at the forest floor or the beach when a wave recedes.
Granted, I've long been fascinated by organic textures and (especially this time of year!) signs of life in the frozen tundra, so this may be what my eye seeks out. Here's a darkroom print I made a decade ago of a sunflower double-exposed with icicles. Holed up here in a Northeast winter, this is where my head is at right now: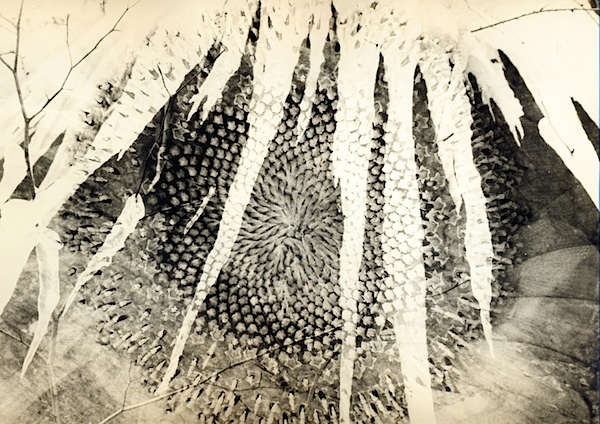 Bear that bias in mind as I show you what caught my eye on Saturday, among the many amazing nature-inspired handmade pieces at the Philadelphia convention center. I was not alone in this, however. The first four appealed to the Niche Awards judges as well, all finalists this year, starting with a necklace made from carved carnelian and diamonds by Bruce Hartman.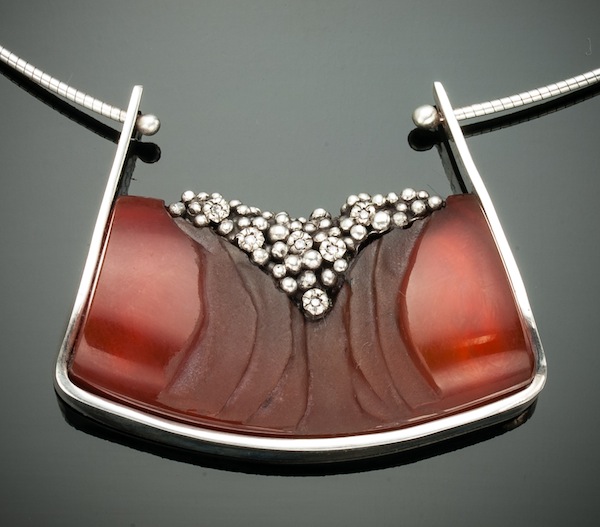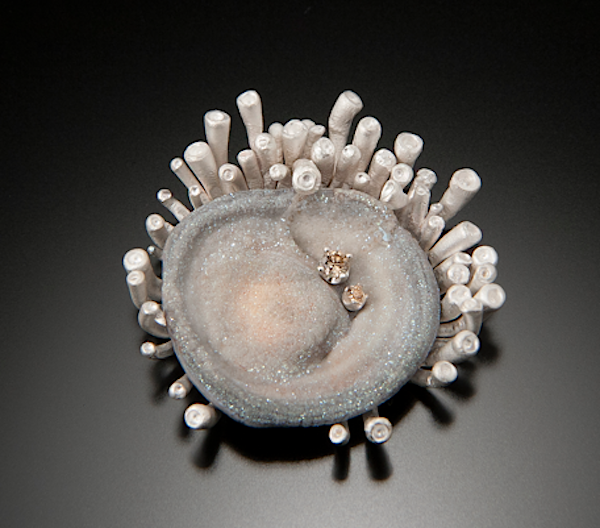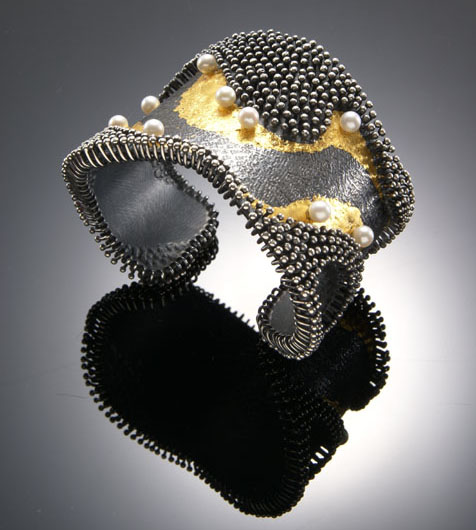 Top to bottom:
Necklace of carved carnelian, granules, diamonds and sterling by Bruce Hartman of Carlisle, Pennsylvania
"Emotions Held Captive" pin/pendant of drusy agate, sterling silver, and 18k gold by Aleksandra Vali of Aurora, Illinois
"Forest Cluster Necklace" of oxidized sterling silver, 18k gold, tourmaline, labradorite, Tahitian pearl and green quartz briolette by Sydney Lynch of Lincoln, Nebraska
"Essence of Nature" necklace of cast bronze by Claire Avery of Savannah, Georgia
"Sonata in the Rain" bracelet of oxidized silver, 24k gold leaf, pearls by So Young Park
Related posts
Karen Gilbert: science and nature as muse
So Young Park: hammered, soldered abstractions
Carolyn Morris Bach: talismans from the woods
Patricia Tschetter: white hot granulation
Related products
(Shopping through links on this site does not cost you extra but sometimes earns a small commission toward maintenance of this site.)