Vermont native Jacob Albee had his life mapped out at 19. Working on a degree in wildlife biology, he planned to become a raptors biologist. But he discovered they don't let you take art classes if you're not an art major, so he took on a second bachelors in studio art with a concentration in metals and jewelry-making.
Before graduating in 1999, Albee took a job at the bench in a Burlington gallery. He figured he'd do field work and make jewelry on the side, but it happened the other way around.
When he finally left the gallery seven years later, after several long breaks to work with raptors in Kenya and Namibia, it was to open his own jewelry studio. Since then, he's carved a unique niche for himself by combining acid-etched meteorite with gold, gemstones and, occasionally, rubber.
Albee has a line that revolves around fat cables of twisted rubber and another that features "free diamonds" scattered in open cages. But meteorite has become his signature; at least 60 percent of his jewelry features it.
Albee brings to his materials a scientist's curiosity and an academic's fascination with history.
"Meteorite dates back 4.5 billion years, it's as old as the planet Earth," he says.
"Each meteorite has a signature fingerprint. If you polish it, it looks like steel but by etching it, the pattern shows up."
If a customer expresses an interest, he will happily rattle off obscure facts about the use of meteorite in Ancient Egypt—King Tut was buried with a spear with a meteorite blade—as well as South America, Africa and Scandinavia. "I don't think it has magical healing powers," he adds. "My life has gotten pretty fabulous since I started wearing it but that may just be coincidence."
Meteorite also fits his agenda as an environmentalist, since it's essentially a found object, retrieved from the Earth's surface. He uses only Gibeon meteorite from Namibia, employing an acid-etching process to bring out the unique crystalline patterns.
"Each meteorite has a signature fingerprint," Albee says. "If you polish it, it looks like steel but by etching it, the pattern shows up."
He lines all his meteorite rings with a thick layer of gold and often inlays diamonds, all of which require different levels of heat and pressure. "Meteorites came from the core of a former planet with an internal heat source like Earth, and cooled very slowly while flying through space, about a million degrees Celsius every million years," he says. "So you get huge crystal growth in the iron."
He often works around the natural flaws in the meteorite by inlaying gems in patterns that mirror the inclusions or exposing the delicate, silica-lined borders. He makes frequent references to the source of the meteor itself by inlaying tiny gold "tails" in the surface to resemble shooting stars.
"The idea of treasure is fascinating to me," Albee says. "It drives me crazy the amount of waste in this business but I like to think I'm taking the bounty of the Earth and turning it into a precious work of art that will makes people happy."
"Buying a piece of jewelry is always a sentimental purchase, whether it's an emotionally big purchase like an wedding or engagement ring or just a woman who comes in on her lunch break because she's having a lousy day," he says. "Every time somebody buys something that makes them happy, I get a little piece of that happiness."
Find more jewels by Jacob Albee (or make an appointment to visit his studio) on his website: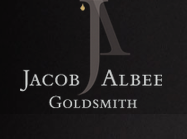 Related products