When the Jewels by JAR exhibit opened at the Metropolitan Museum of Art in 2013, I wrote a review of the limited-edition collection the Paris-based designer had created for sale at the museum, and posed a question: Were they worth the price?
Last month I stumbled across those baubles a few blocks south at Christie's Rockefeller Center, and got my answer….five years later. I was there for the Magnificent Jewels previews so was surprised to find those museum-shop goodies in its online jewels sale.
Christie's did not have any fine custom jewels by Joel Arthur Rosenthal in their cases this time, but I did find a bespoke JAR jewel at Sotheby's that day. Got to play with it before it was snapped up for $168,750.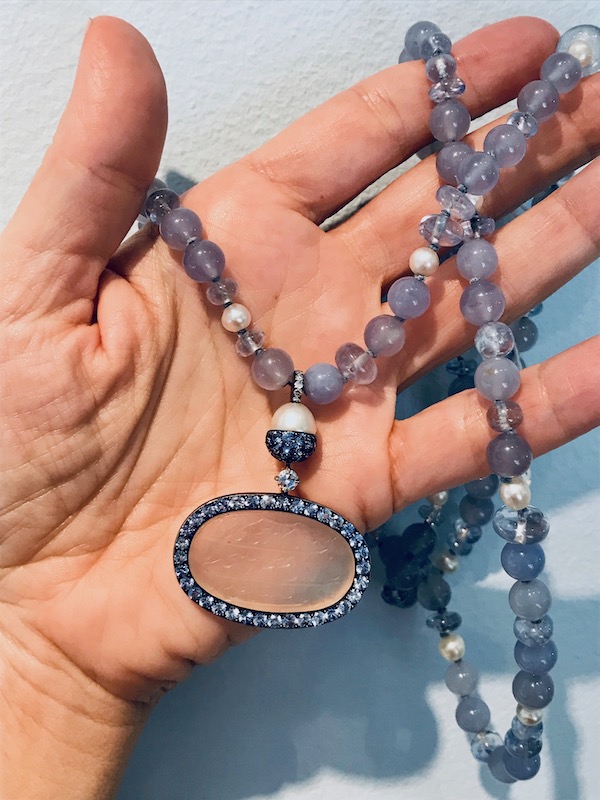 That chalcedony intaglio was engraved with Arabic script, ancient amulet-style, and framed by sapphires. If you want to see the engraving better check out the video I posted on Instagram.
Okay. Let's be real for a minute. Exciting as it is to gaze upon (and sometimes handle) "magnificent jewels" like this one, the vast majority of us are never going to own a one-of-a-kind JAR.
We may, however, aspire to one of his limited-edition aluminum or resin pieces. They're not as sparkly – and frankly, with the exception of those aluminum violets, they're not for me – but guess what? They too have a pretty good track record at auction.
I was surprised to find the $2,000 earrings I played with at the Met at the Magnificent Jewels preview where the bottom line is usually several thousand, but there they were, in the same room, along with some of the first limited-edition earrings he created for his 2002 retrospective in London.
When Christie's online sale ended on December 6, I had answers to the question I posed in 2013. Were they worth the price? If you were one of those who said "yep" and shelled out a few grand for those crazy ear toys, you are well up on your investment five years later. If you bought the aluminum ones in London a decade earlier – a riskier proposition – you did even better with ROI.
Before he was so well known, Rosenthal designed some aluminum violet and rose petal earrings to sell during an exhibition of his more exclusive jewels at London's Somerset House in 2002. Those who sprang for those have had the pleasure of watching them climb in value. In fact, they're now fetching more than 10x the original sale price.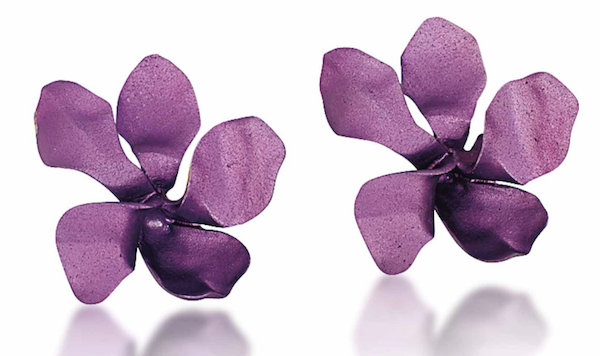 These aluminum violets sold for a few hundred in 2002. Someone commented on my original JAR profile that she attended that exhibition as a 17-year-old exchange student in London, splurged on a pair and "ate noodles for a month" in order to pay for them. Good move!
Another commenter recalled JAR's "Petal" earrings selling for $1,400 a few years later at the boutique in Bergdorf-Goodman that sold his perfumes. These went for a whole lot more than that last month.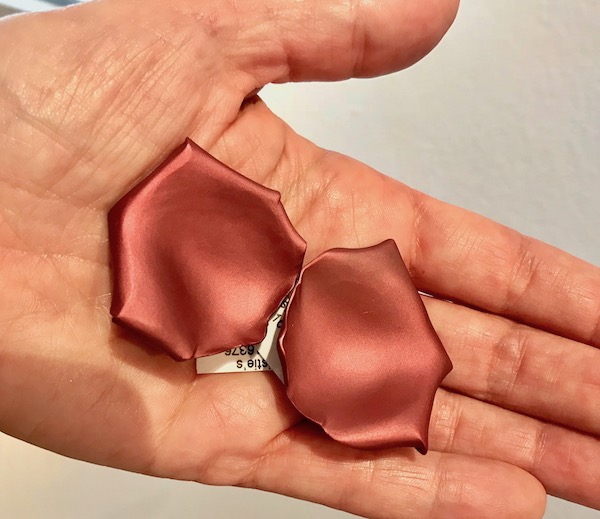 I played with this pair just before they sold for $5,625 – not bad for a couple wilted rose petals made from aluminum. Two years ago, a similar pair sold at Christie's for $5,250. I guess you can safely say that model is appreciating at a fair clip.
By the way, JAR's aluminum jewels carry a different maker's mark than his high-end stamp. Looks like this.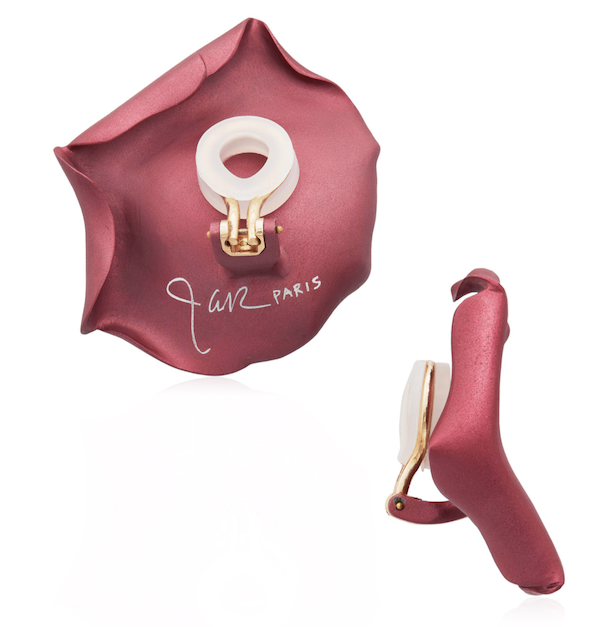 According to the catalog for the Jewels by JAR show at the Met, Rosenthal initially designed those anodized pieces with a more ambitious plan than limited runs in museum shops. The flower and fan jewels were meant to seed a boutique devoted to JAR's off-the-rack accessories. Around that time, he also launched a line of fragrances, intended for their own string of boutiques.
I actually visited the tiny vendor shop at Berdorf where those fragrances were being tested for marketability. They were interesting scents but I would not have worn them myself. Apparently other women reacted similarly because the boutique closed soon after that. The fashion jewelry line likewise never got off the ground. JAR seems to have committed around that time to designing bespoke jewels for the uber-wealthy – with the exception of these limited-edition collections in non-precious materials, which have attained a collectibility of their own.
JAR's earlier pieces brought the highest prices last month.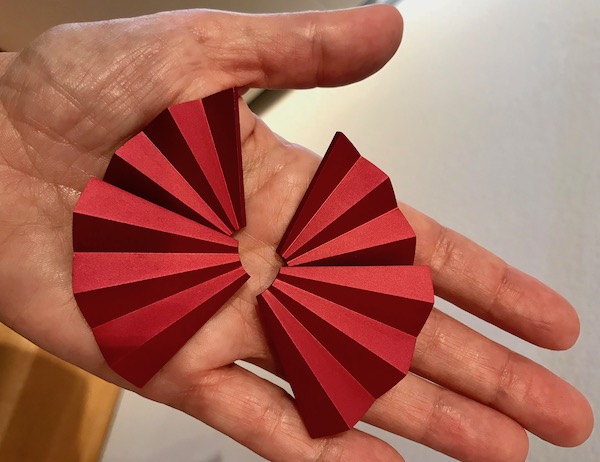 These very wearable fan earrings, with overlapping sections, brought the best price at Christie's last month – $6,875 including the 25% buyer's premium.
The more recent Carnaval à Venise earrings designed for the Met show, with gold-leafed glass marbles on titanium wire, originally sold at the museum's shop for $2,000. Last month, they sold at Christie's for $4,375. This means the seller got $3,500 after the premium, a 75% profit over five years. A similar pair sold in a Christie's online sale in 2017 for $6,875 – sweet profit indeed.
Do you suppose the original owner actually wore these or just stashed them until s/he could put them on the auction block? They might have been a fun conversation piece at a holiday party. Definitely not as hideous as the gold-plated "Tickle Me Feather" earrings that were selling for $7,500.
All of which goes to show: buying JAR jewels at any level of the market is rarely a bad investment, even if you do have to eat ramen for a month. (Any longer than that though and I'd look into a good ETF. Who needs all those carbs?)
Related products