As enamel jewelry takes off again, a new generation of artists and collectors are discovering, experimenting, and reinventing. Many types of enameling are showing up at juried shows these days, but the form most commonly known is cloisonné. That's Jennifer Jordan Park's specialty.
"People recognize the word cloisonné," says Jennifer Park who makes enamel art jewelry in her New Jersey studio. "It's the number one search term for my jewelry, even though half the results that come up for cloisonné are not cloisonné at all."
Jennifer not only knows her way around enamel, she is also a skilled goldsmith with a unique approach to design – as you can see by her "Streaming Turqoise" pin/pendant.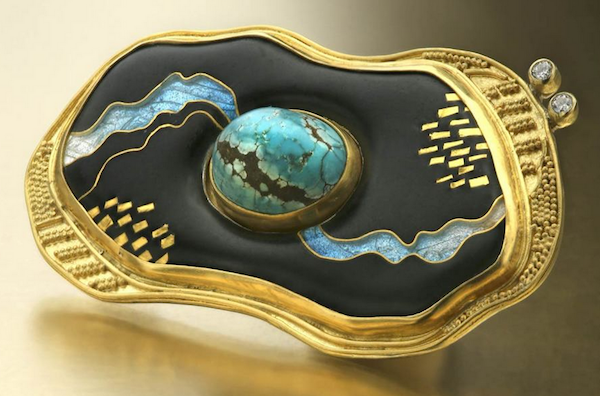 In this piece that nabbed first place for enamels in last year's Saul Bell Awards, Jennifer created a stream of enamel that seems to flow right through the black vein of a turquoise island. "Usually I design the enamel first, the stones come after," she says. "But this stone was really cool – I loved all the veins in it – so it became a jumping off point for the design."
"People who like enameling really like it. When you see it in person, cloisonné enamel has amazing luminescence and depth."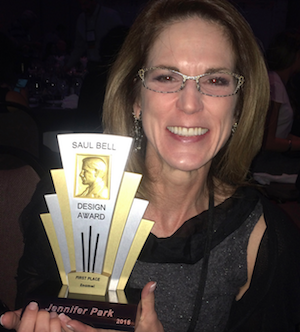 If you think that's the only enamel in this piece, look closer. Jennifer drew more attention to the black vein by setting the stone in a sea of black enamel that makes the high-karat gold inlay, frame, and granulation pop. Black enamel has become a signature part of her work. "I love the way the opaque, matte black looks with the glossy, transparent cloisonné. It's a nice contrast and creates a lot of depth."
Most people don't recognize the black part as enamel. I thought it was onyx at first. At shows, many ask if it's rubber or resin. Part of the challenge of working with enamel is creating a market for jewelry where the centerpiece is not gem but glass – sometimes not even identifiable at a glance – and yet requires a great deal of time and skill.
In general, enamel jewelry attracts a passionate group of collectors who love color and texture and appreciate the old-world technique that goes into it.
Cloisonné dates to ancient times when this technique evolved into a skilled form of craftsmanship. The enamel components require multiple firings, going in and out of the kiln. "With cloisonné, you're wet-packing the enamel with a brush, but there are a lot of ways to apply enamel," Jennifer says. "You can paint with it, grind it really fine, mix it in a medium, sift it." Like most jewelry artists who produce enamel jewelry, cloisonné is Park's primary technique, although she experiments with other forms as well.
Those earrings are my own, from Jennifer's handmade but more accessible sterling silver line. I loved that green and the hint of Space Age form. There is something so vibrant and unique about the color you can get with enamel, and part of that is the way light reflects off the textured silver beneath. For enamel artists like Jennifer, that metal base is like the canvas they paint on, and they prepare their canvas carefully. There are endless ways to add pattern and texture and make it look uniquely your own.
Jennifer uses the rolling mill for almost all her texturing, often rolling annealed fine silver with brass or steel texture plates. She then lightly torches the textured silver to make it shimmer. "Texturing is an important part of the process because it camouflages flaws in the metal and adds so much visual interest," she says.
She loves the drawing aspect of cloisonné as well as the color. "The lines allow you to define the color, but it's the color that's really seductive," she says. "People who like enameling really like it. When you see it in person, cloisonné enamel has amazing luminescence and depth."
Jennifer Park uses a blog on her website to break down her enameling technique. While this started out as a way to help students who take her workshops – yes, she teaches! – it's turned into a useful tool for educating customers as well. When the value of your jewelry lies more in time and craftsmanship than precious materials, educating your audience is key.
"The average person is going to buy a diamond or a pearl before they're going to buy enamel," Park says. "Sometimes I get frustrated trying to educate people, but enamels are just so cool." She laughs. "I can't do anything else!"
Find more by Jennifer on her website Wear Ever Jewelry and follow her on Instagram.
Related Products