Once upon a time, a French princess married an Italian prince. On her wedding day in 1895, Hélène of Orléans received this lovely emerald and diamond fringe necklace, about to be auctioned off at Christie's Geneva for an estimated $1.5-2.5mil. [UPDATE: Sold for $2,625,522 on November 10.]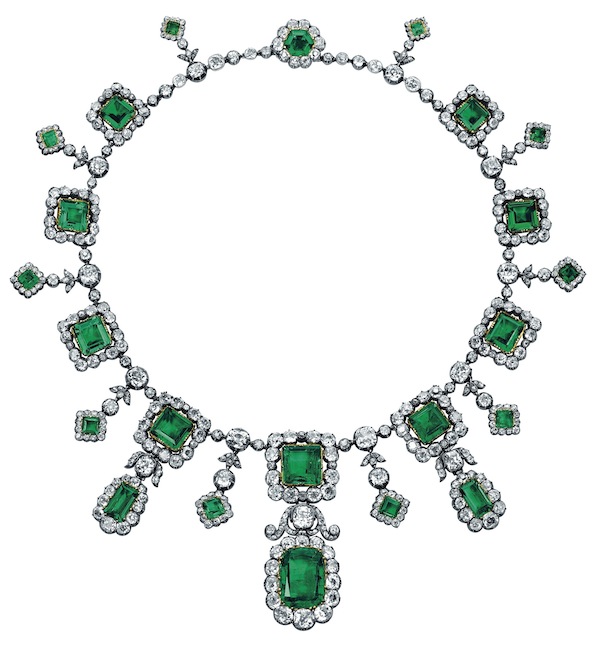 Today, we would call this a "statement necklace." In the fashion of Hélène's era, it was merely a layer. Here's how she wore it.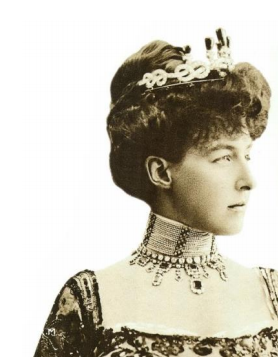 Like most royal weddings of that time, hers was an international alliance. It was also a disappointment, for both Hélène and her parents. She was born in exile in England, daughter of Prince Philippe, Count of Paris, a pretender to the French throne who was banished from France.
At age 18, Helene met and fell in love with Prince Albert Victor, Duke of Clarence and Avondale, better known  as "Eddy." He was the eldest son of the future Edward VII and grandson of the reigning Queen Victoria.
The young couple approached their families and asked to wed. Their mothers were for it, but there were objections from the men. For one thing, the princess was a Roman Catholic and the prince was Anglican. Marriage would have forced him to forfeit the throne.
Tearful pleading ensued. Hélène offered to change her faith to Anglican and the prince offered to give up succession rights, writing to his brother: "You have no idea how I love this sweet girl now, and I feel I could never be happy without her."
His parents ended up backing the desperate couple, as did Queen Victoria. Alas, the prime minister objected and Helene's father refused to accept her conversion. Eventually, he let her appeal to the Pope. The Pope refused the dispensation. And that was that.
By the time Helene was being sent around to various royal families by her parents in an attempt to lure their marriageable sons,  most of her eight siblings had already made promising matches. Her sister Amélie of Orleans, six years older, became the last Queen consort of Portugal. But Helene was considered a beauty and her parents had high hopes.
Hoping to marry her off to Umberto I of Italy, eldest son and heir of the Prince of Naples, her family packed her off to Naples. No luck.  Victor Emmanuel became engaged to another princess, Princess Elena of Montenegro, in 1896. Attentions shifted to Helene's brother-in-law, Infante Afonso, Duke of Porto, but "he showed no interest in Hélène."
Maybe the heartbroken Helene just wasn't feeling it. Or maybe these other royals didn't like playing second fiddle. Or both? Regardless, the Duke of Aosta was, by all accounts, a compromise. Helene by this time was 24 years old and time was a-wasting.
The couple bore two sons. After her husband passed away in 1931, widow Helene was remarried, four years later, to Colonel Otto Campini. Both died in 1951.
It seems Prince Albert Victor never loved again. Engaged to marry Princess Mary of Teck in late 1891, he died a few weeks later during an influenza pandemic. On his tomb at Windsor Castle is a bead wreath bearing one word: "HELENE."
As for Helene's necklace, its hefty estimate is due to provenance, of course, as well as the exceptional quality of the natural emeralds and "the delicate craftsmanship, typical of the early 19th century," resembling jewels of the First Empire made for Empress Josephine.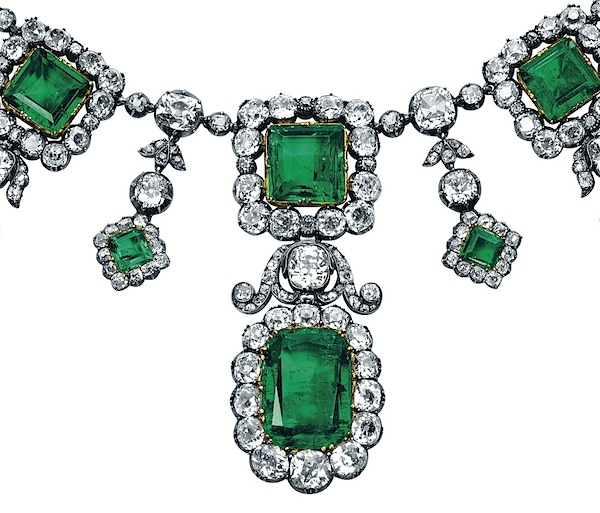 A gift from Helene's godfather, Henri d'Orleans, the Duke of Aumale, the jewel was sold after her death and his been in private collections ever since. It goes on the block in Geneva on November 10.