Yesterday, I was among the salivating media who swarmed the press preview of Jewels by JAR, the exhibition opening tomorrow at the Met. As I reported in last week's post, there were no flashlights handed out, unlike the last two JAR exhibitions. But the effect was similar, albeit more upscale: We were in the dark.
Seriously. It looked like this: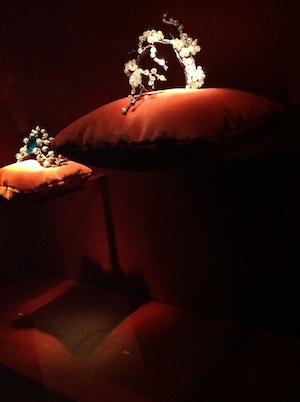 Only light in the room emanates from jewel-box cases set into the walls, à la (Breakfast at) Tiffany's, The 400+ jewels, most never viewed by the public, glitter on salmon-colored velour pillows against matching backdrops.
Very theatrical. –>
This designer is still alive and producing, yet his work routinely sells for double the estimates when it appears at auction. I spotted more than a few modest-sized brooches that went for half a mil at auction. There may be $100 million worth of jewels in that gallery.
This is due to far more than the intrinsic value of the materials. JAR is more likely to use silver than platinum and is a connoisseur of gems – many rare and unusual ones here – which he uses with a painter's eye. This is one of many ways his jewelry is so original.
Observe the brooch (below) made in 2011 with a cameo emerging from a wilting rose of pavé rubies set in blacked silver-lined gold. Look closely at the inner edge of the top petal, where the petal is wilting. Tiny patches of multi-colored brown diamonds lend a subtle texture and depth to this already-realistic form. This kind of pavé is known in JAR's shop as "tweed."
As I was taking a photo yesterday of JAR's iconic butterfly pins, a woman leaned over with a conspiratorial smile and whispered: "Are you shooting for press or to copy the designs?" Uh. Really? She claimed there were people doing just that, although I would think the Met would have vetted. (No photos allowed after yesterday and very few professional ones being circulated, outside the catalogs.)
Copy all you want. Nobody else would think of designing a piece like this. There is nothing else like it in the exhibit, by the way, and yet it is quintessential JAR.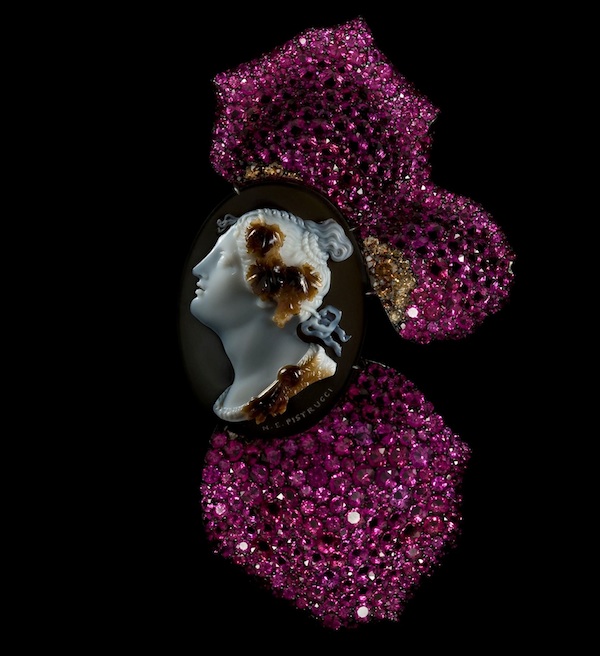 But before you get too carried away by the glamor, let me add that there – right next to the lovely, gem-encrusted raspberry pictured above – was a bagel made of wood (2012) and some ice cream carved from jasper and rock crystal (2004). Bagel looked stale but I would have sworn on my mother's life that was a real scoop of vanilla, had the thing not failed to melt. There was also a nut tart box made of wood.
Hey, sometimes you feel like a nut! Or a bagel. Even when you're Joel Arthur Rosenthal, a man famous for creating custom jewels for extremely wealthy, often famous people. Actually, what's more likely to drive you nuts than that? But I digress.
Alas, JAR fans, the Met handed out the same 14 images yesterday that they've been circulating for the last couple months. That means you're going to have to settle for the off-color, blurry images already making the rounds on social media – including mine.
JAR's favorite theme is flora, as Lily Safra's collection exemplified last year. With the exception of a gaudy, glittery snake necklace from 1987, his taste in fauna swings to the winged insect – particularly, the butterfly – as befits a gardening aficionado.
François Curiel, head of jewelry at Christie's, once told me JAR's butterflies are always slightly asymmetrical, a nod to the reality of nature, and perfectly finished on the backs. One wall at the end of the gallery is devoted to butterfly and dragonfly brooches, pinned so they appear to be flitting right into … the retail shop! Follow us!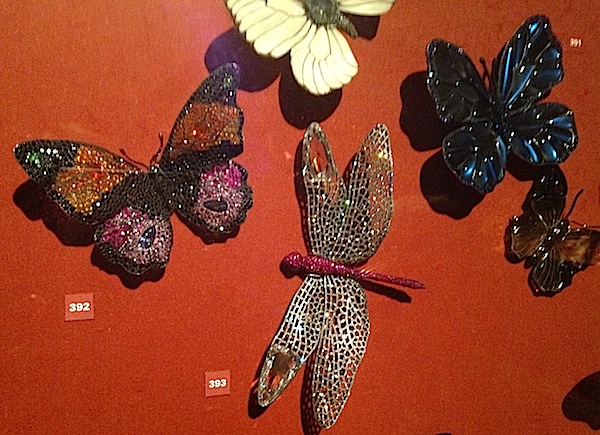 JAR is also fond of the spiral, particularly in earrings. I spotted them with diamonds in titanium and in blackened metal, confetti forms (labeled "Ribbon"), and "spiral domes" of ruby and pink sapphire set in platinum.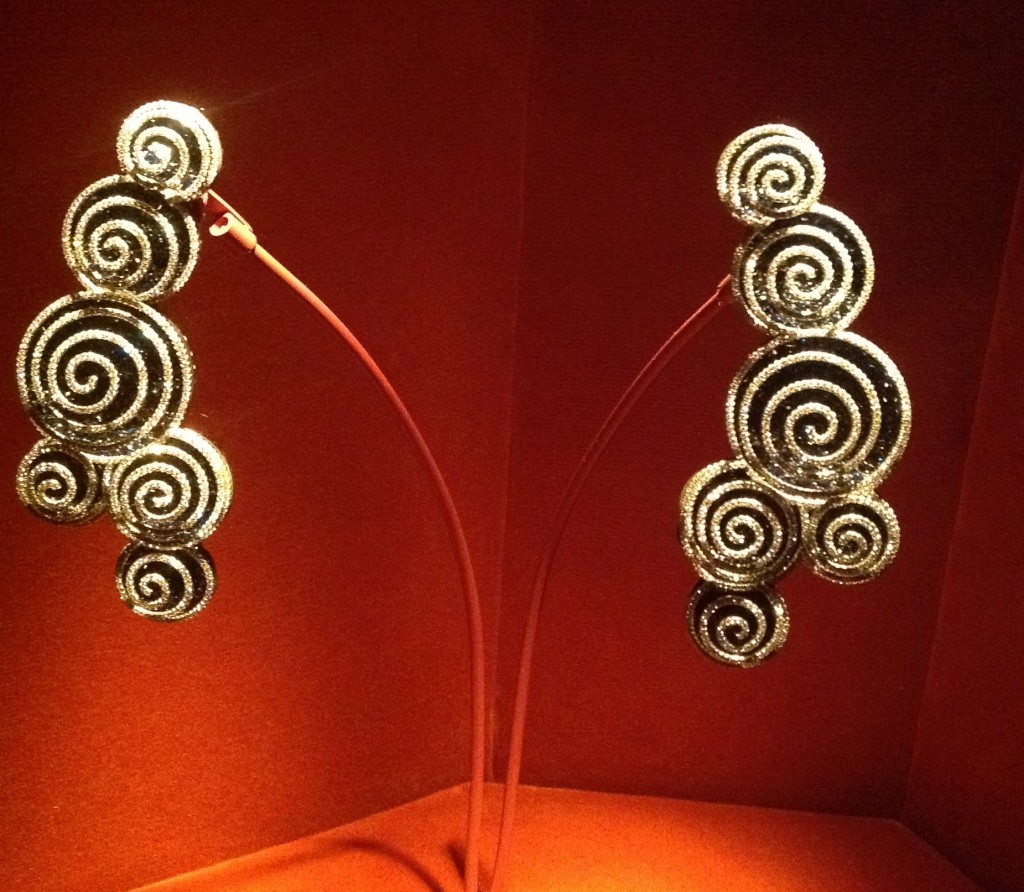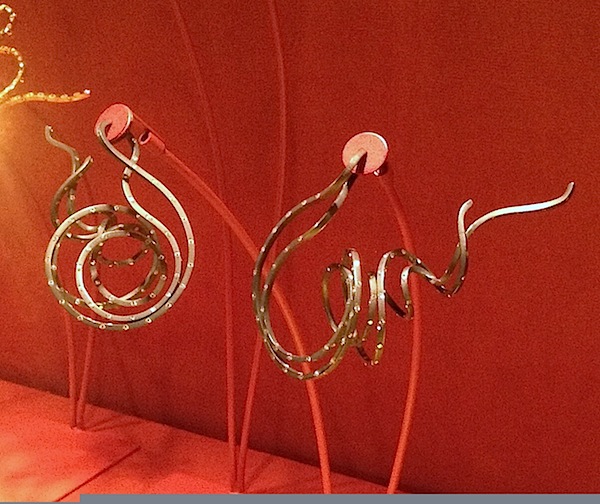 I have many more images from yesterday, which I will post on The Jewelry Loupe's Facebook page, for what it's worth. Hey, it's not easy to shoot jewelry in the first place, but in the dark and against an orange backdrop? Forget it. So don't view this as a spoiler, merely a tease. Your actual experience will be a revelation, and I suspect that is by design. The museum prefers you spend the $20 admission to see for yourselves, and I have to say it's worth it.
What the museum is really pushing, judging by the press material we took home yesterday, is the collection of jewelry and watches JAR created for the museum to sell for the run of the show, stashed in that little shop behind the butterfly wall.
I understand this is not a limited edition per se, but if it's only selling through the Met for the three-month run of the show – which is what happened with the aluminum trinkets designed for the Somerset exhibit – then I suppose it amounts to the same thing.
Is it worth the $2,000 starting price – not to mention $7,500 for the piece de resistance? Well, that's another post altogether.
Related posts
Jewels by JAR opens at the Metropolitan Museum of Art
JAR: designer jewelry as calling card
JAR in full flower: 18 rare jewels on the block
Lily Safra's JAR jewels sell for a record $1.5mil
Back on the block: JAR topaz earrings
Related products
(Shopping through affiliate links on this site earns me a small commission but doesn't cost you any extra.)