Joanna Gollberg is a self-confessed tool freak. Her jewelry career began with a gift of tools from her grandmother when she went off to college. As a girl, she spent hours enameling bowls and ashtrays with her grandmother, a hobbyist and teacher.
After inheriting the kilns and enameling tools, Gollberg was inspired to enroll in a jewelry enameling class at Penland during college—and got seriously hooked.
Her passion these days is metalwork. She favors basic tools like her stainless steel ruler—"It has such a straight edge, it brings me comfort"—and her torch. "I like the process of soldering, sawing, hammering," she says. "I just love forming metals."
But her favorite tool is the rolling mill. "The rolling mill has defined my body of work," she admits. Take the oval shapes that dominate her jewelry. "Ovals are a little more interesting than circles," Gollberg says.
Ovals provide the leitmotif as well as the basis for movement in most of her designs. They started as jump rings fed into the rolling mill, which tends to elongate forms like dough beneath a rolling pin.
She has found an astonishing variety of uses for the oval disks squeezed through her mill: layering them like flower petals in rings so they rattle when worn, creating hollow forms out of sheet metal then slotting ovals into the sides like coins, soldering the ovals together to form architectural pieces. She has even experimented with sewing designs into perforated holes in the disks.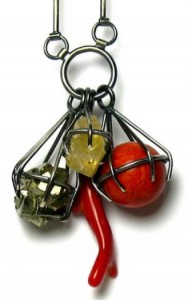 She sometimes has to rein in her sense of invention to maintain a cohesive body of work, but the fascination for experimenting drives her designs. "I start with an idea and do whatever I think is going to be fun. Then I figure out after a while if it's worth keeping, if it fits in."
Much of her experiments revolve around kinetics. Most of her jewelry moves in unexpected ways. "I love kinetic jewelry. It makes it more interesting to people if the piece plays more than one role, if it not only functions as jewelry but does something else as well." And if it happens to serve as a brooch as well as a pendant, or a necklace as well as a bracelet, all the better. "More bang for your buck—that appeals to people."
Lately her oval creations have become so intricate she has begun sending them out to be cast in rows. "I was making each individual oval by hand and there were sometimes 400 ovals in one piece, so it took three days to finish each piece," she says, adding that she still fabricates every piece.
The experiment has not inspired her to consider mass production. "My jewelry still has the same amount of personal investment; it's all still handmade. Mass production is a great way to make money but there's a point where it becomes more about the design than the individual piece. It's more important to me to make jewelry on a regular basis than a ton of money. I'm happier making jewelry than managing people."
To see more of Joanna Gollberg's jewelry, visit her site. Her new book The Ultimate Jeweler's Guide: The Illustrated Reference of Techniques, Tools & Materials hits the stores on June 1 but you can pre-order here.
Related products: