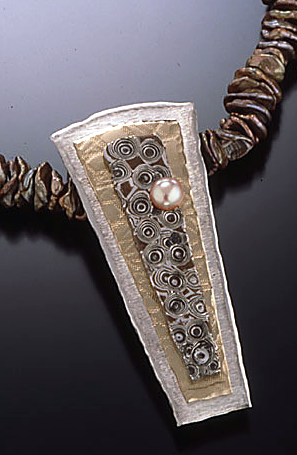 Kara Raymond loves graphic patterns on geometric shapes. Hers have a random, organic quality, created by forging copper and sterling sheets using the mokume gane technique.
She layers contrasting sheets between steel plates, fuses them together in a furnace, then pounds them out with sledge hammer and anvil, repeating the process several times. Then she gauges holes into the layers to form concentric circles.
I see Op Art patterns in much of her work but it's all in the eye of the beholder. "Some people say these are very African, some say Japanese, some say Alaskan," Raymond muses. "To me, they don't look like animal prints at all but some people, that's all they see. Everyone has a different resonance."
Raymond was struggling to find her signature look until a mentor suggested she try a class in mokume gane at a local college. "He said, 'Just take it. It's like you. You like textures and organic qualities,'" she recalls. "So I signed up and ordered the materials based solely on his recommendation."
"With mokume gane, what you end up with is never the same twice."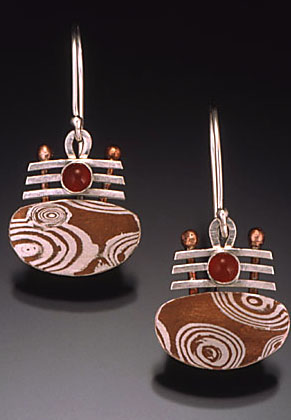 She knew immediately that she'd found what she was seeking. "With mokume gane, what you end up with is never the same twice," she says.
It is possible to control the outcome somewhat, as people who make mokume wedding rings often do, by twisting and pulling the metal. But Raymond prefers organic variation and an element of surprise.
Her concentric, target-like circles come from carving down into the fused layers to create pockets, then running the sheets through a rolling mill to create 3×5 inch, 28-guage sheets, as thin as paper. She spreads these on her workbench, examining the patterns like a seamstress studies textiles, looking for sections that complement and balance each other. Earrings and multi-component necklaces always come from the same sheet. "Like die lots in textiles, they end up a little different each time," she says.
She uses a vast array of colored stones—Paraiba tourmaline, chrysoprase, Imperial topaz—sometimes designing the piece around an interesting cut, more often using the stones as accents. It's the patterned metal, however, that has become her trademark. "Everyone has something they're good at, that just really fits them," she says. "Some people love carving wax and making molds, for example, but that holds no interest for me. Mokume is a perfect fit."
You can find more jewelry by Kara Raymond on her site.