If you have jewelry you can't bear to lose, whether it's a growing collection or a few cherished heirlooms, you need a good safe.
As anyone who has experienced a burglary knows: there are few things more heartbreaking than losing your jewelry. Given their size, jewels are among the easiest and most valuable things to steal, so thieves seek them out. But unlike electronics and many of the larger items burglars go after, jewelry holds a special place in our hearts and often can't be replaced – especially rare, antique, or one-of-a-kind pieces.
So, what should you look for when buying a jewelry safe? At the very least, you need one that can't be drilled, hacked or lifted – and that does not describe all safes on the market, unfortunately. Today, we're looking at jewelry and watch safes manufactured by Brown Safe, a company that has been designing serious safes for more than three decades.
(This post was sponsored by a partner of The Jewelry Loupe.)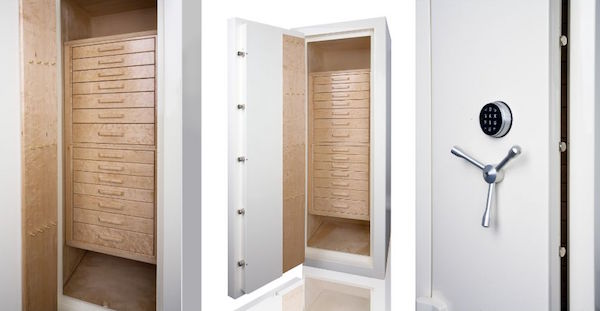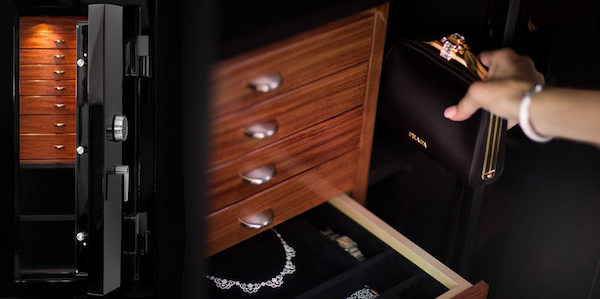 Brown Safe was founded in 1980 to provide the military with high-security safes and vaults. Given this background, it's not surprising to find their safes are designed to withstand serious assault. Even the smallest, simplest models are engineered to be secured to the premises and withstand not only drills and crowbars but serious firearms. That is probably more than enough for your needs!
Behind that impenetrable exterior is the fantasy jewelry box, with every kind of organizational component. Fancy gadgets like automatic watch winders and exotic woods come at a cost, of course. Brown safes designed for uber-wealthy celebrity clients can run as much as $140,000. Expect to spend at least $2,000 for a basic jewelry safe.
I asked Lynel Brown, owner of Brown Safe, what we need to know as we plan for our own ideal jewelry safe.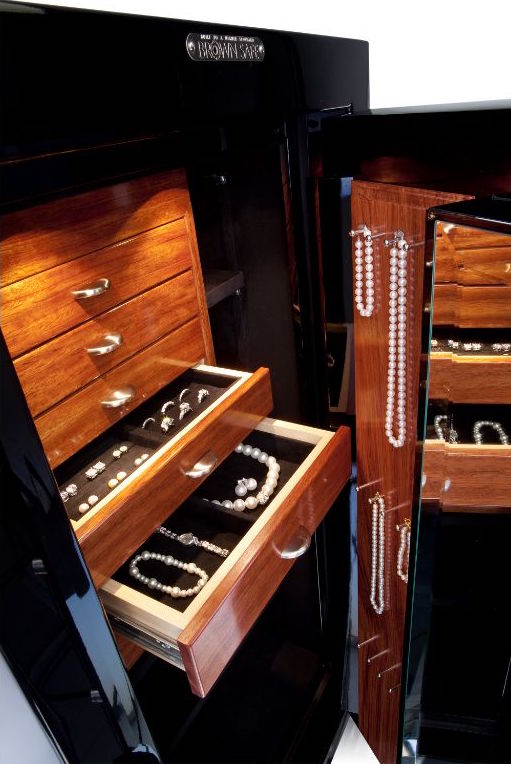 As a rule of thumb, when is it time to graduate from jewelry box to jewelry safe? Does the value of a collection need to hit a certain point?
"Not necessarily. The piece of jewelry you're most fearful of losing may have more sentimental value than actual cash value. Many times when speaking with clients who are purchasing a safe after being burglarized, we find the pieces they're the most upset about losing are ones that have been in the family for generations, pieces given to them by a loved one. The value of the collection you're storing, plus other factors such as the police response time in your area, will also play into the decision of what protection level to get on the safe."
For a young adult with limited income, living in a small apartment but starting to add more valuable pieces to her collection, what would you recommend? What does your "starter safe" look like?
"Starter safes are perfect for clients who are just starting their professional lives and have a few cherished pieces they're very proud of. We often recommend our Mini-Gem or Gem 2418 safes for this. Both provide great protection, don't take up much precious closet space, are very configurable, and have jewelry inserts that can be changed as the collection grows and changes."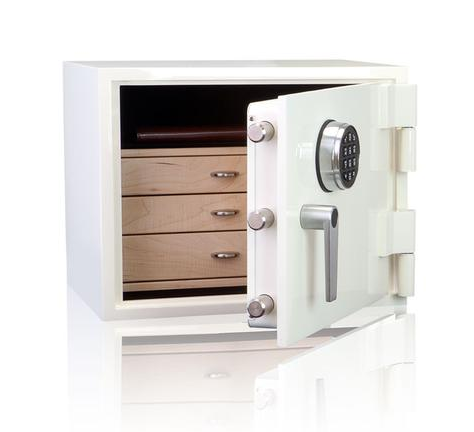 Your safes come with all kinds of organizational options, including automatic watch winders, and are designed to withstand every effort to break into them. How did this evolve over the years?
"Our founder Frederick Brown started Brown Safe 36 years ago providing the military with high-security safes and vaults. This has remained a major component of our product line and gives us the unique ability to be on the forefront of current burglary threats. Our safes are tested in very serious real-world situations on a daily basis. This knowledge, along with the Brown family's dedication to craftsmanship, customer care and attention to detail have been a natural match for the luxury jewelry and watch world. Our luxury safes have the same technology as our military products, but they get a tuxedo treatment."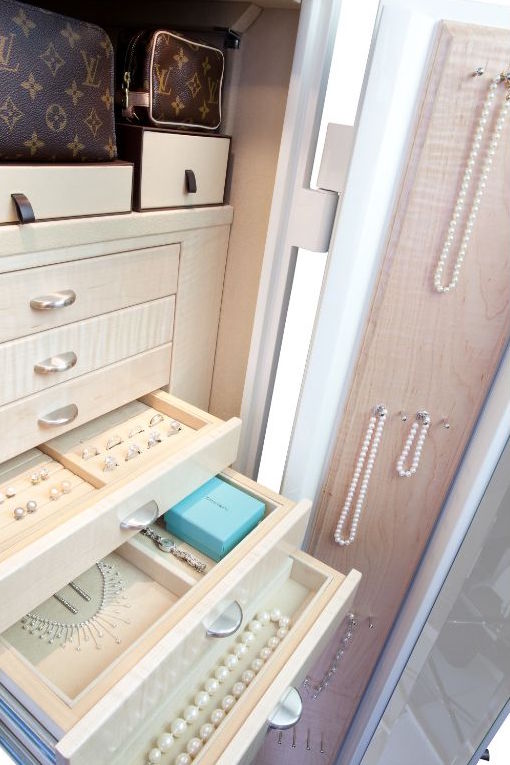 I notice your safes are seriously bullet-proof as well as fireproof, which makes me wonder about the firearms used to break into safes like this. Is that typically how safes are accessed by burglars? I have a vision in my head of safe-crackers from the movies with their ears up to a combination lock.
"Great question!  While many of our safes will hold up to attack via a firearm, this type of attack is not that common. The armor plate used (while it does stop a variety of bullets) is used mainly due to its superior strength against drill and pry attacks, which are much more common.
Unfortunately, almost all safes are now imported boxes made to look like 'safes' but really don't provide any substantial protection. We hear heartbreaking stories on a regular basis from clients who had purchased what they thought was a safe, only to find out after a burglary that they had simply organized their valuables in one convenient location. Criminals broke into the safe in a matter of minutes, with simple tools found in their home."
The jewelry boxes within your safes are made of the most exotic wood, beautifully crafted. Is it kind of a secret luxury for the owner?
"Very much so! In today's fast-paced world, it's great to have one space that is truly a reflection of your style, organized exactly as you desire.  We rarely make jewelry safes that are shared between husband and wife. Each has their own safe which fully reflects their specific tastes, needs and preferences."
If I came to you with a museum-quality collection of jewels and asked for a custom-designed jewelry safe, how would the process work? I assume options vary depending on what kind of jewelry I have?

"Our experience in finding a balance between optimized storage, daily convenience and displaying/celebrating particular pieces is something we really pride ourselves on. We strive to make each safe the perfect personalized security solution for the client. Typically, a client will call with a specific set of needs and our sales liaison will provide them  with the appropriate jewelry inventory aids, finish samples, and design advice, making the process of designing and purchasing the safe quite easy.
We utilize a global network of trusted white-glove safe installers for the majority of installations. This generally includes oversize and extra tall custom sizes. For a few special-build custom safes, along with our premium safes, we send our top installer and equipment to the home to handle the installation directly. We ship through a variety of carriers at bulk pricing, passing that savings on to our clients."
Let's end with the fantasy jewelry safe. What is the most elaborate safe you've ever designed?
"There have been so many elaborate and extravagant safes, it's hard to pick just one. One common theme with the more elaborate safes is the client is really creating a space to showcase and celebrate items that he or she is passionate about. We have created safes for the largest private jewelry collections, safes for watch collectors, safes for auto enthusiasts complete with specialized drawers for luxury car keys, and large vaults for art collections.
It's also interesting to help design specific drawers or spaces in safes for celebrities' children's jewelry, costly dog collars, and secret compartments in the safe that we have to swear to never disclose to the client's spouse. Of course, being in our line of business, there are times when we are instructed not to ask what will be placed in the safe – and we get the impression we probably don't want to know!"