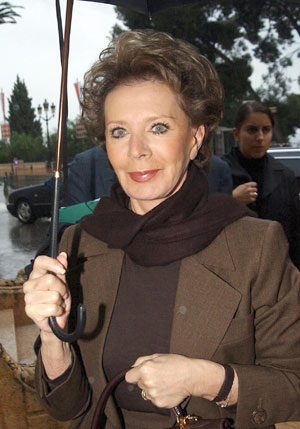 After donating a pile of jewels to charity at Christie's Geneva today, Lily Safra had the pleasure of seeing them sell for almost twice the estimates – nearly $37.9 million in all – including 18 JAR jewels that went (of course) for well above estimates.
So, what do you do when you double your winnings? Add another dozen charities!
Ms. Safra announced today that she had an extra 12 charities in her back pocket, bringing her publicized list of 20 charities to 32 in all. Each institution received an unexpected million. Oh, happy day for them! And for Ms. Safra, who received a standing ovation after the sale.
"From the bottom of my heart, I want to thank everyone who participated in this evening's success. I am overjoyed, knowing that so many people in need around the world will benefit," Lily Safra said after the sale. "Like the jewels sold tonight, these extraordinary organizations make the world a more beautiful place, and it is a great privilege to be able to support them."
This is what happens when a billionairess decides to liquidate a jewelry collection that contains not only a 32-carat Burmese ruby ring designed by Chaumet – which sold for a double-estimate world record $6.7mil – but 18 custom-designed pieces by Joel Arthur Rosenthal. That ruby camellia brooch I posted about last month sold for $4.3mil, three times the low estimate and the most ever paid for a JAR jewel at auction.
Today, Safra's collection became not only the largest single-owner collection of JAR jewels ever seen at market – Ellen Barkin sold the second largest – but also the most valuable. Altogether, those 18 jewels went for $11,473,920.
I showed highlights from the sale last month and will update them with sale prices. Let's have a look at some of the others.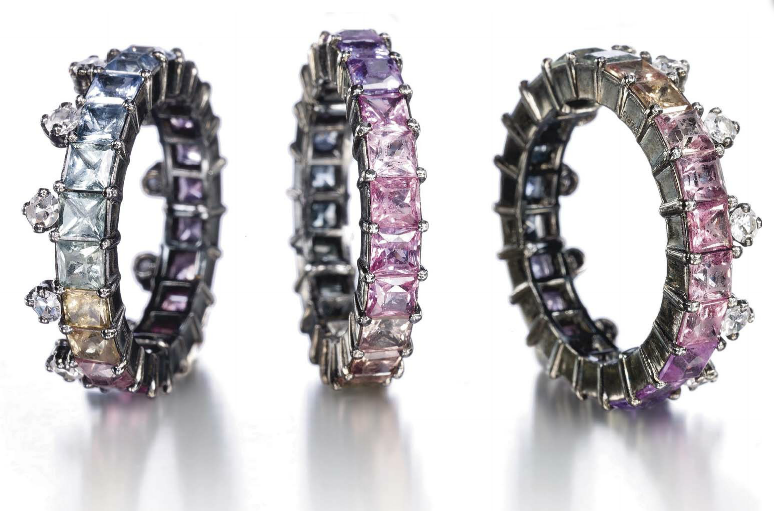 JAR's 1992 precursor to stacking rings – of multi-colored sapphires and diamonds – sold for $113,304 on $30-40k estimate at Christie's Geneva May 14, 2012 (Christie's Images)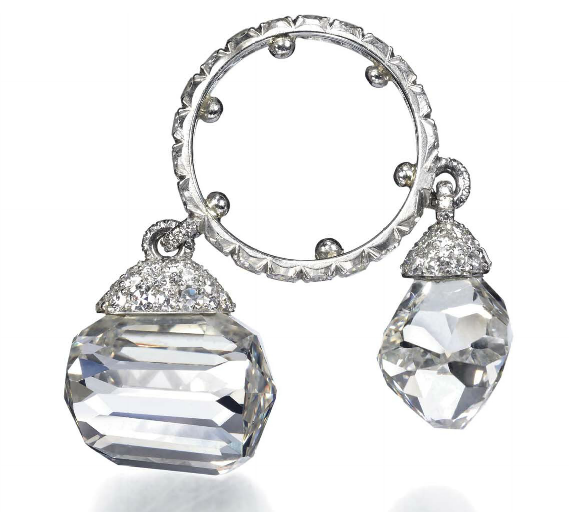 Charm ring by JAR with diamond-set hoop and two taviz-cut diamonds of 16.98 and 15.31 carats in platinum, 2004, sold for $974,417 on $310-500,000 estimate (Christie's Images)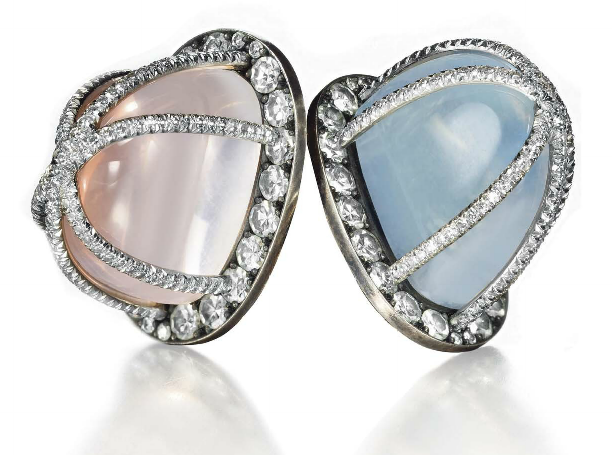 Ear clips of moonstone, quartz and diamond by JAR, 2001, sold for $93,881 on 40-59k estimate at Christie's Geneva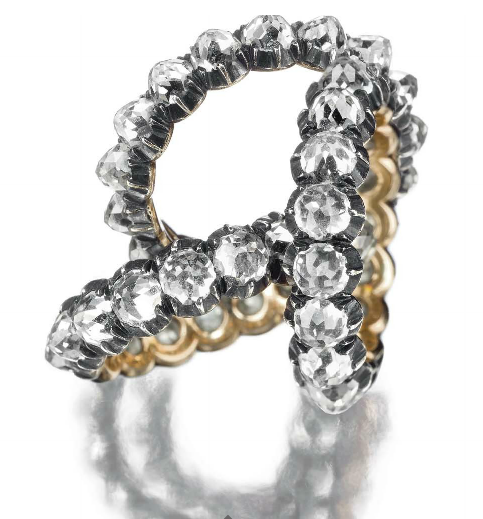 Set of three diamond eternity bands by JAR, 2001, sold for $158,626 on $30-40k estimate at Christie's Geneva

Ring by JAR of pavé-set diamond hoop suspending 54.32-grain natural pearl, 2007, sold for $391,709 on $40-59,000 estimate at Christie's Geneva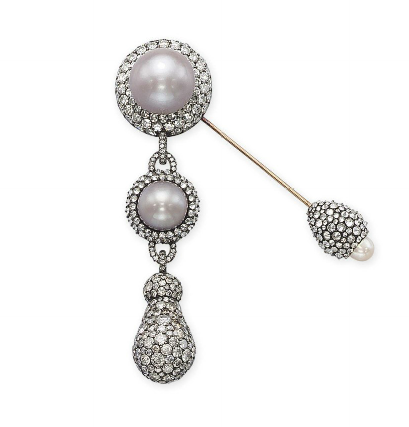 Pearl and diamond fibula brooch by JAR, 2002, sold for $339,913 on $140k-162k estimate at Christie's Geneva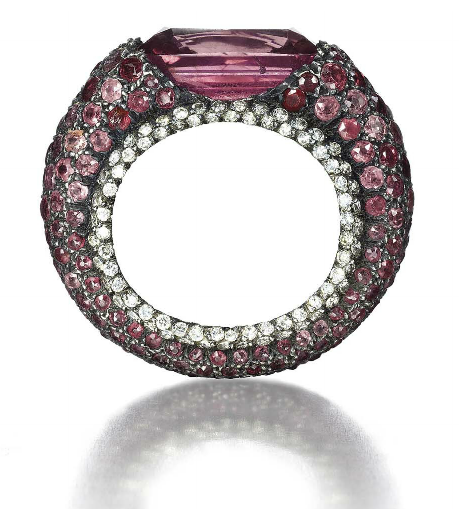 Ring of colored sapphires and diamonds by JAR, 1989, sold for $106,830 on $30-50k estimate at Christie's Geneva

Just for the record, here are the institutions that benefited from today's sale:
Agahozo-Shalom Youth Village, Rwanda • ALEH: Caring for Israel's Disabled • Alfredo J. Monteverde School, Brazil • A Window to Tomorrow – A Computer for Every Child, Israel • Children Action, Geneva • Claude Pompidou Institute for Alzheimer's Disease, Nice, France • Edmond and Lily Safra Center for Brain Sciences, The Hebrew University of Jerusalem • Edmond and Lily Safra Children's Hospital, Tel Hashomer, Israel • Edmond J. Safra Family Lodge at the National Institutes of Health (NIH), Bethesda, MD • Elton John AIDS Foundation • Fight AIDS Monaco • Henry Street Settlement, New York • Hope and Homes for Children, Romania • Hôpitaux Universitaires de Genève • Imperial College, London • Institute for Brain and Spinal Cord Disorders, Pitié-Salpêtrière Hospital, Paris • Israel Philharmonic Orchestra • Jordan River Village Camp for seriously ill children • Keren Shemesh, Israel • King's College, London • Le ballet de l'Opéra national de Paris • Les Restaurants du Coeur, France • Michael J. Fox Foundation for Parkinson's Research • Museum of Jewish Heritage, NY • NYU, Parkinson and Movement Disorders Center • Royal Opera House, London • UNICEF • Université Joseph Fourier, Institut des Neurosciences, Grenoble, France • University of Toronto • Water Treatment Program, Amélia Rodrigues, Brazil • Yad Veshem International School, Israel • Yahad-In Unum France
Related posts:
JAR in full flower: 18 rare jewels on the block
Season of JAR: a connoisseur's approach to gems
JAR: designer jewelry as calling card
Back on the block: JAR topaz earrings
Related products: