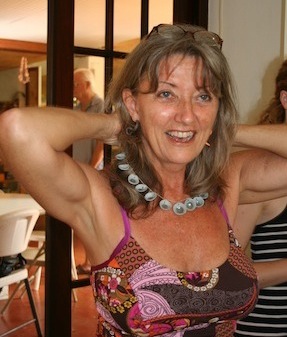 Ever dream of dropping everything, moving to an island and making art for the rest of your life – surrounded by exotic wildlife, crystal blue seascapes, and like-minded individuals who've escaped the same rat race? So many islands have become artist havens, the choices are endless.
You can move to Bali and become a jewelry designer or set up in Maui and become a jeweler to the rock stars. Or you can do what jewelry and ceramic artist Evelien Sipkes did and move to the Caribbean island of Curaçao. That's her (right) with one of the necklaces she makes of shell-like porcelain.
I'm just back from Curaçao where I discovered a thriving ex-pat art scene, and Evelien's studio on the island's west end. Yep, Curaçao is where they make that blue liqueur. The fact that you don't know much more than that is why you can probably afford to set up there. It's still a relatively undiscovered creative paradise, about 40 miles off the coast of Venezuela. Your Curaçao getaway could look something like this: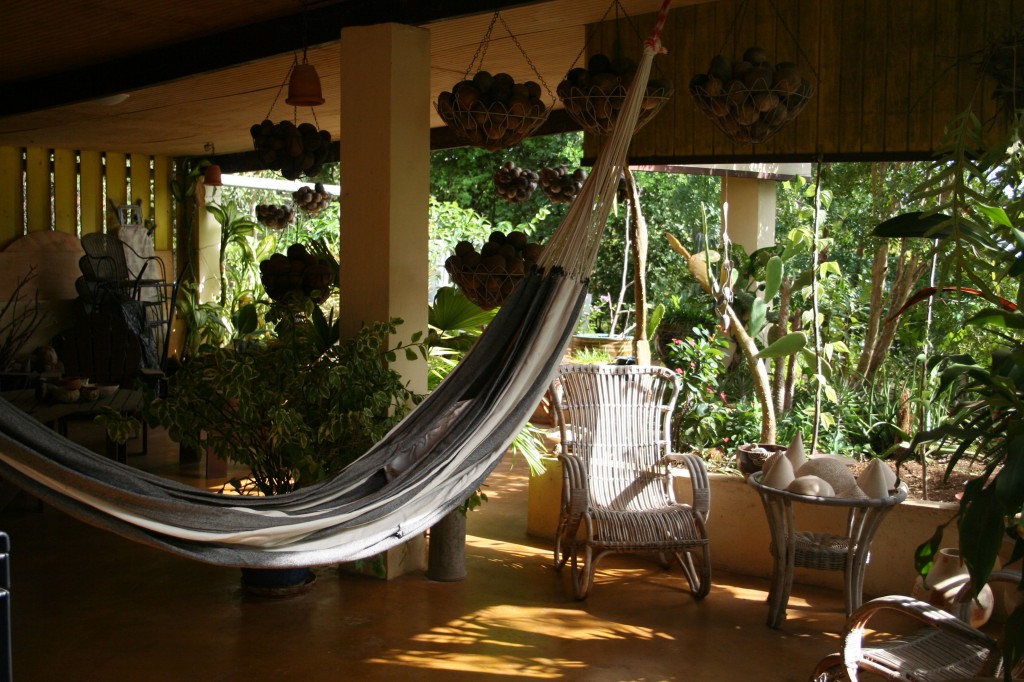 Evelien settled here in Curaçao 15 years ago and set up a home studio open on all sides to let in those island breezes while she's making her ceramic art. Sometimes it comes out modern and abstract, other times the island's flora, fauna and sea life find their way into her psyche: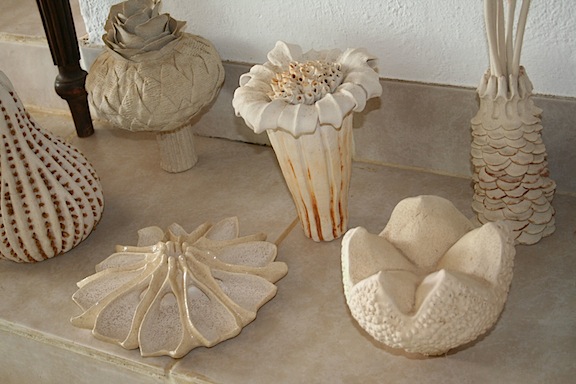 She also makes jewelry from porcelain, like this necklace (below), firing the buds three times in a 1200° kiln, then lining them with gold lustre. I ask if these necklaces were inspired by the local sea life. "Yes, very much," she said. "It's all about the coral." Evelien also makes cluster necklaces with buds of silk, velvet, copper, Swarovski crystal, and porcelain in the red and pink hues of the island's coral reefs.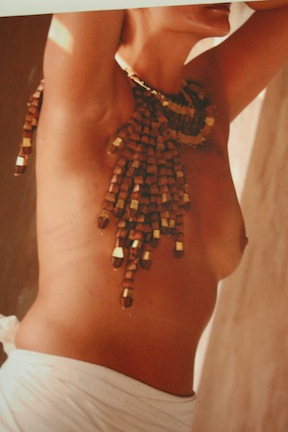 She also makes necklaces of beads carved from the seeds of mahogany trees, highlighting some with gold leaf (above left). That particular piece was designed to be worn by a woman with only one breast (shown left).
Evelien hales from Holland, as do most of the ex-pat artists I met on the island. Curaçao is part of the Kingdom of the Netherlands and Dutch is spoken by almost everyone, along with English and papiamentu, the local Dutch/Spanish/African-flavored patois.
I ended up buying a bracelet from another Dutch artist, Wyke van de Witte, who knits cuffs from silver wire and sells them at Gallery Alma Blou, oldest and largest gallery in Curaçao. Mine (on my arm, below left) is made with pearls and glass beads. Wyke is holding another made with agate and demonstrating how you can pull the ends to make the bracelet fit snugly. I prefer wearing mine like a sleeve, the snugger the better. Looks a bit like fishing net, doesn't it?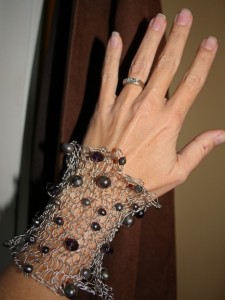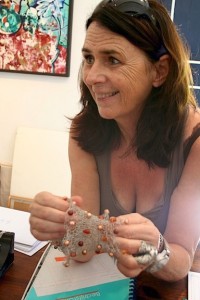 No doubt it was sea-inspired, like much of the island art. Several artists on Curaçao, including a couple who moved from Colorado two years ago, told me they swim for inspiration every day.
Along with its sweet liqueur, Curaçao is known for its scuba diving. Divers like to explore the coral-lined wall that drops dramatically into the sea at the island's coastline. Speaking from personal experience, the part of that wall you can see snorkeling is plenty awesome. What artist wouldn't be inspired here?
You can find more of Evelien Sipkes' art and jewelry here.
All photos except the model shot are mine, © Cathleen McCarthy
Related posts:
Carolyn Tyler: reinventing a life in Bali
Birgit Kupke-Peyla: German craftsmanship, California style
Paper, rubber, glass: the handcrafted statement necklace
Related products: