You never know what you're going to find at the Tucson Gem Show. This year, I discovered the jewelry of Mariella Pilato, an Italian designer based in Bali who uses the most unusual gemstones in the most unexpected ways. Her metalwork is all silver, with dramatic textures and patinas, and some of it is eye-catchingly large. As in, only a rock star could pull this off, so get out your inner rock star.
Mariella herself looks a bit like a rock star but is soft-spoken and not at all showy. Point a camera at her and she reacts a lot like I do: deer in headlights. As her assistant described her, before I met her myself, she's "beautiful but a little shy, sort of the sexy librarian type." Funky librarian, more like. When I came back the next day, I found her in shades of lavender and silver, a leather jacket draped with a silk scarf and a long, curly mop of hair. She was wearing a big jade pendant and red eyeglasses, and it all worked perfectly.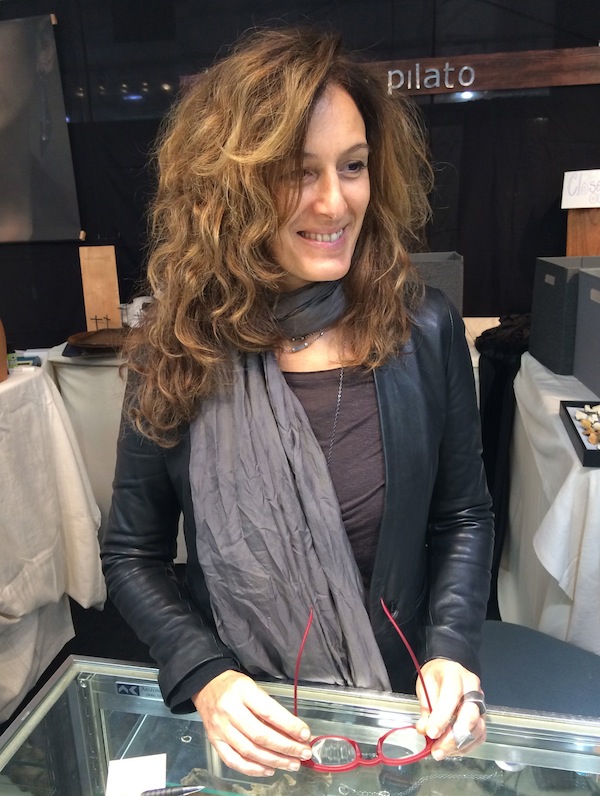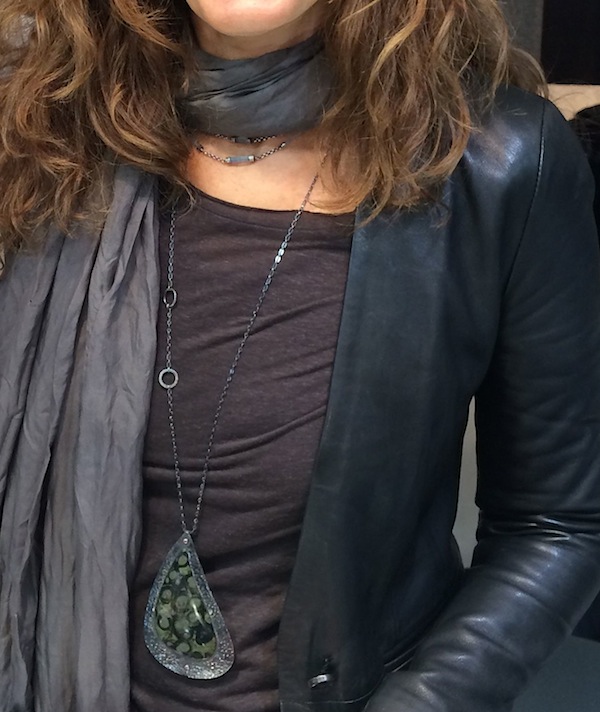 I found her down to earth, a little reserved at first but fun-loving and warm when she gets to know you. While we chatted she stopped to give a couple big hugs to friends who stopped by. I could tell she was making jewelry to suit her own taste. Not interested in status or tradition or classic precious materials – which could explain why she left Italy in the first place.
She grew up in Sorrento, that beautiful town built along the cliffs of the Mediterranean in southwest Italy, and considers herself lucky for that. She studied at the Accademia di Belle Arti in Naples and Florence, then worked as a stage designer for a few years. Like many ex-pat artists who settle on Bali, she wound up there as a young vagabond traveling from one exotic locale to another, fell in with other artists on the island, and never left. That was two decades ago.
Here are the pieces that caught my eye at her booth in Tucson this year, starting with a few I tried on. (If you follow me on Instagram, you'll recognize a couple of these.) I spent about an hour playing with jewelry at this booth before I ever met the designer.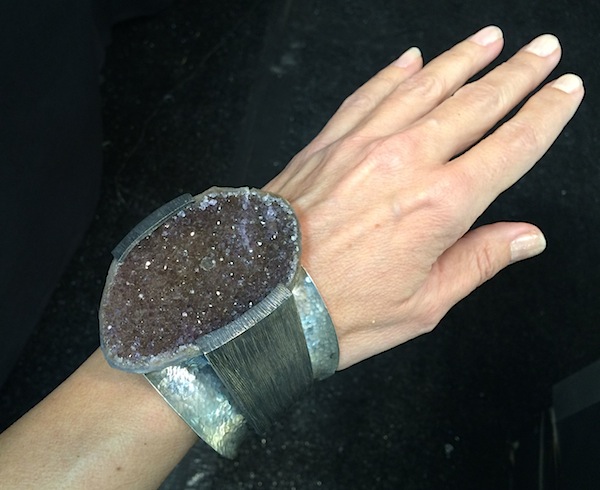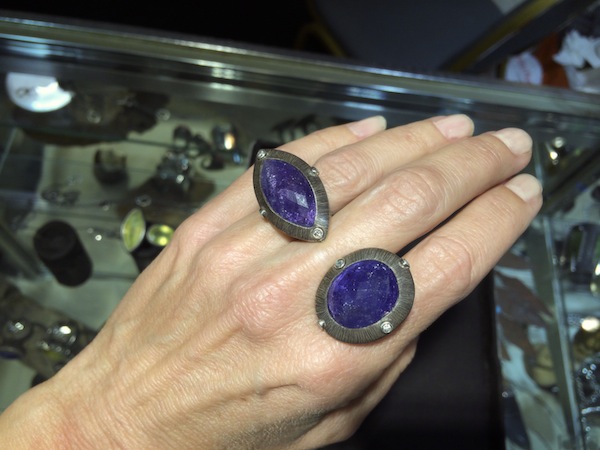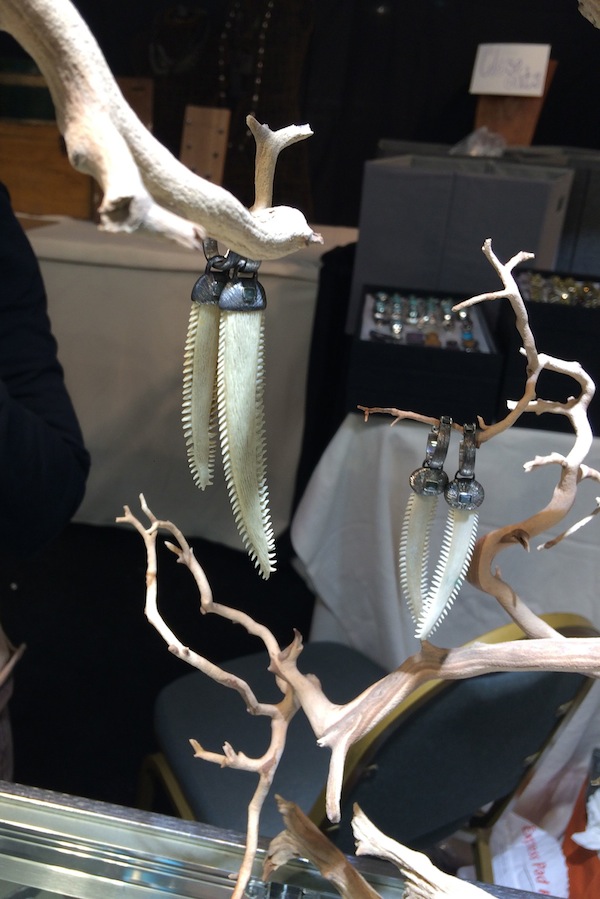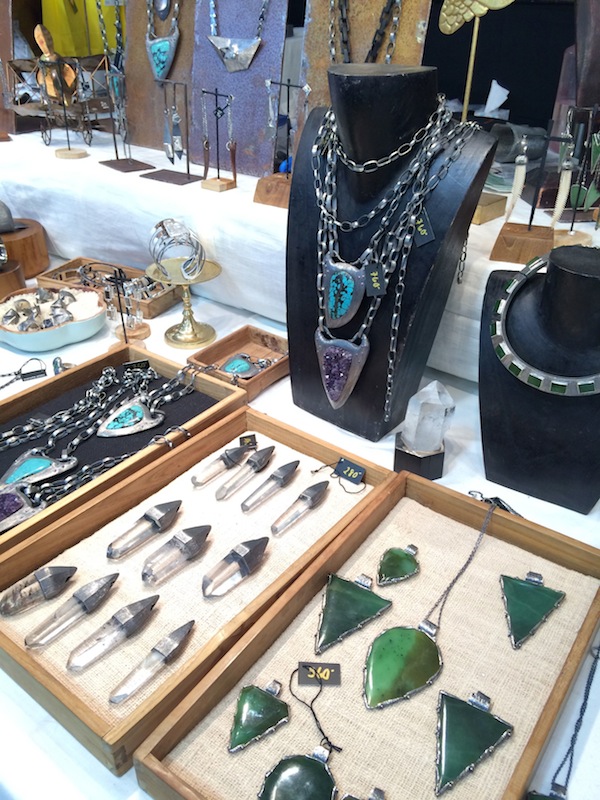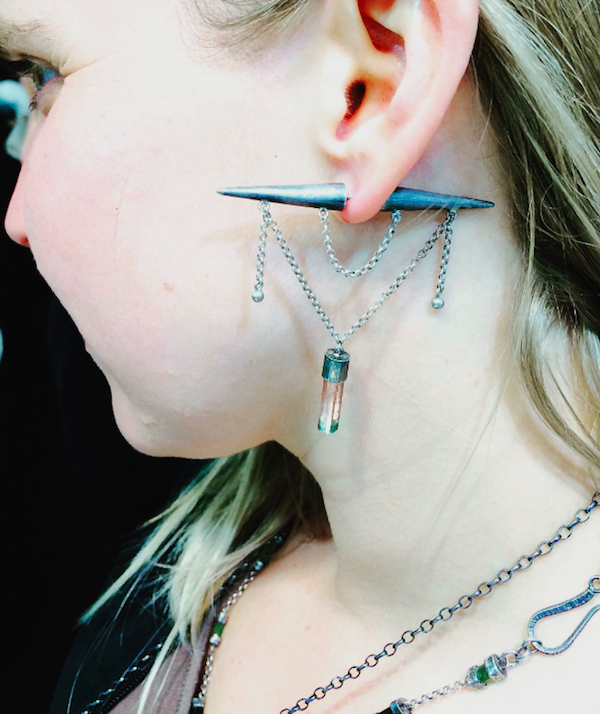 Pictured above, top to bottom: a textured silver cuff with a gigantic piece of lavender druzy agate; a double-finger ring set with tanzanite; earrings made from fish fin bone; pendants on display of turquoise, quartz crystal, and nephrite; Mariella's tourmaline spike earrings (modeled by her assistant at my request).
I fell in particular love with Mariella's Crystal collection, designed around raw quartz crystals. In some pieces, she uses the pointy end of a crystal, sliced off and mounted in rings and earrings, complete with inclusions that catch the light. I bought a pair of those earrings – big sellers for her – and love them. (In fact, I made a case for wearing them to the Oscars recently.)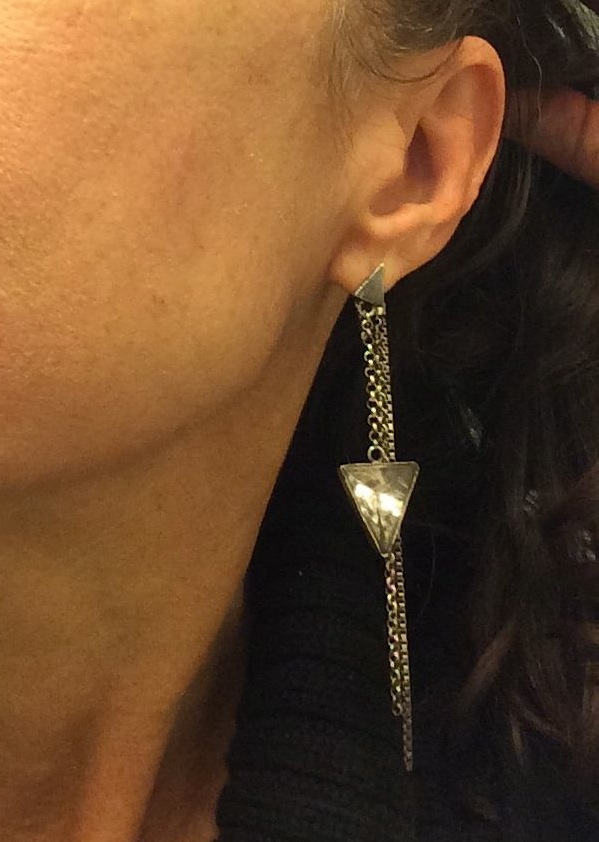 The quartz is flat and polished facing front, reflecting subtle inclusions and the natural "faceting" of the pyramid-shaped point extending from the back. Two chains dangle from the back of the ear, lending drama and about three inches of length in all. Perfect if you have long hair and want something swingy, elegant but casual. I love her Pyramid rings too, one of which Mariella was wearing when we met.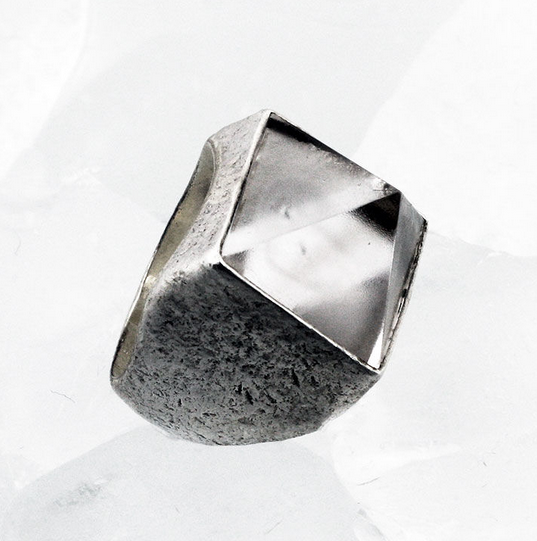 Like ice in a chunk of granite, right?
Now let me show you a couple examples of the amazing model photography on her website, showcasing this collection. The photography is art in itself. Honestly, I would hang some of those images in my house. Click through the slides under Collections and you'll see what I mean.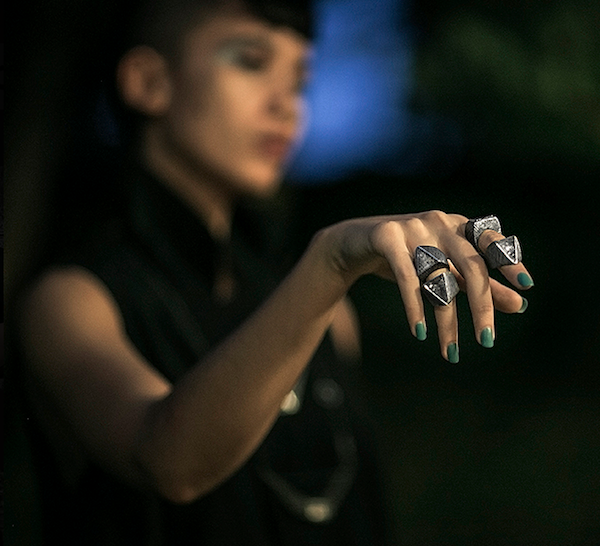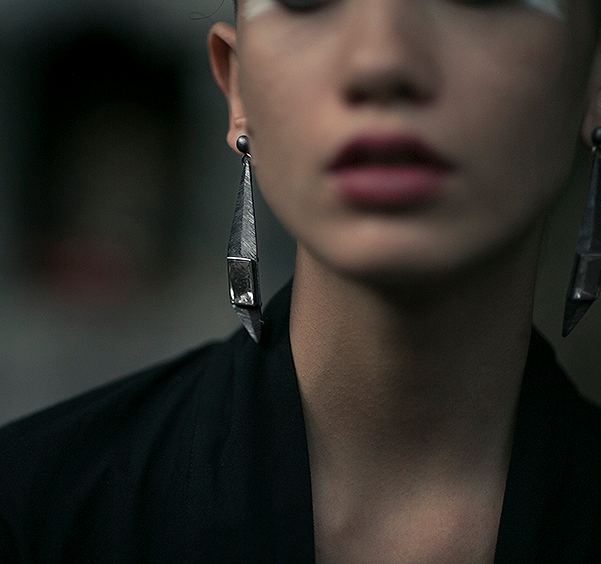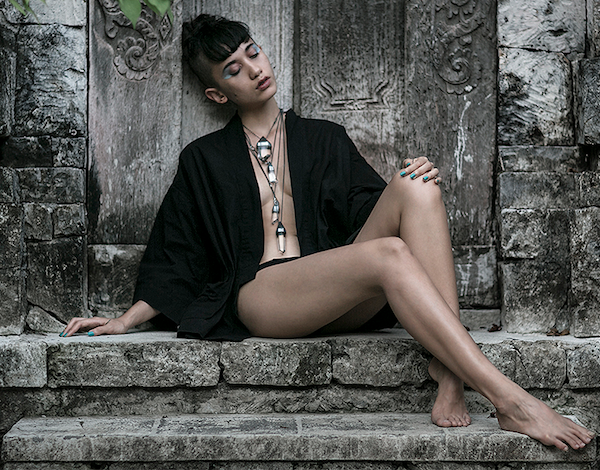 As with other Bali ex-pat designers I have profiled here, Mariella uses local talent to produce her designs. For a small island, Bali is populated with skilled goldsmiths. But Mariella doesn't use the Balinese goldsmiths. Here's a snippet of our interview, done on the fly at her busy booth under the Pueblo tent.
Bali is usually associated with gold and granulation. A lot of designers use the local talent for that, but I don't see any gold in your work.
Yeah. The granulation and the gold work, that is done by Balinese people. I use the Javanese people for my work, because my work is more modern, with clean lines. I don't use the traditional techniques.
What are the Javanese known for?
Oh, they're great, very skilled and hardworking people. The Balinese are good at traditional gold work – granulation, repoussé. But the Javanese are better at plain work with more modern, clean lines, and setting stones.
Were you making jewelry when you came to Bali?
No, actually I wasn't. My background is in stage design.
So, you were attracted to theater. That explains some of the drama in your work.
Yes, maybe. I always liked drawing and doing things with my hands. I can't stop. If I'm not making jewelry, I'm sewing. If I'm not sewing, I'm knitting. This need to be doing something with my hands led me to jewelry.
When did you start designing jewelry?
About 18, 19 years ago. I've been in Bali for 22 years, a very long time.
You use a lot of unusual gem material. Tell me about your design process.

I start with the stones. I buy what attracts me, what I like. I look at the stone for shape and color, and I think, oh, that would be nice as a ring, or as a pendant. Then I sit down and start thinking about what to do with that, start drawing and playing with ideas.
Does Bali itself influence your designs?
Bali is interesting because it's kind of a creative center where a lot of artists and designers come to make their things. So it is that – lots of creative things are going on, and exchanging of ideas. The costs of manufacturing there are still accessible even though the prices are going super-high now. The cost of labor is going up a lot because the cost of living, for everybody, is going up. It costs less to be here now [in the U.S.] than in Indonesia.
Really!

Really, yeah. If you live like a Balinese, than it's cheap.
You mean eating a lot of rice?
Rice and chicken and a couple of sayur. [laughs] But if you want to eat better food, or what you're used to eating, it's become really expensive.
When I was there 15 years ago, you could get a hotel room in Ubud for $25-35 a night and eat lavish meals on beautiful outdoor terraces for very reasonable prices.
Prices have gone up, especially to live and work there.
Your jewelry seems like a good value. I love the photography on your website. The model is so exotic and your jewelry suits her perfectly.
The photographer is American and she's his girlfriend. They're really creative, great people, both artists.
I'm loving my earrings, by the way. Sometimes I buy things at this show as impulse purchases and live to regret. But I got back to my hotel with these last night, looked in the mirror and started swinging them around, and went… Ooooo!
Good! [laughs]
For more jewelry by Mariella Pilato, visit her website, and follow her on Instagram and Facebook.
Related products