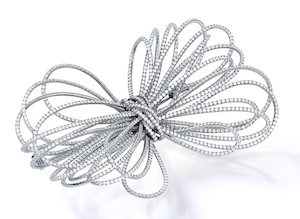 Martin Katz came to Los Angeles three decades ago, fresh out of Indiana University, thinking he'd have an adventure before returning to the Midwest to work in the family business.
Nobody seemed less likely to be outfitting the world's most famous stars with glittering jewels – and yet, there hasn't been a red carpet event without Martin Katz jewels in two decades.
Today, you can find Katz's jewelry in his salon in Beverly Hills and Bergdorf Goodman on Fifth Avenue, exclusively. This year marks the 25th anniversary of Martin Katz Ltd.
Among his signature designs are the thread-thin stacking rings he calls Microbands (below), micro-pavé bows (above), and flora/fauna themes with unique colored stones.

This month, Katz is celebrating 25 years in business by inviting 100 famous friends to gather on the rooftop terrace of the new Martin Katz Jewel Suite, part of the $140-million renovation of the New York Palace Hotel. Along with a grand piano, 15′ windows, and a 1,000-square-foot rooftop terrace with elevated stone spa and views of Manhattan, the three-level suite comes with jeweled china, crystal sculpture (based on his bow pins) and a 20′ chandelier Katz designed himself. It's the kind of over-the-top luxe you'd expect from a man who built his reputation working with Hollywood royalty.
In the world of celebrity jewelers, Katz is best known for breaking open the red carpet for individual designers and private jewelers. For a little while there, he pretty much owned the red carpet – with the likes of Harry Winston.
Katz had been selling luxury jewelry and watches at I. Magnin, before he began designing his own versions of the Hollywood classics and selling it from the kitchenette table in his one-bedroom apartment. He'd been in business only three years when an unknown actress named Sharon Stone decided to wear his jewelry to the premiere of her movie, Basic Instinct, and inadvertently turned the equally-unknown Katz into a "jeweler to the stars."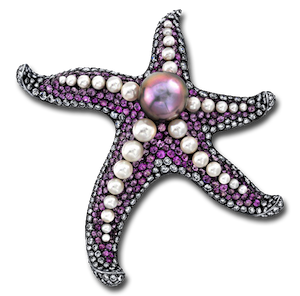 When you first landed in Los Angeles as a college grad, were you picturing yourself working with movie stars?
No. That was the furthest thing from my mind.
Your jewelry evokes a range of classic Hollywood eras. What's your favorite?
I have a great love for Deco and late-Edwardian jewelry. I started out doing vintage jewelry and eventually developed my own voice. But you can see aspects of that as well as the late thirties and forties in my designs – that period of cocktail jewelry. What I like about the forties is that they managed to put together these bold looks without all the glitzy stones. It was a very modern but fashionable look.
Your sea-life pieces also recall Seaman Schepps, René Boivin and other mid-century jewelers.
That collection came about because I became involved in a charity in Monaco that Prince Albert took over from Prince Rainier. They held events on a yacht where I set up a jewelry exhibition. Rolls Royce and Cognac participated. It was a big deal, so I created a collection called Bijoux de Mer with my starfish and nautilus pins.
Was that before or after you became a red carpet sensation?
Most of my signature collections were designed in the late nineties. The red carpet thing really started in 1991 after I visited a movie set and met a new actress named Sharon Stone. Later I got a call telling me Sharon would like to borrow a necklace and bracelet for the premiere of her movie, Basic Instinct. I said, "Sharon seems really nice but I don't loan jewelry. If she wants to buy it, she can call me."
Oh no!
Hey, I was a struggling young jeweler. If I loaned my jewelry, I took all the risks and got no reward. It's not like she was going to wear a sandwich board with my name on it. She'd look great, but nobody would know it was mine.
What changed your mind?
I got a call from John Goldwyn, the president of Paramount Pictures: "Martin, I really need you to loan this jewelry to Sharon. She's going to be our biggest star. Would you do it as a favor to me?" I said, "I'll do it as a favor, but then I want a favor back. Is she doing press?" Of course. I said, "Fine. Make it a directive that if she does publicity, she has to wear my jewelry for those photo shoots and I get credit. Then at least somebody will know it's from me." And that's what happened. I picked up Vanity Fair, Vogue, and various others that way.
Very clever. Interesting that your main concern then was getting into the magazines.
In those days, print media drove TV. Now the electronic media drives print. But Sharon looked great and I kept loaning her jewelry. One year at the Oscars, I walked the red carpet with her. She talked about my jewelry and introduced me on camera. It was a little embarrassing. Being in front of all those cameras didn't mean anything to me or anybody then. Entertainment Tonight was in place but nobody took it seriously. After that, it grew and grew.
At that time, what were celebrities wearing on the red carpet?
Throughout the 1980s, it was Armani dresses and Winston jewelry – period, end of story. It was sacrosanct. I never even considered trying to get in on that.
What did you bring to the red carpet that the people doing the Armani/Winston thing weren't getting?
A whole different look. At the time, I was doing principally vintage. Or classic. And nobody else on the red carpet was doing that. In 1996, Kate Winslet wore a pink Vivienne Westwood gown to the Academy Awards, when she did Sense and Sensibility with Emma Thomspon. I put this big Edwardian bib on her and it was splashed all over the cover of People magazine. No one had seen vintage on the red carpet before that.
So you were kind of doing what Fred Leighton was doing in New York?
Yes, but Fred Leighton wasn't on the red carpet. After he saw me doing vintage, he went bonkers and sent his minions to Los Angeles to get on the red carpet. (laughs)
But you really had the run of the place for a while there.
The peak was in 1995 to 2000. That was when I was really dominating the red carpet. Everybody else was like "Who is this guy, Martin Katz? Never heard of him." This little private jeweler was bouncing Harry Winston off the red carpet. In 1996, W magazine ran a multi-page article on jewelers who were outfitting celebrities. There were two pages on Winston, two pages on me. And I think they also included Van Cleef.
Oh, a little Van Cleef & Arpels thrown in.
Yeah. That was really the first time a national magazine featured me in the company of Winston and Van Cleef, and it kind of set the stage for the recognition of me as the man on the red carpet. I would get calls from jewelry manufacturers around the world, begging me to put their jewelry on the red carpet. You wouldn't believe the requests I was getting – again, because I broke open something no one had really thought about. I can't claim I invented it, but I was certainly fortunate that someone like Sharon admired my jewelry. (Continued in part 2 –> Martin Katz: how to accessorize a movie star)
Related posts
The Good Wife: character studies in jewelry
Van Cleef & Arpels: celebrity style
A celebration of really expensive tiaras
JAR: designer jewelry as calling card
Related products